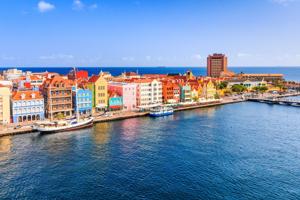 Eileen Ogintz, Tribune Content Agency
Do you know your ABCs? We're talking the ABC islands — Aruba, Bonaire and Curacao, the three westernmost islands of the Leeward Antilles in the Caribbean Sea.Aruba is best known to Americans; Bonaire is a diver's paradise. Curacao, between Aruba and Bonaire and just 40 miles from the Venezuela coast, is a true gem still largely unknown to many Americans, though English is spoken everywhere, and U.S. dollars are accepted."People come here for more than the beach," said our guide Elton Sint Jago, who teaches middle-school geography when he isn't touring visitors — even the chance to visit the expansive herbal gardens of wellness expert Dinah Veeris, a spry 83, known as the "herb lady of Curacao," for her knowledge of the historic healing properties of plants.
People are also reading…
"There is lot of art, culture, and history," a vibrant art and food scene he said, a mash-up of the cultures that first settled here – Jews who came in the 17th century (the Mikeve Israel-Emanuel synagogue was dedicated in 1732 and is the oldest in continuous use in the Americas) formerly enslaved people (this was a thriving slave port until slavery was abolished in 1863), Dutch (the island is now an independent country within the Kingdom of the Netherlands) and South Americans.We loved the European less-touristy feel of the island. In fact, most of those staying at our beachfront 137-unit LionsDive Beach Resort were Dutch families (there are daily flights from Amsterdam). We loved that sustainability is encouraged by the water bottles in our fridge that are made of sugar cane and that we could step off our porch onto the sand. We watched the sunset, eating ribs and shrimp skewers with our feet in the sand at the resort's Chill Beach Bar.Even better, we were just 10 miles from the airport and a short drive to Willemstad, the historic island capital. (Kids will love racing across the floating Queen Emma pedestrian bridge.)What a great bet for American families too (there are nonstop flights from New York, Newark, and Miami). Units include one- and two-bedrooms with kitchens and some with washer-dryers, a private beach with a calm lagoon, ideal for the littlest swimmers, three pools, including a lap pool and one for kids, a dive shop, four restaurants (take your pick of Italian, sushi, barbecue and a European-style buffet breakfast). Mambo Beach Blvd is steps away with a pedestrian pavilion lined with outdoor restaurants and shops.Sweet! Or as they say here in Papiamentu , Dushi! Papiamentu is the local language spoken everywhere in this area — from African languages, Spanish, Dutch, French, Portuguese, English and Arawak. Pose for a selfie at the giant red Dushi sign in Willemstad!You'll find lodging no matter what your vacation style. There is a big Marriott Beach Resort and many vacation rentals long popular with families and the LGBTQ community. The Coral Estate Luxury Resort on the popular Karakter Beach is known for its big Wellness Center and diving school. The 350-room (adult-only) Sandals Royal Curacao has just opened, employing more than 800 locals and boasting a two-level infinity pool and on-site food trucks. Diving is among the included activities.Increasingly popular are small boutique hotels opening in historic buildings like the 22-room Bario Hotel (rooms starting in low season at under $100) in the Otrabanda historic area.Bario is home to a very popular Bario Urban Street Food patio that serves up dishes from six different street food stands. They include Lionfish Mango where Chef Heinrich Hortencia makes Lionfish fish and chips and Lionfish ceviche. Lionfish is an invasive species and eating them helps the reefs, he explained.Certainly, it will be hard to coax the kids out of the pool and the ocean but well worth it with so much to see. There are four UNESCO World Heritage Districts dating back to the 17th century. You can explore the colorful capital, Willemstad, on a three-wheeled Tuk vehicle, past historic buildings built of coral stone that are painted bright yellow, red and blue. The kids will love the street art murals (a naked chicken here; a falcon there, a man toting rainwater in a barrel, a sea turtle….) Have dinner on the outdoor patio at SAL the Kitchen, the walls built of coral that still seep salt, making the kitchen "live and breathe," say the two Nataf brothers who opened the restaurant earlier this year. The eclectic menu changes every three months.You'll all love the Cathedral of Thorns, a huge outdoor art installation eight years in the making that opened just before the pandemic. It is a kind of maze designed by artist Herman Van Bergen and created by blocks of thorns — 92 million found all over the island with the blocks built by teen moms. Cut-outs feature paintings, sculptures, glass and conceptual art, including Van Bergen's sculpture representing the COVID virus. The first Friday of the month, the cathedral is lit and shimmers gold.This is all housed on a seven-acre garden about 10 miles east of the city of Willemstad at the Landhuis Bloemhof Foundation that is also home to the Number Ten Curacao restaurant spilling out of a restored villa. This has long been a meeting place for artists and art lovers, dedicated to fostering the arts. See children's drawings hanging outside with different artists showcased each month.Up for a you-can-only-do-it-here nature experience? Take a full moon hike up to Christoffelberg, Curacao's highest peak (1,220 feet) or go super early to avoid the heat. See flamingos on the Salt Flats. Venture as we did to the west side of the island to Shete Boka National Park, home to a dozen coves where waves crash into rocks, spewing water high into the air or into an underground grotto at the famous. Boka Tabla.Rest assured that COVID is (at least for now) under control, some 70 percent of the population is vaccinated. You no longer need to provide a negative test to enter the country, though you must present a digital immigration card and a passenger locator card. The federal government has recently announced that you no longer need a negative COVID test to return to the U.S. There is a free Dushi Stay App that you can download that provides the latest information."More authentic than some of the other islands," promises Sint Jago.Let's hope Curacao stays that way.(For more Taking the Kids, visit www.takingthekids.com and also follow TakingTheKids on Twitter, Facebook and Instagram where Eileen Ogintz welcomes your questions and comments. The Kid's Guide to Philadelphia and The Kid's Guide to Camping are the latest in a series of 14 books for kid travelers published by Eileen.)
Stay up to date on life and culture in St. Louis.