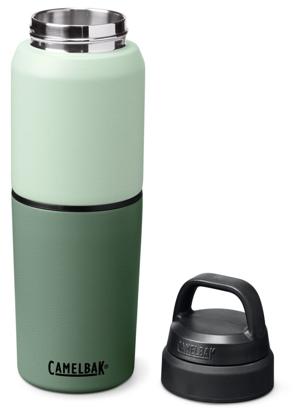 Eileen Ogintz, Tribune Content Agency
What dad or grandad doesn't love a new gadget?And this Father's Day there are plenty of gadgets to choose from that will please your favorite travelers, not to mention new sustainably made duds to keep them cool all summer.New dad Jonathan Boydston is a fan of the new portable Weber Traveler grill on wheels designed to use gas efficiently ($349). "We love that we can easily bring it for a picnic with the little one or to a tailgate with friends. It's a breeze to set up, store and throw in the car for the next adventure with the family," he said.To go along with the grill, there's Adrian Davila's "Cowboy Barbecue: Fire & Smoke from the Original Texas Vaqueros" cookbook to learn traditions of the vaqueros, the Latin American cattle herders who once roamed the plains of Texas and Mexico ($9.99 for Kindle, $8.75 for the paperback).
People are also reading…
Messenger: Daughter wants justice for dad's arrest at BJC while he was a kidney patient
Softball team to honor Parkway West student killed in boating accident
Video: Hazelwood police chief was 'hammered drunk' during stop, driven home by another chief
Nurse, paramedic stabbed at SSM Health DePaul Hospital in Bridgeton
Fed-up Missouri caregivers walk away from disabled client, leaving mother, sheriff's deputy scrambling
St. Louis-area teen swimming in Table Rock Lake hit, killed by pontoon boat
Children left alone for hours with dead mother after she overdosed in St. Charles
After hospital stabbing, SSM DePaul nurses say they've long called for better security
Nolan Arenado says test vs. top teams underscores Cardinals 'needs'
St. Louis family in turmoil, divided after fatal crash involving 13-year-old driver
Ivana Trump, first wife of former president, dies at 73
Cardinals' bullpen does the job, but Genesis Cabrera shows some bad mound presence
How plucky Packy Naughton dodged LA magic, conjured outs in Cardinals' breathtaking win
Hochman: Matt Carpenter, 'always a Cardinal to us,' turns ex-teammates into Yankees fans
Hochman: Assessing the state of the Cardinals after a particularly worrisome week
Those who love to cook on vacation would love the No. 8 Cast-iron Skillet ($145) from the Field Company, started by two brothers who couldn't find cast-iron or vintage pans they liked. This skillet is lighter and smoother with a naturally non-stick cooking surface, made in the USA, and ideal for camping and vacation rentals for those who want to bring their favorite pan along. Roast a chicken, make bacon and eggs or a blueberry cobbler….Your favorite cook might also like a cookbook with recipes from a vacation where he loved the food. Perhaps "Comida Mexicana: Snacks, Tacos, Tortas, Tamales & Desserts" by Rosa Cienfuegos ($29.95 from Amazon or "Italian Street Food: Recipes from Italy's Bars and Hidden Laneways" by Paola Bacchia ($29.95 from Amazon).Another gadget good for road trippers: The Athena, a portable jump starter and charger all in a compact case to toss in the trunk that can power up a cellphone, laptop and a dead battery ($130).Also from the same company, and a good bet for novice campers, the new First Aid Plus ($129) is a compact first-aid kit in a waterproof shell complete with multi-tool flashlight, storm-proof matches, duct tape (to fix gear) and more. You can strap it to a bike, ATV, boat or throw in the trunk with the rest of the camping gear.If you've got a hefty budget and a favorite birder, they're guaranteed to enjoy a new Smart Digital scope or binoculars from American Technologies Network Corp. (ATN) that can record so users can upload their experiences to their favorite social media channels. Starting at $699.For the dads embarking on a long flight this summer, food blogger Laura Bais suggests the affordable Battleship Grab and Go Game from Hasbro ($5.29) available from major retailers. Get a set of six Grab and Go games, including Clue, Trouble and Connect 4 from gamersroll for a discounted $35.39. "I play during long flights and it keeps me entertained," she said. You could also present a game with a promise to entertain the kids on the flight while he plays.Give the chess aficionado a Roll-Up Chess & Checkers Travel Game ($39.95 from Sondergut). All of the pieces fit in a zippered storage pocket that rolls up to roughly the size of a pocket umbrella.For the outdoors-loving dad who wants to minimize his gear, the MultiBev from Camelbak ($48) serves as a water bottle and detachable travel cup. Use for coffee in the morning, water, and then drinks around the campfire. You can even store tea bags in the removable cup. Put some stickers on the bottle from his favorite places!The beach and pool lover might like an inflatable Saddle Go bar stool ($24.99) from Force Water Sports that allows you to cool off in the water, leaving your hands free to hold a favorite beverage. Maybe a favorite craft beer to go along with it.For the national parks lover, a Limited Edition National Park Hydroflask ($49.95) helps support the National Parks Foundation. Choose Yosemite, Yellowstone, Olympic, or Hawaii volcanoes. Find other national parks gear from dad's favorite park, including shirts, hoodies, hats, campfire candles, socks and more at the Parks Project, which supports national parks projects — more than $2 million thus far.And for the dad who needs to move on from cotton t-shirts for his next adventure, consider the Shade Lite Short Sleeve Shirt from Mountain Hardwear ($65). It's breathable, quick drying, UPF 50 fabric and looks good too. A Bug Barrier Expedition shirt from Royal Robbin ($90) would be a nice gift for the guy who loves getting outdoors but hates bug bites. The Bug Barrier gear, including pants and socks, features Insect Shield technology that will ward off mosquitoes, ticks, flies and more through 70 washes. The shirt is also lightweight, wicks moisture and provides UPF 30+ protection.Perhaps the dad in your life needs a new backpack. He'll feel good knowing that his new Adventurist Backpack will provide 25 meals to American families in need through Feeding America. "Since our launch three years ago, we've been able to provide almost 200,000 meals," said Adventurist co-founder Kelly Belknap. She noted that the Adventurist Classic backpack ($65) is water-resistant, padded front and back for cameras and electronic gear and easily fits under the seat of a plane.Surprise dad or grandpa with a photobook from your favorite trips. Recently is a mobile-to-magazine app that publishes a personal photo magazine, straight from an iPhone. The app picks the best photos and uses an algorithm to lay out the photos.Thank dad and grandpa for traveling with you. Happy Father's Day!(For more Taking the Kids, visit www.takingthekids.com and also follow TakingTheKids on Twitter, Facebook and Instagram where Eileen Ogintz welcomes your questions and comments. The Kid's Guide to Philadelphia and The Kid's Guide to Camping are the latest in a series of 14 books for kid travelers published by Eileen.)
Stay up to date on life and culture in St. Louis.