The rapid evolution of vegan dining is as exciting as anything currently happening in the culinary world. Sometimes, even the chef must stop and stare in amazement. At Station No. 3, which opened in May in Benton Park, Natasha Kwan found herself fascinated with the deep fryer.
"I am mesmerized by it," she told me in an interview shortly after the restaurant's debut.
Fried food isn't the singular or even the primary focus of the aptly named Station No. 3, the third restaurant Kwan has opened with her husband, Rick Roloff. But if you have visited their original venture, Frida's in University City, you already know Kwan has been at the forefront of plant-based dining in St. Louis for a decade now. At Diego's Cantina, which opened in 2020 on the same block as Frida's, she has proven she can expand her repertoire to feature chicken, seafood and cheese in that restaurant's Mexican and Tex-Mex fare.
Until now, though, Kwan hasn't fried much food. Until recently, I probably would have blanched at the idea of vegan mozzarella sticks. But the quality of vegan cheese and othersubstitute ingredients has considerably improved, and while frying renders the vegan mozzarella in Station No. 3's sticks more creamy than true-mozzarella elastic, the dish still proves a crunchy, gooey delight. The soy-based "popcorn chicken" belongs to that category of Fried Bits for Dipping, the surface engineered for maximum gnarl to soak up a tangy Buffalo-ranch sauce. When I say these bites could also pass as pretend calamari, I mean it as a compliment.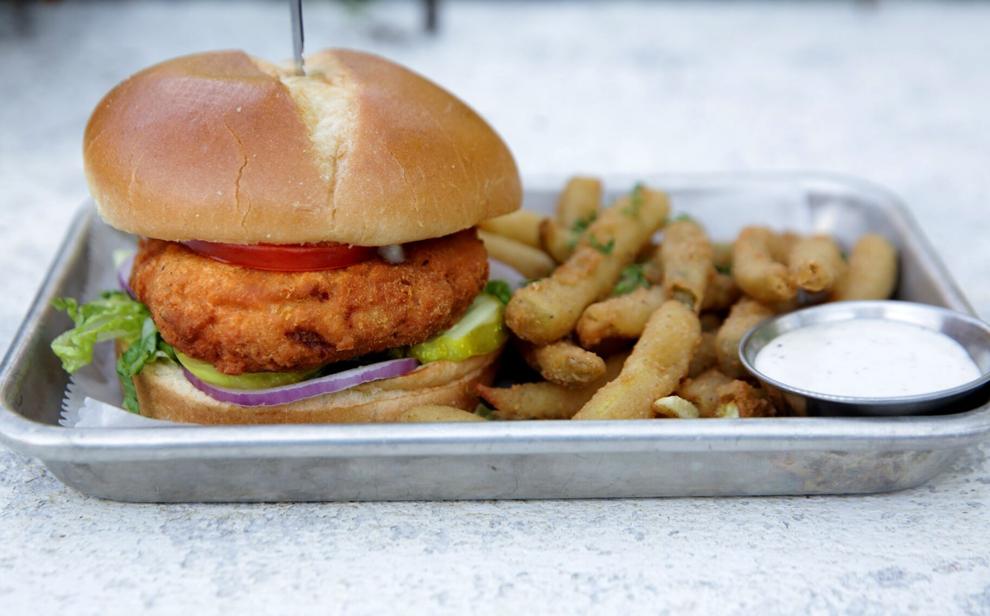 The greatest triumph to emerge from Station No. 3's fryer is the Chick'n in the Crispy Chick'n Sandwich. Kwan said she tried pre-breaded, plant-based imitation chicken from "every single company." She didn't like any of it. Instead, the restaurant opted for a plain faux-chicken cutlet from Gardein that is seasoned in-house and dredged twice before frying. This chicken might not cluck, but the sandwich crunches like a proper fried-chicken sandwich should, and I have eaten plenty of white-meat bird less tender than this cutlet.
Kwan calls Station No. 3 a flexitarian gastropub. Restaurants have stretched the term gastropub until shapeless, but as a sort of code for serious cooking and casual vibes, it fits here. The space (previously Utah Station) is small but airy, especially when the dining room's twin garage-bay doors are opened to the patio's lush floral landscaping and pineapple-topped fountain.
Still, gastropub carries a whiff of pretension — unintentional on the restaurant's part — that belies how much fun Kwan and her team are having with this menu. It nods unabashedly at TGI Fridays' 1980s peak: those mozzarella sticks and also potato skins topped with vegan cheddar-jack cheese, bacon and sour cream (and real scallions) atop the potato's crisp skin and slender layer of baked fluff.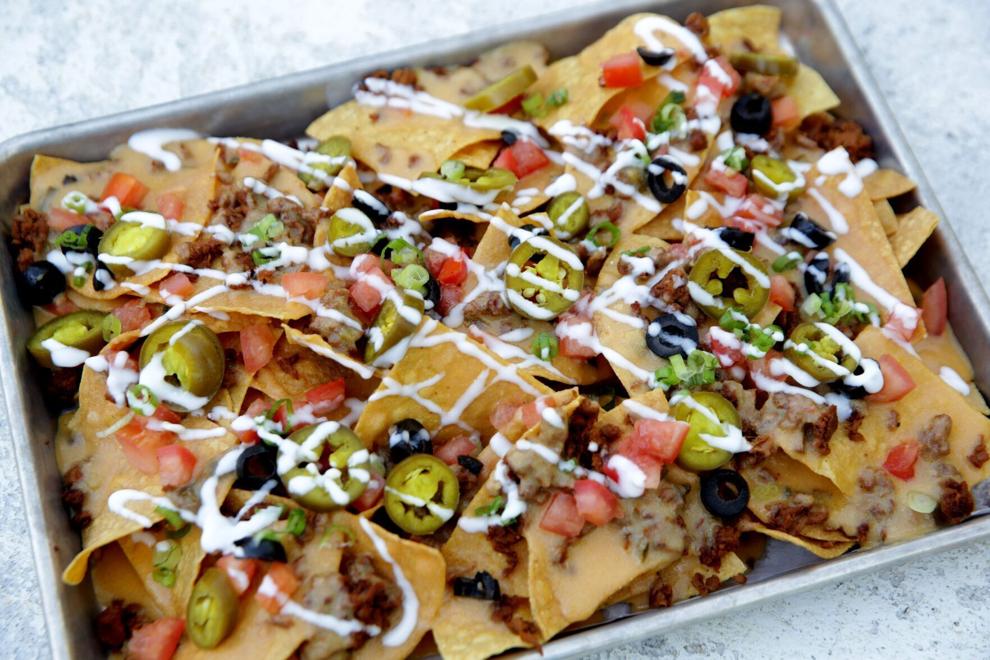 As for the flexitarian side of Station No. 3, whether you consider yourself an omnivore or you follow a mostly plant-based diet but now and then eat meat, the menu offers a compact selection of dishes. As at Diego's, this food showcases Kwan as a very good cook, vegan or otherwise. For the smoked turkey sandwich, she gilds thin slices of the hickory-smoked meat with buttery, earthy brie and then zaps both with sweet-tart blackberry jam and the peppery punch of arugula: an unexpected, delicious quartet.
Most of the menu is vegan, though, including a riff on one of Diego's signature dishes, the Mexico City specialty costra tacos. These place a layer of griddled cheese — or, here, you know, "cheese" — between the corn tortilla and the taco's filling. Station No. 3's version sparks faux ground beef (a French product based on pea protein) with a piercing salsa verde. I don't know if it's fair to describe vegan substitutes as "convincing," not least because there is an essential succulence to meat no soy or seitan can replicate, but when I tried the nachos' combination of vegan ground beef, queso and crema with garnishes of tomato, black olive, jalapeño and scallion, it momentarily prompted an expression I can only describe as that emoji with the monocle.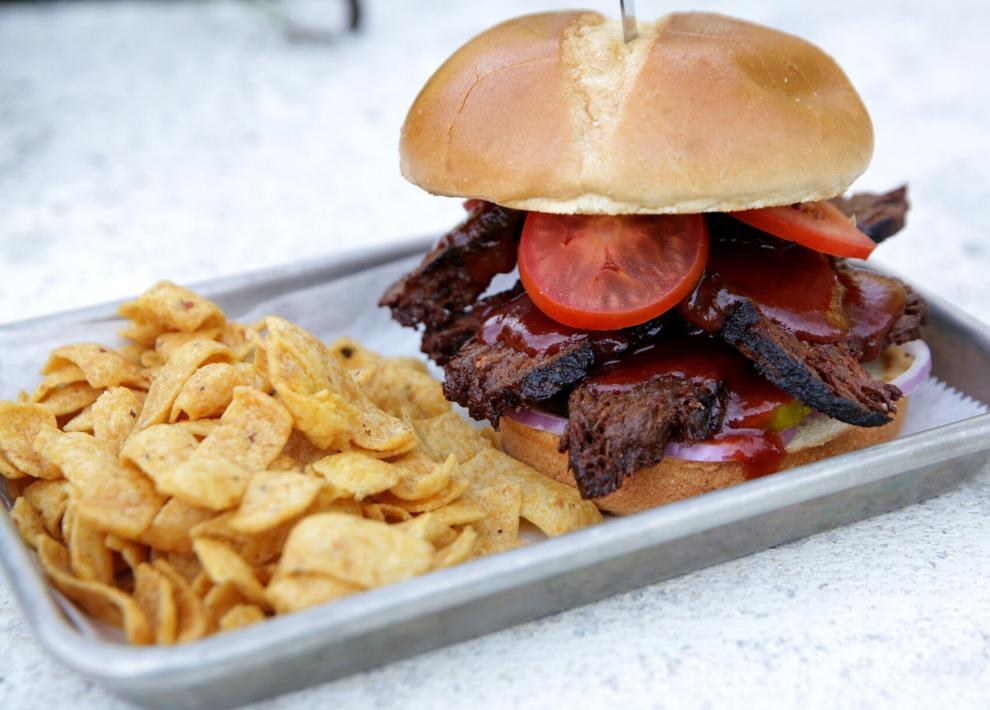 A margarita sounds good right about now. Station No. 3 looks to Diego's beverage program for its selection, which includes the dangerously refreshing version with both fresh lime and orange juices named after that restaurant.
It's a tribute to Station No. 3's ambition and playfulness that the restaurant stumbles only when imitating a cut of beef that has foiled more than a few barbecue restaurants. Actually, the faux brisket, fashioned from housemade seitan, nails the falling-apart texture of braised beef. But a bitter note trending toward acrid haunted its vaguely beefy flavor — a note the brisket sandwich's sharp accents of smoked vegan provolone, horseradish aioli and arugula couldn't mask.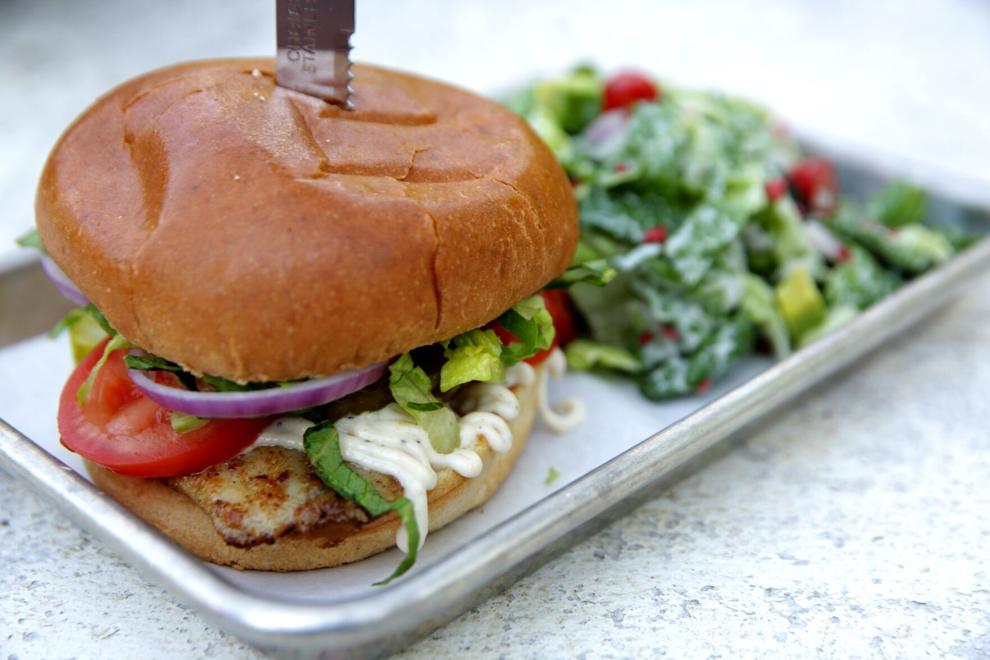 I have no beef with the Signature Station Burger. The housemade patty hits the pleasure points of a griddled but not overly smashed burger — deeply browned and juicy — without that uncanny mineral "bloodiness" of a commercial Impossible burger. Cool, crisp pickles and the fierce bite of jalapeño misdirect your palate, selling the burger illusion. Pair your burger with an order of skinny fries, either by themselves or with the same queso that sauces the nachos. (I had hoped to sample the housemade potato chips, but when I ordered them on my final visit, the restaurant had run out.)
Vegan soft-serve, based on coconut and oat and as smooth as the real thing, is the featured dessert, available in vanilla, chocolate or the two swirled together. Sundaes top the soft-serve with chocolate sauce, graham crackers and tiny marshmallows (Want S'More) or what the menu accurately describes as "lots" of Oreo crumbles (Cookies & Dream). If Kwan wants to embrace both the deep fryer and the retro chain-restaurant aesthetic, she might consider the next evolution of vegan cuisine: fried ice cream.
Where Station No. 3, 1956 Utah Street • More info 314-925-8883; station3stl.com • Menu Mostly vegan menu of burgers, sandwiches and more gastropub fare • Hours Dinner Tuesday-Saturday, lunch Friday-Saturday (closed Sunday-Monday)