When Union Loafers opened on a Sunday morning in late January, a steady line of customers down the block welcomed it to Webster Groves. You could have counted the wait in years. Sean Netzer and Ted Wilson, the owners of the acclaimed Botanical Heights bread bakery, cafe and pizzeria Union Loafers, had begun planning their new shop before the pandemic.
Bagel Union's pedigree aside, people wanted bagels — New York-style bagels, that is, boiled and baked, crusty and chewy and a wholly realized dish even without a schmear of cream cheese or a layer of lox. Alongside Lefty's Bagels, which debuted its brick-and-mortar storefront last month in Chesterfield, and C&B Boiled Bagels, which opens this week in Wood River, Bagel Union aims to address St. Louis' dire lack of great bagels.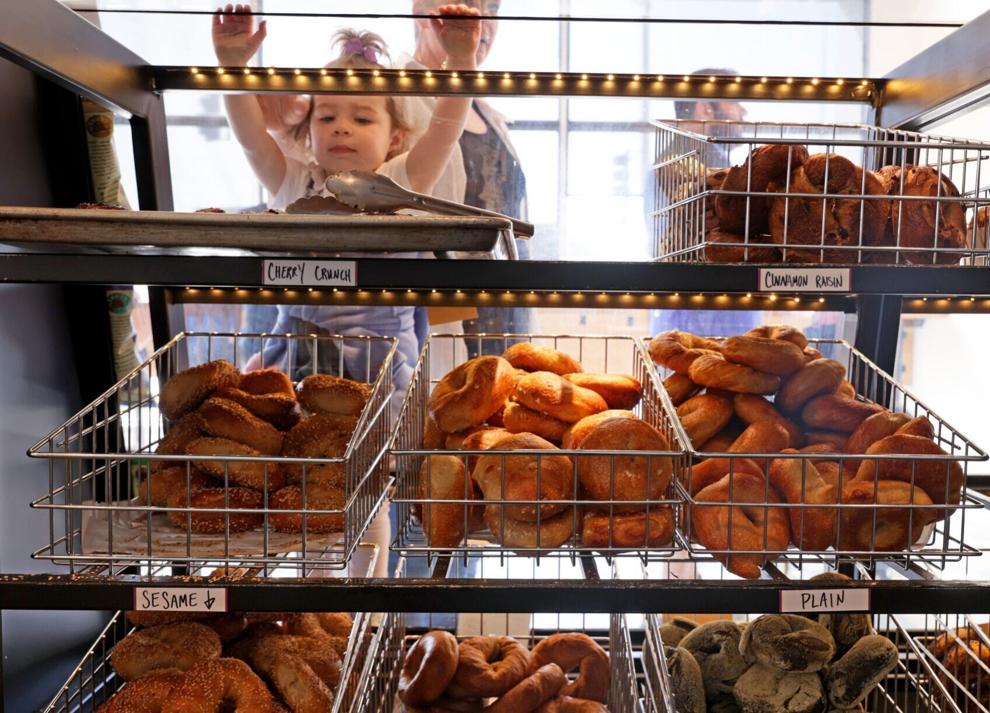 Three new storefronts — Bagel Union in Webster Groves, Lefty's Bagel's in Chesterfield and C&B Boiled Bagels in Wood River — are committed to bringing St. Louis a better New York-style bagel.
You probably won't need to queue along Big Bend Boulevard when you visit Bagel Union now. You will take a number from the dispenser just inside the entrance and wait for it to be called. The shop bustles efficiently. The staff drops individual bagels into the slicer for sandwiches and packs baker's dozens into paper bags. When an employee brought a fresh tray of cherry-crunch bagels to the display case right after I paid for my bagel sandwiches, I seriously considered taking a new number and waiting to order again.
Netzer and Wilson founded Bagel Union, though in their telling, Bagel Union found them. They had made bagels at Union Loafers, though not regularly. Its kitchen isn't ideal for the New York-style process. One day, in the neighborhood for another meeting, they saw the vacant storefront at the corner of Big Bend and South Elm Avenue and thought it would make a fine location for a bagel shop.
The area of that storefront open to the public is small, and while Bagel Union does offer counter seating along its front window, it is primarily a takeout operation. Its look balances a clean, modern aesthetic — especially the wood paneling that frames the curving counter where your order and pick up food — with such throwback touches as that freestanding ticket dispenser and large, hexagonal floor tiles of white and sky blue.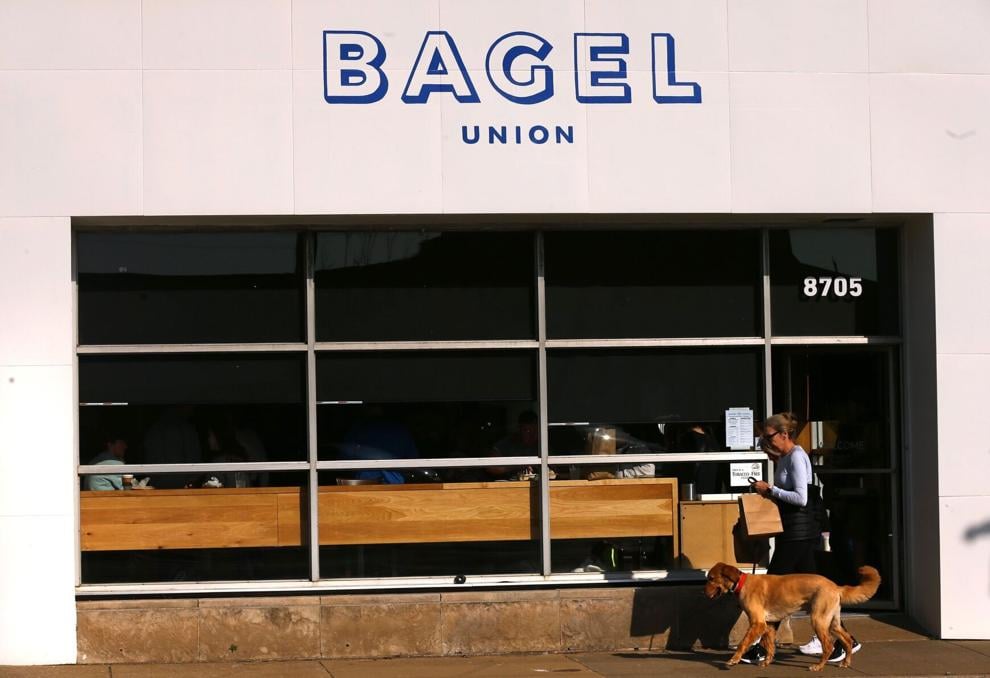 If anything, Bagel Union's minimalist cool evokes an independent coffee shop, minus the laptop-crowded tables. You could read an argument in the design: In 2023, why shouldn't excellent bagels be as readily available in St. Louis as excellent coffee?
For now, Bagel Union is the first of this new generation of local bagel shops, and it makes for an auspicious beginning. I won't claim these are as good as the best bagels in New York, not least because my email inbox is full enough without hearing from transplants from the Five Boroughs, but they are terrific on their own merits, with glossy crusts and a crumb that is chewy but not too dense. Order a baker's dozen so you can eat one on the way home and your family won't notice.
As at Union Loafers, the focus here is on craft, not spectacle. The menu features plain bagels and familiar variations: egg, onion, salt, whole wheat, sesame seed, poppy seed, cinnamon raisin. The tzitzelnickel bagels (pumpernickled rolled in cornmeal) pay tribute to the late, beloved St. Louis Jewish bakery Pratzel's. My bagel default is everything, and Bagel Union's kitchen doesn't hold back on the seasoning. Crucially, the coarse seasoning delivers its garlicky essence without overshadowing your choice of schmear or sandwich.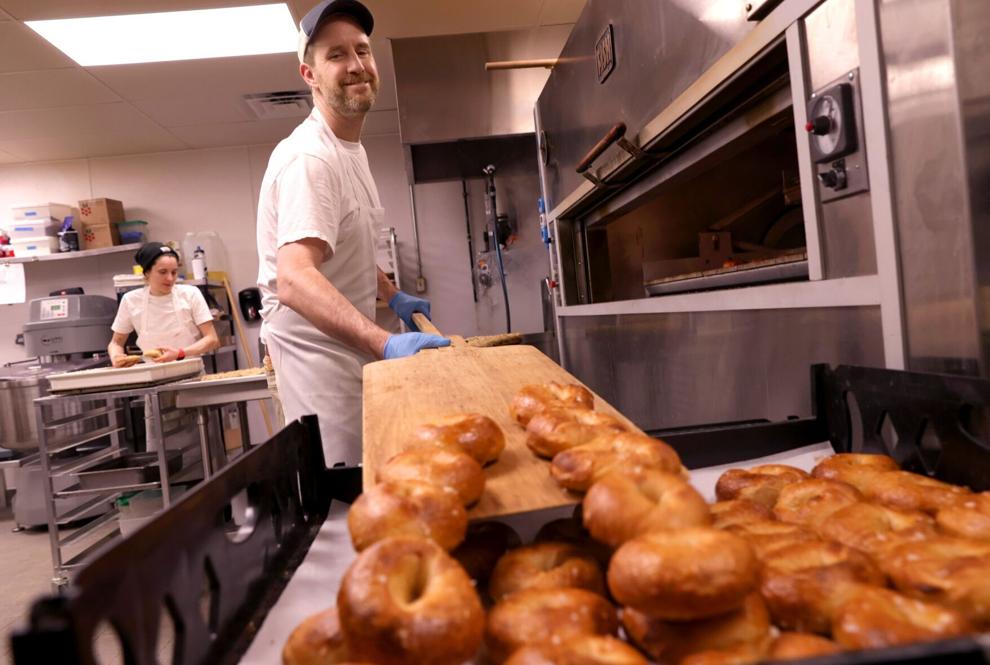 The wildest style, relatively speaking, is the aforementioned cherry crunch. I'd call this sticky, cherry-studded bagel a dessert except that when I ordered it, I happily started eating it while still waiting for my order of bagel sandwiches.
Bagel Union also takes a straightforward approach to its range of schmears. There are only six, two of which are whipped butter and plain cream cheese, the latter the Gina Marie cream cheese from the Sierra Nevada Cheese Co. in Willows, California. Using this cream cheese, the kitchen makes its own variation with a verdant note of scallion and another with little bits of lox folded into it — enough that you get the flavor of lox without sacrificing the compactness of a bagel with a schmear.
If you love lox for the luscious texture of the cold-smoked salmon as much as the flavor, you want the open-faced Delox sandwich, which layers thin slices of lox from the Ann Arbor, Michigan, purveyor Tracklements atop cream cheese and your choice of bagel. The accents are inarguable: capers, red onion, a dab of lemon oil and fresh dill. (You can also order a closed-face version of the sandwich, which costs less but includes fewer ounces of lox.)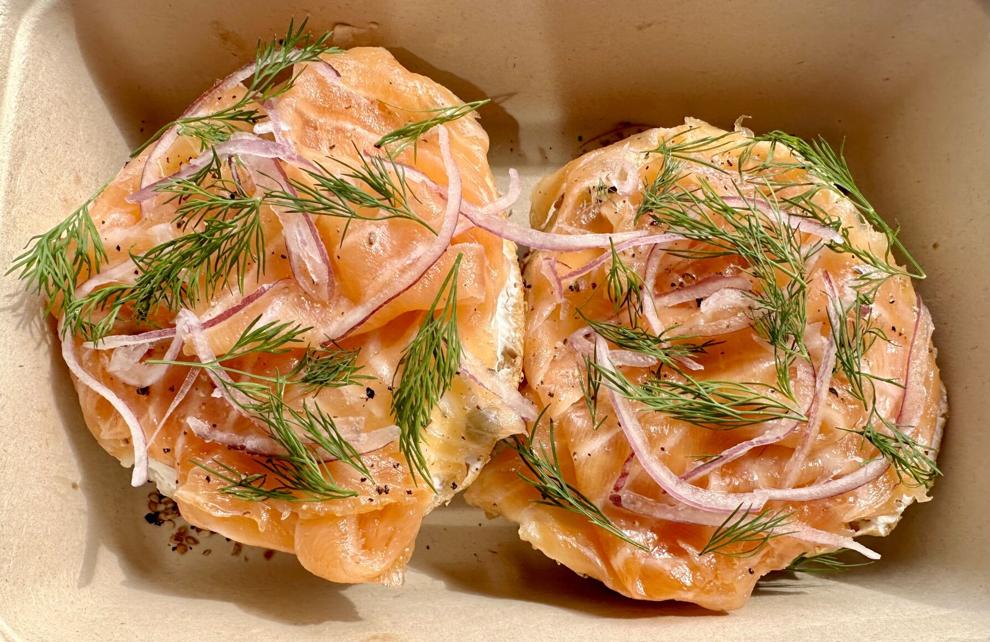 It won't surprise you to learn that the team behind Union Loafers is also turning out top-notch sandwiches at Bagel Union: chicken salad brightened by lemon, mustard and the summery licorice note of tarragon; spicy tuna salad both hot and bracing thanks to the trio of giardiniera, banana peppers and pickled shallots.
It might surprise you — it surprised me — that the best sandwich here is a salmon creation other than the Delox. The Iggy features kippered, or hot-smoked, salmon: Served chilled, the meat flakes like baked salmon but retains some of the supple texture of lox. Packed into your choice of bagel with scallion cream cheese, the thrilling, potent heat and crunch of chili crisp and a cilantro salad, it is a dish that makes the Bagel Union mission clear: This shop will help fill St. Louis' bagel gap, but it will also define excellence on its own thrill.
Where Bagel Union, 8705 Big Bend Boulevard, Webster Groves • More info bagel-union.com • Menu Bagels by themselves, with schmears and as sandwiches • Hours 7 a.m.-2 p.m. Wednesday-Sunday (closed Monday-Tuesday)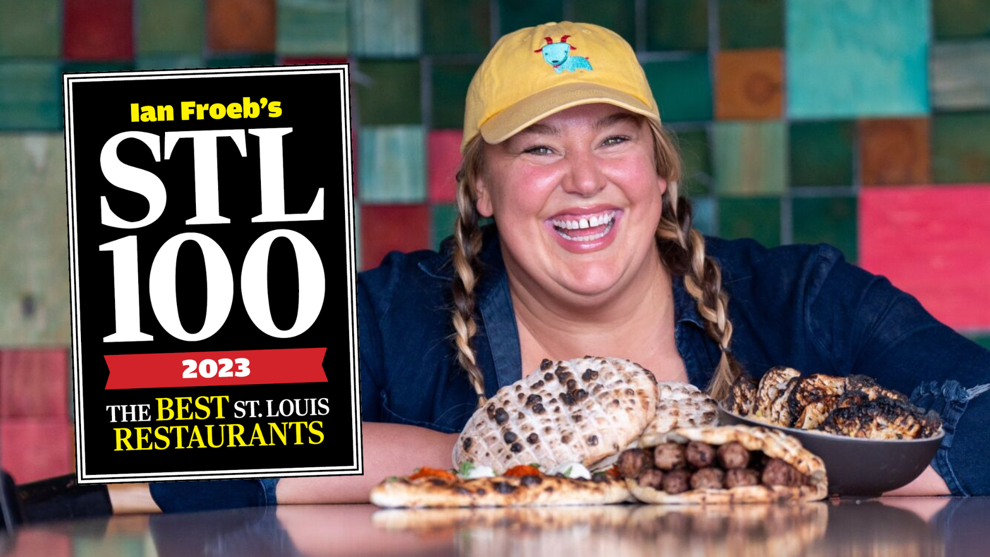 Looking for a St. Louis restaurant? Post-Dispatch critic Ian Froeb selects 100 essential spots for 2023.

Prep School: Cured salmon is easier to make than you think