Sparked by their pandemic journey and the closing of a beloved Grove coffee house, Andrew Gillilan and Caitlin Metz – along with their young son Charlie – decided to meld their love of baking and words, respectively, to create Saturday Morning Carton, a whimsical delivery service unlike anything else in St. Louis.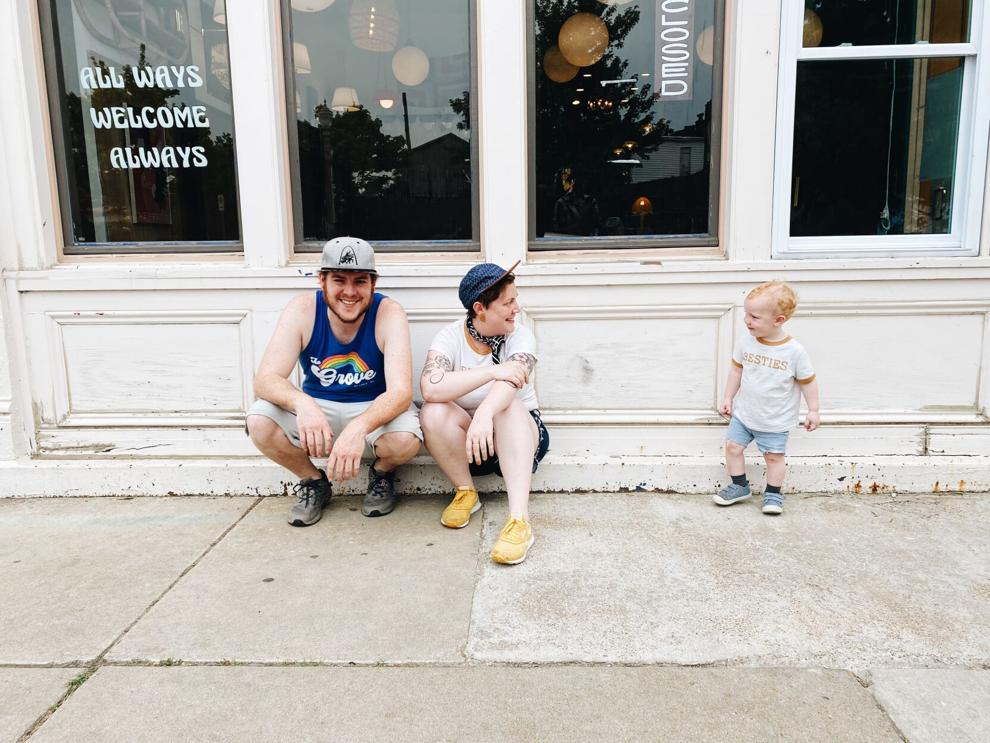 It's a weekly dispatch of homemade muffins alongside a hand-drawn newspaper, all packaged in a charming carton and placed on your doorstep. Muffin flavors are announced each Monday morning, and customers can place orders until Thursday evening. When Saturday morning arrives, the family delivers its handmade goods around St. Louis.
"Saturday Morning Carton brings to your doorstep the nostalgia of the milkman, analog newspapers and morning cartoons, along with doodles and musings about what queerness can offer us, how to stop hustling and listen to our bodies and the radical idea that poetry could change your life," Metz, the newspaper writer, says. "It challenges the idea that suffering is required to make something valid or real and asks if our joy can be both a gift and invitation to others."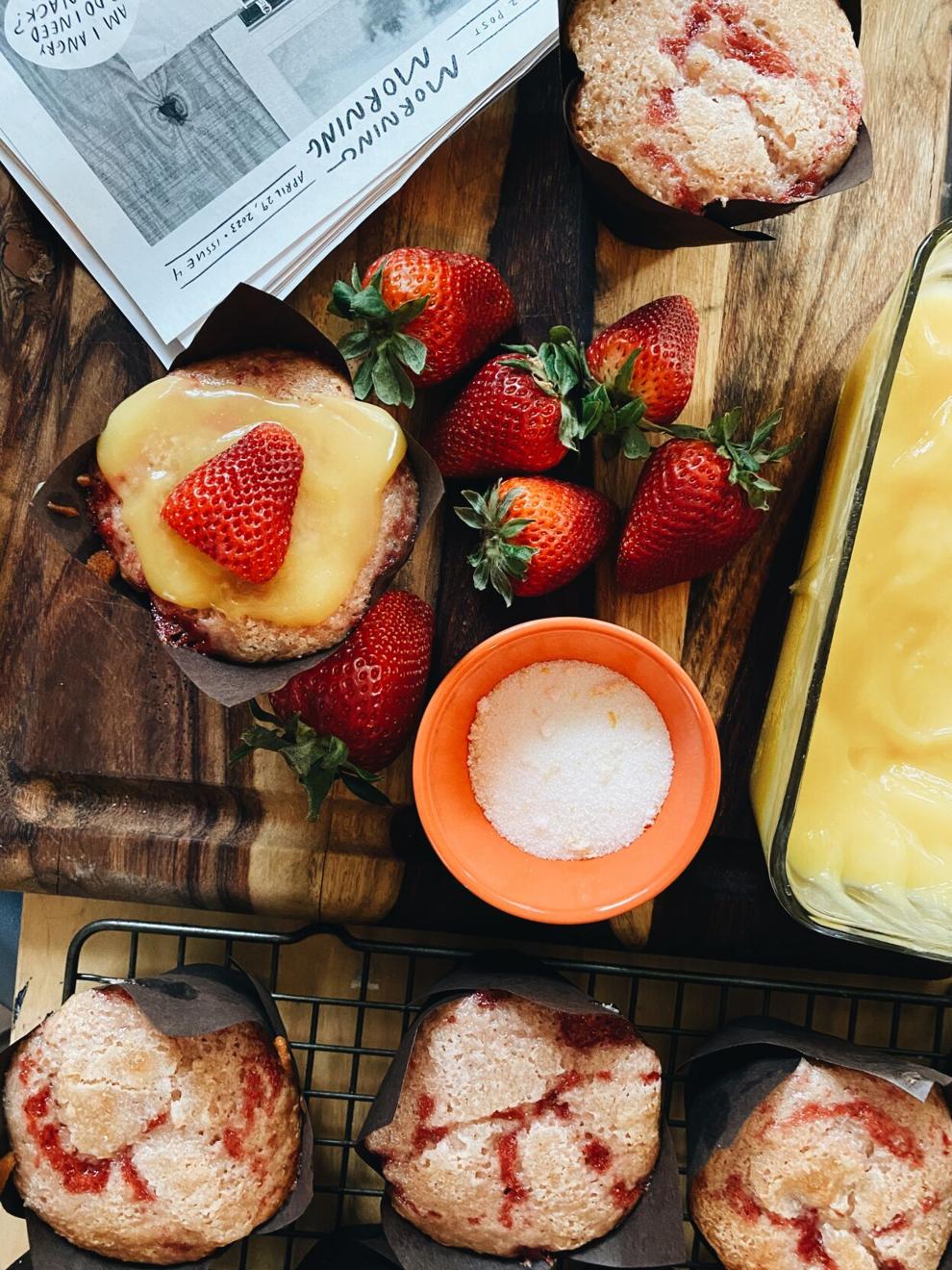 One half of Saturday Morning Carton is Gillilan, the "steady foundation," according to Metz. He's a self-taught baker, stay-at-home parent and the type of person who likes to be behind the scenes. Back in 2019, he took a leap of faith to quit his work in construction and warehouse management and start baking at the now-shuttered Rise Coffee House, a Grove favorite up until June 2022. "It was the best decision of his life, in my opinion," Metz says. "I witnessed such a softness and ease come over him – covered in flour, dreaming up flavor combinations, writing new recipes – and fell hard for this new iteration of him."
Metz is the easily excitable yin to Gillilan's yang – the "CEO of feelings" in life and business, they say. A designer and illustrator by trade, they also worked at Rise, crafting merchandise, drafting publications, curating events and operating its Instagram page. Metz, along with many in the city, were saddened when the coffee house shut down. "Our devastation about Rise closing was in direct measure to the happiness we'd found in that little coffee shop, and as such we needed a moment to let that settle before jumping into whatever was next," Metz explains.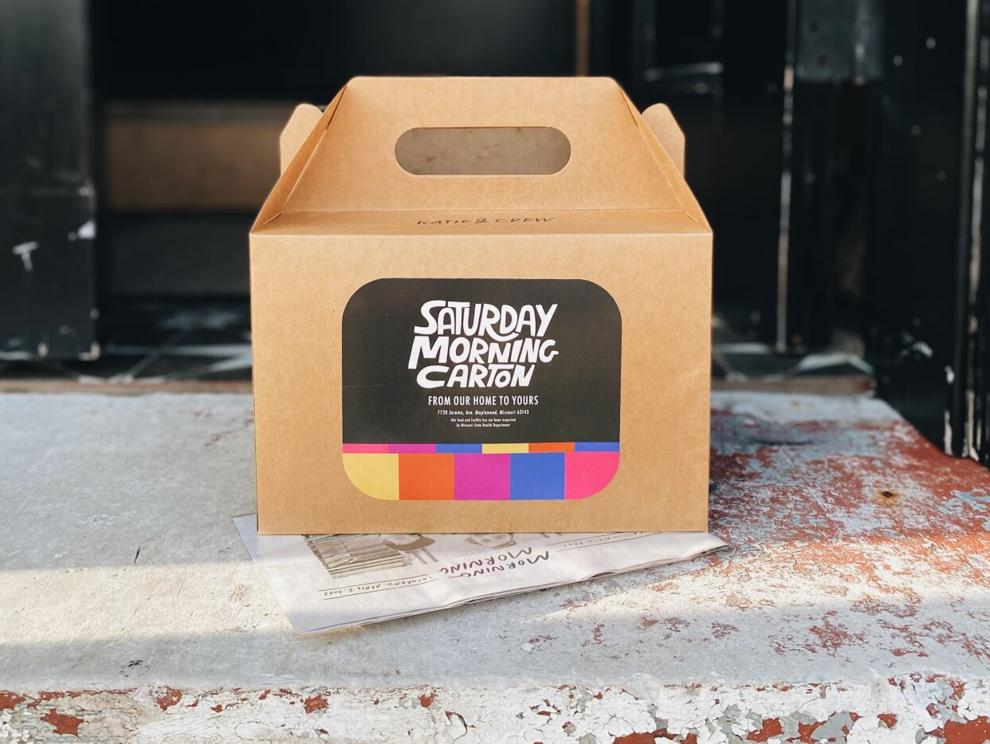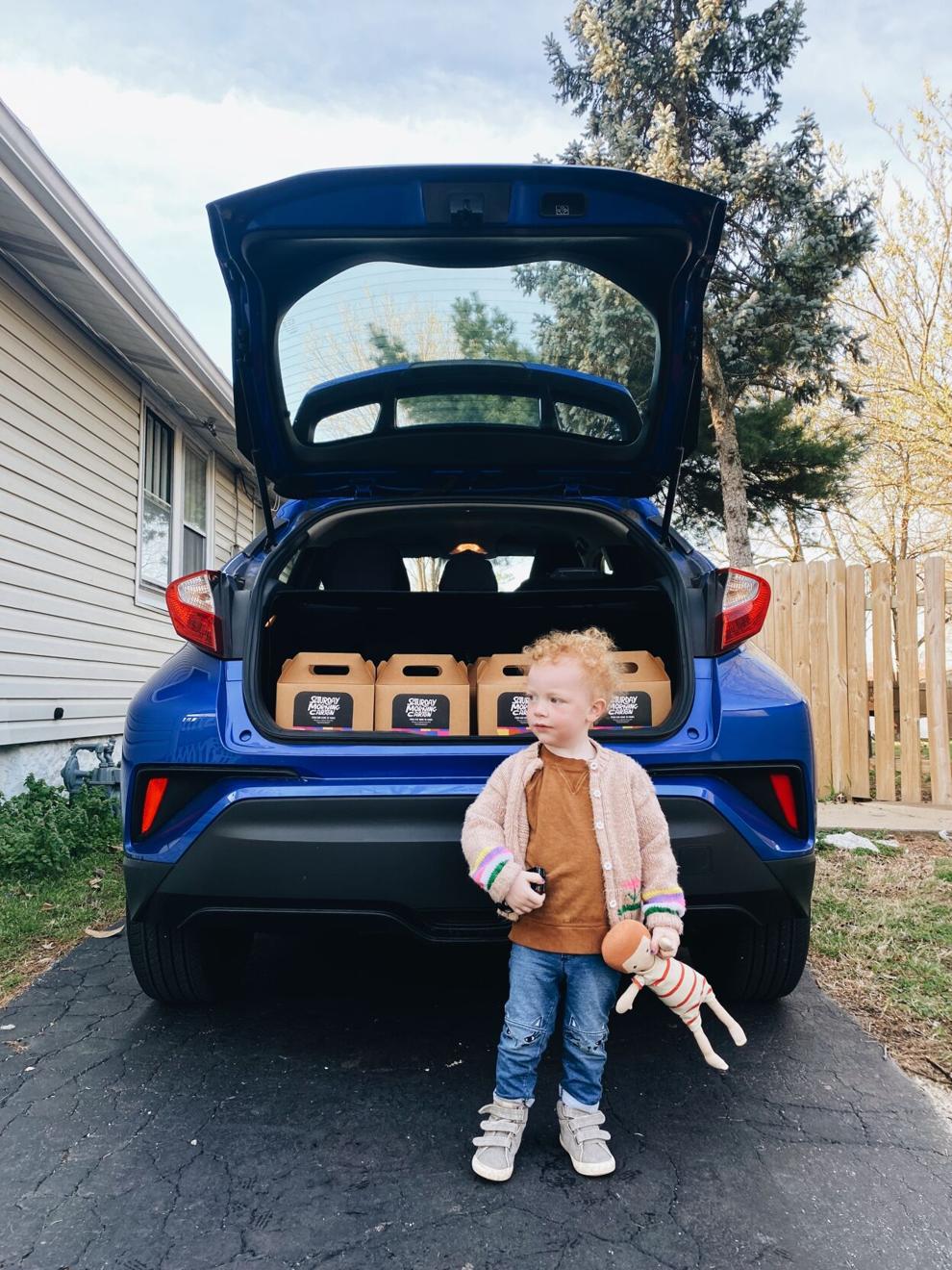 The pandemic brought about many changes and even bright spots, including a new member of the Gillilan and Metz family: Charlie, who's now two-and-a-half years old. "Throughout the impossible days of the pandemic, we got a crash course in how to adapt and pivot – balancing our new babe between us, learning what it meant to build a family around work that brings joy," Metz says. Gillilan became a stay-at-home parent, caring for Charlie – the "mischief maker, director of play and our light forward," Metz adds – and Metz took on more client work.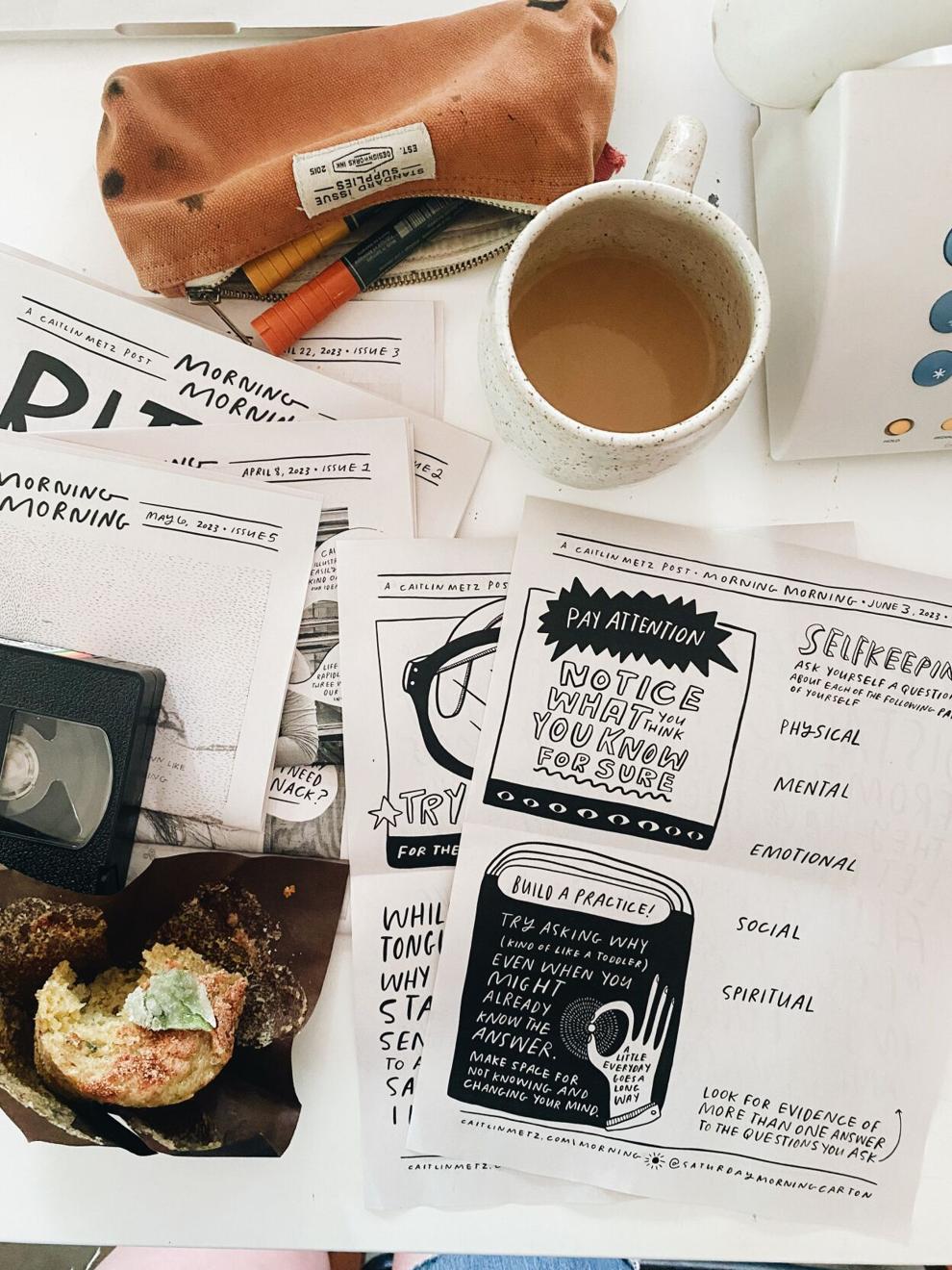 After frequent discussions involving future plans, Metz made a list, writing down all the things that brought them comfort, delight and joy. Gillilan did the same. "For me, it's writing and drawing, reading and reflection; for Andrew, it's baking, writing recipes and not being tied to a set menu," they say. "From that list, Saturday Morning Carton was born."
Now, Metz is on their way to publishing a second book titled "Feel Something, Make Something: A Guide to Collaborating with Your Emotions," out in July. "I'm an octopus with my tentacles in all sorts of different projects and ideas," Metz says. "I make zines, prints and drawings about mental health, queerness and parenting." They're also an adjunct professor at Maryville University in the Design and Visual Arts program.
Here, Gillilan and Metz talk pizza as a spiritual force, Sproda and the perfect pairing for gummy bears (hint: it's briny).
What's the best thing you've ordered at a restaurant recently?
Gillilan: Hot Salami on garlic cheese bread from Gioia's on The Hill.
Metz: Everything on the brunch menu at Little Fox, but especially the French toast sticks, ricotta pancakes and housemade Spam.
What's your favorite food memory?
G: My mom's banana cake. It's a birthday classic in our family, topped with a huge yellow Easter egg candle. [The] tradition started when my sister and I were kids and my parents didn't have regular birthday candles on hand.
M: Every time I share pizza with my friend Kaplan is my favorite. They're the only person I've met who experiences pizza on such a spiritual level as me (kidding, but also not).
Where's your favorite place to grab a drink and what do you order? 
G: The Sproda at Living Room Coffee & Kitchen; [it's made with the restaurant's own simple syrup, soda water and a shot of espresso]. 
M: 'ssippi's Lambrusco (paired with gummy bears and olives; it's a thing, people).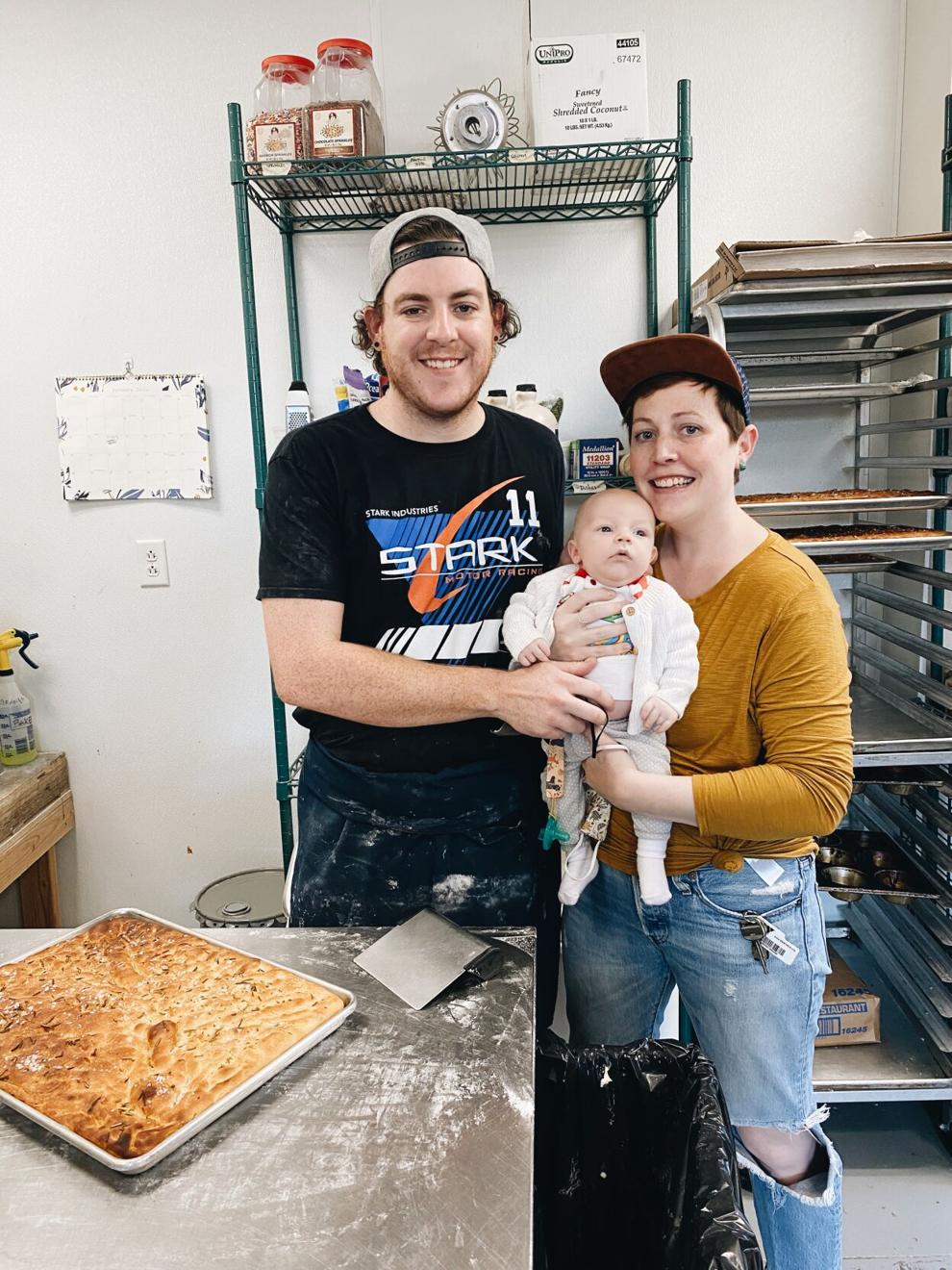 What ingredients do you think everyone should keep at home and why?
G: Chile crisp – it goes on everything! 
M: Trader Joe's frozen dinners, [plus] cheese, nuts, dried fruit, apples, dips and chips for emergency charcuterie. (If you don't know what it means to need an emergency charcuterie board, are you even living?) And wine, obvs. Trust that while I lay no claim to culinary or domestic prowess, I will always be ready to build an aesthetic board of snacks and pour you a glass of wine.  
What's your most controversial food/drink opinion?
G: Kraft cheese makes the best grilled cheese, and Provel is the best pizza and cheesesteak cheese.
M: Either that pineapple belongs on pizza or that olives and gummy bears should be paired together. It's honestly a toss up for the most controversial.
Saturday Morning Carton, caitlinmetz.com/morning