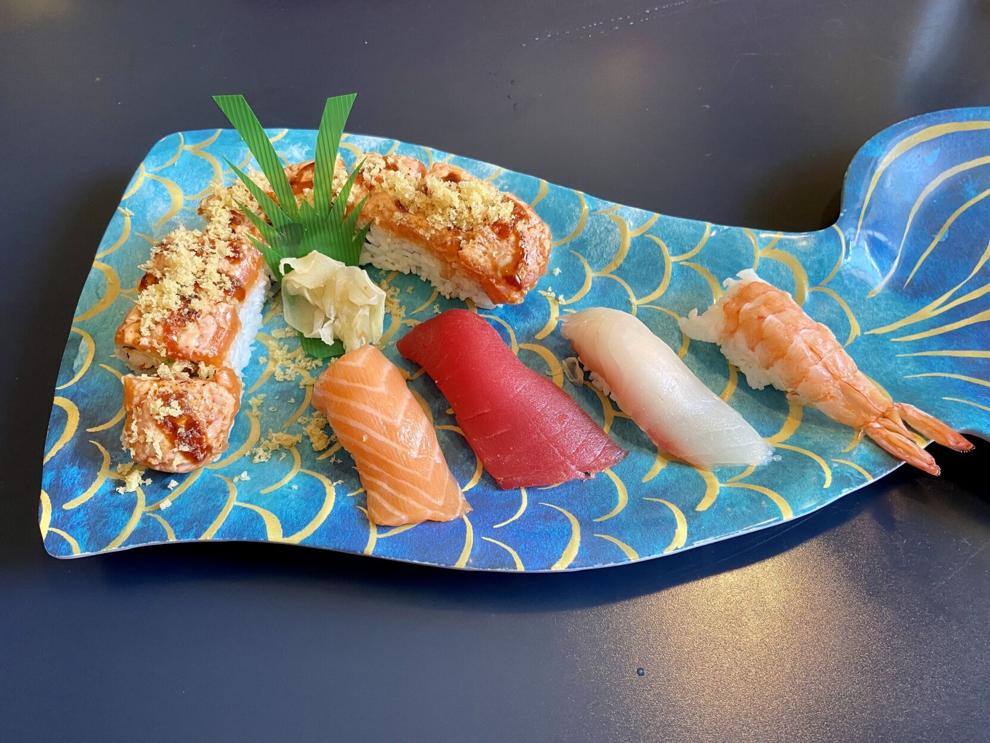 Are you also seeking that elusive lunchtime Venn diagram of convenience and quality, a meal that fits your schedule and budget but doesn't feel rushed?
If you're in or near the Affton area, consider Sushi Hana. I visited the restaurant only once pre-2020, but over the first year and change of the pandemic it became a takeout favorite. I've eaten in the dining room a few times recently, drawn to return by the unaffected vibe — chill, but not "chill" — and, naturally, the sushi.
By all means, visit Sushi Hana for lunch or dinner and work your way through the selection of nigiri, sashimi and rolls. (Also don't overlook the restaurant's shrimp tempura.) But I want to highlight one of the lunch specials here: four pieces of nigiri, a roll of your choice, and soup or salad for the price of the roll plus $6.
You're looking at around $15 to $20 before tax and tip for one of Sushi Hana's more elaborate rolls, less than that for something like a California roll. I went with my favorite roll here, the Hana ($13 by itself): crab, avocado and jalapeño inside, torched spicy salmon and a sprinkling of tempura "crunch" on top. Each bite delivers a touch of sweetness and heat and, crucially for a roll, actually tastes like its seafood ingredients.
The nigiri — the special features tuna (maguro), salmon, red snapper and shrimp — is no-nonsense. It isn't the most complex in town, but if you want the clean, pure flavors of the fish in question, it overdelivers. The salmon, especially, displayed a lovely texture, supple but not soft.
Add in a cup of restorative miso, and for $19 plus tax and tip, I was sated, refreshed and on my way.
Where Sushi Hana, 8809 Gravois Road, south St. Louis County • More info 314-257-9079