Wil Brawley

New Society, a subterranean cocktail bar hiding beneath the streets of South Grand Boulevard, is bringing culinary cocktails to the center stage in St. Louis. Helmed by nationally acclaimed industry veterans Mike Fricker and Meredith Barry, the dark and brooding speakeasy is pioneering the movement where culinary technique and crafting cocktails intersect.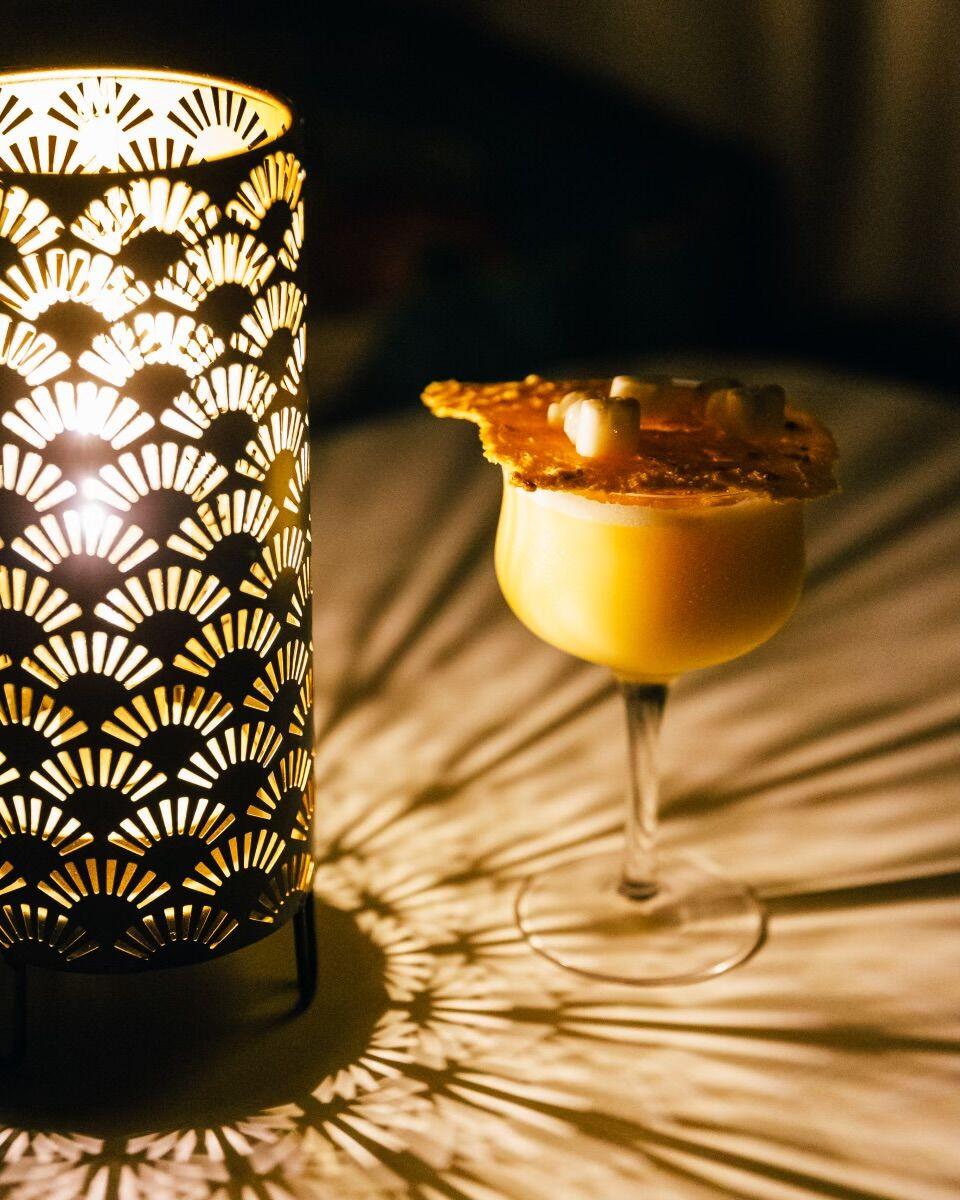 Tucked behind an unassuming bookshelf in the corner of Grand Spirits Bottle Co. is a hidden stairway: one that's been there the entire time, waiting for Fricker to find the right moment to expand his dream into the lower level of the building. It's been a year of transition and expansion for Grand Spirits, which debuted Grand Sammies & Sides with chef Pat Skiersch at the same time New Society came to life. Guests of New Society enter in through the main level and are ushered down a set of stairs that await beyond the hinged shelf. The experience – at once disorienting and inviting – sets a tone that's unapologetically sexy, descending you into darkness and focusing your senses in a way few bars are able to accomplish, all before a cocktail glass ever even touches your lips.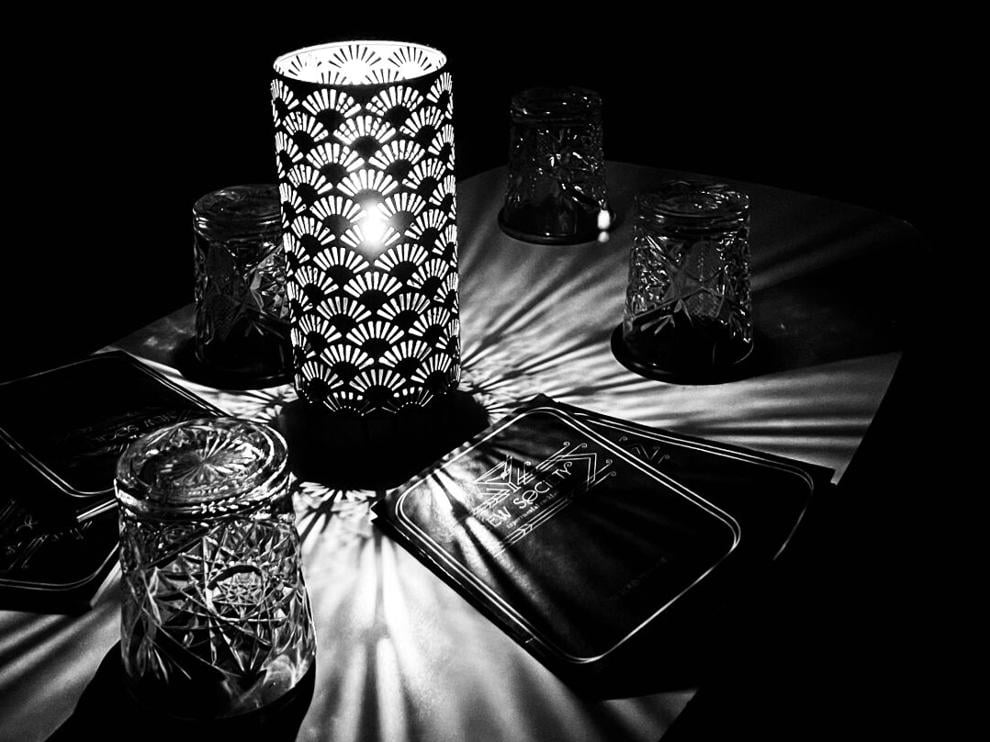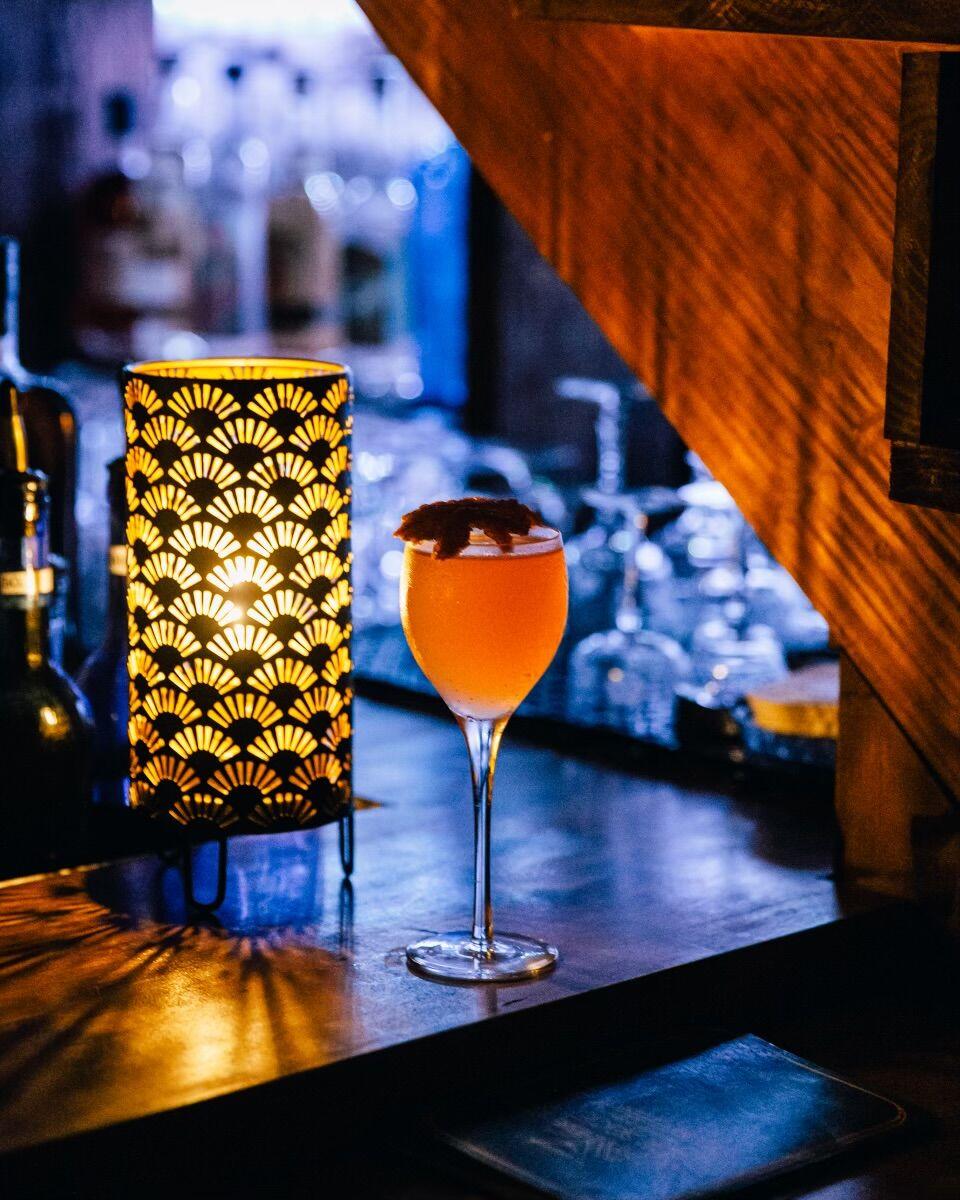 Old friends and frequent collaborators, Fricker and Barry have worked tirelessly to bring Fricker's dream of a culinary-driven cocktail program to life. Fricker, who spent many years as a chef, was ready to explore food in a wholly different way. "I've always wanted a culinary [cocktail] program," Fricker says. "The marriage between food and drink – I don't think they're as different as people think. It's the same ideology, it's just liquids instead of solids. You can apply the culinary techniques to drinks, and you can apply drink techniques to culinary. There are a few bars in the world that are really starting to push culinary-style bar programs. Meredith [Barry] and I's goal is to be at the forefront of that."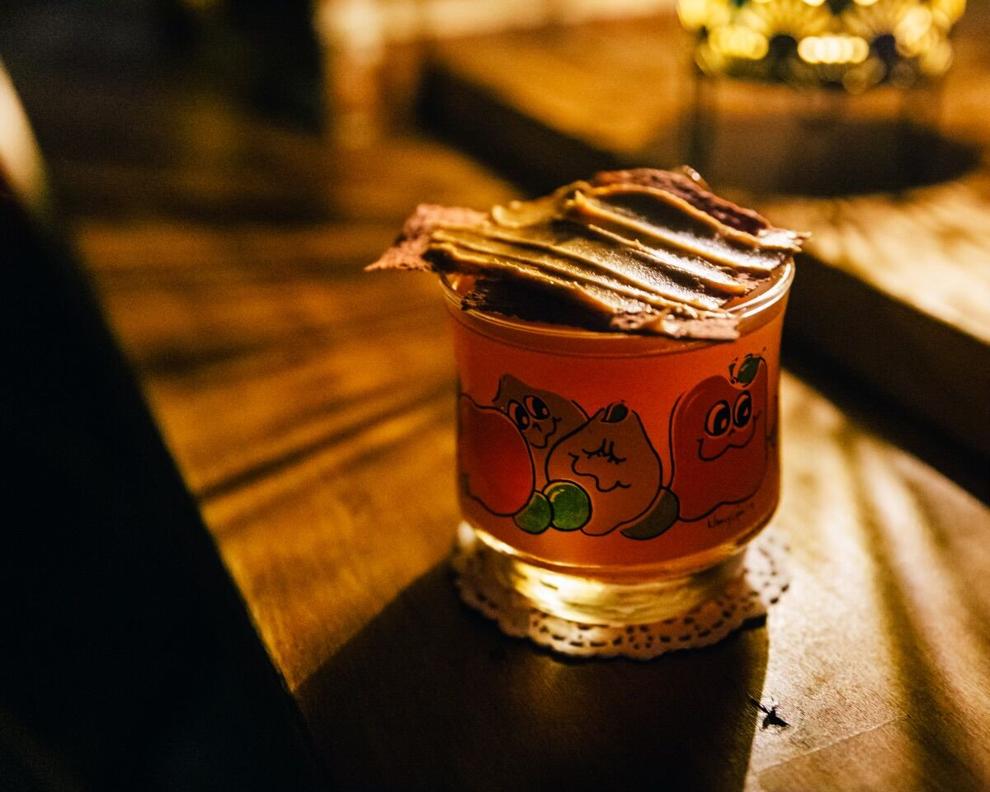 Though the idea of a culinary bar program is a new concept for some, it's been something Fricker has had in his mind for a while now. He explains that a culinary bar program "introduces things in cocktails that typically aren't going to be there; that you're more likely to see on a plate of food than you are in a drink."
"At the same time, for us, it's a philosophy of building," Fricker says. "We start with a dish we've seen or [one] I've done in the past that I really want to put into drink form. We apply those culinary techniques to things that wouldn't normally be brought out behind a bar."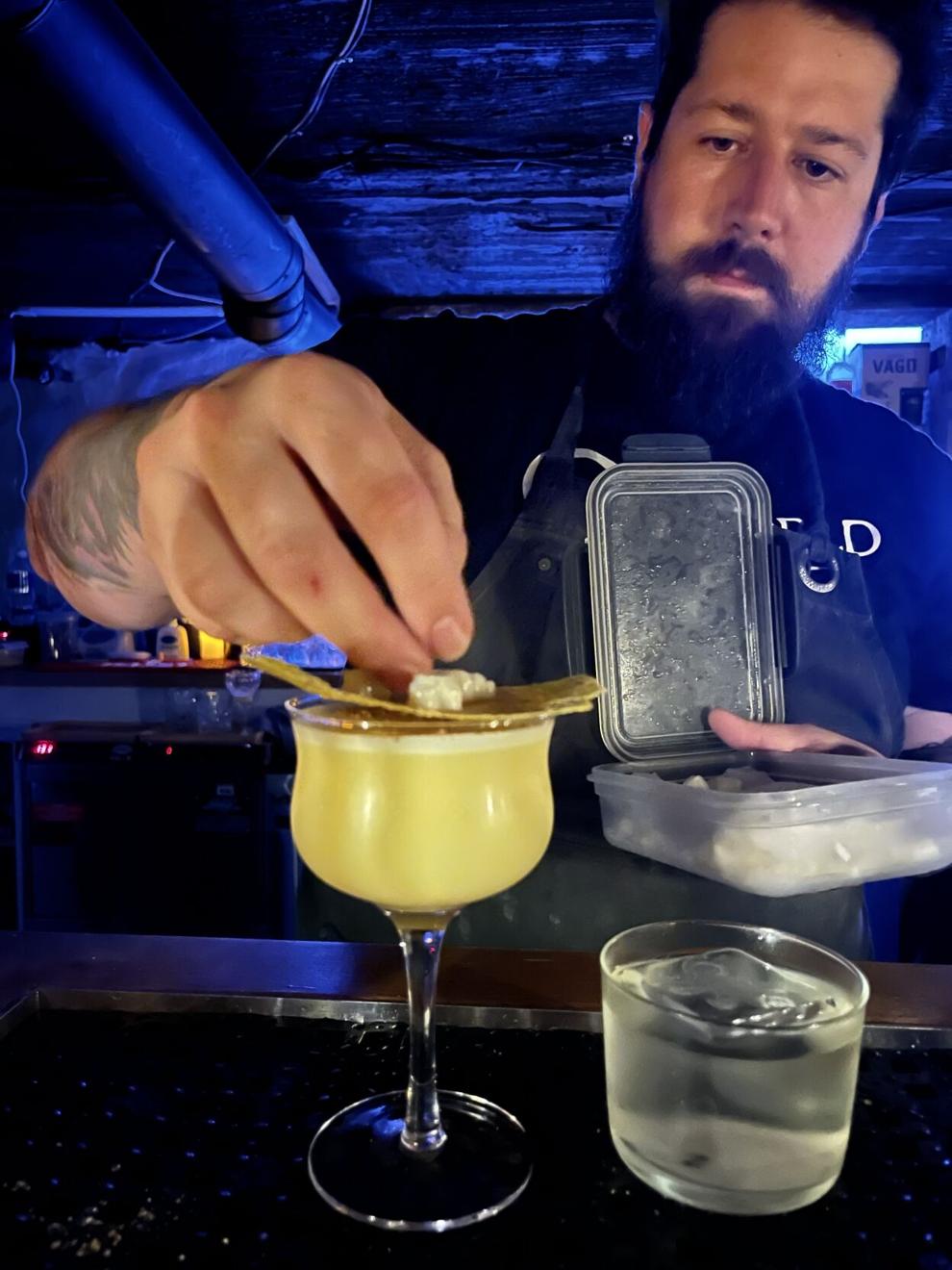 At New Society, it's about craftsmanship and the challenge of building flavors rather than simply throwing parts together to form a whole. Every drink on the menu takes time and labor to craft. New Society is open Friday and Saturday nights, but preparation begins on Tuesday to execute the many components that go into each cocktail on the well-executed menu. Fricker and Barry make regular use of a centrifuge, a sous vide circulator and a dehydrator, to name a few of the many pieces of equipment critical to the process of setting up for the weekend's service. Take, for example, the Kitchen Kulture cocktail, which includes a marinated olive-infused and extra virgin olive oil-washed vodka; a savory tomato water influenced by liquid koji and roasted seaweed basil oil; and a mozzarella foam. The finished product feels less like a cocktail and more like a marked moment in time.
Upon landing in one of New Society's comfortable collection of seats, guests are provided with a complimentary amuse bouche made from overbrewed Irish berry tea mixed with Amaro Montenegro, served in hand-made Oaxacan micro-mugs. The bite is designed to engage guests' palates as the bar team introduces the three chapters of New Society's cocktail set and encourages them to approach it as they would a culinary tasting menu.
The menu, printed on spent agave fiber, is a perfect example of the little details that make New Society what it is. It presents itself in chapter and verse, laden with poems and illustrations to describe the message and meaning behind the drinks they represent. Fricker and Barry's collaboration contains three core components: culinary cocktails at the front; an "Erotic Anxiety" section of four high-end riffs on classic cocktails; and a final chapter titled "The Hits Keep Coming" filled with inventive but approachable selections.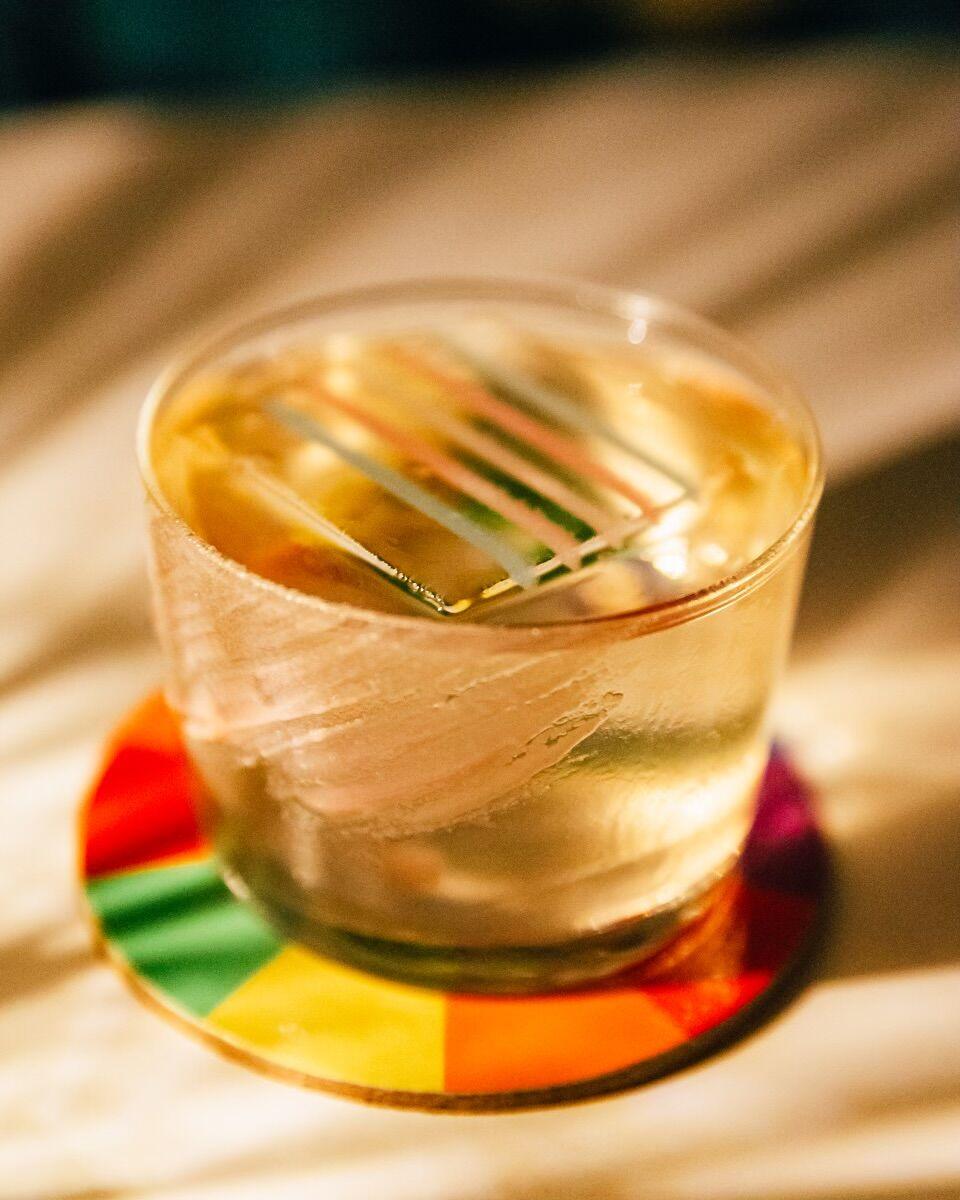 The play on a classic daquiri becomes something much more in Fricker and Barry's hands. Made with Oaxacan charanda, aquavit, two oleo saccharums (one made from banana, the other from green and yellow kiwi), malic acid and salt, the drink is missing all of the ingredients found in the traditional take. However, the finished cocktail surprisingly brings all the flavor one would expect from the original approach. It adds a voluptuous texture that allows the flavor profile to rest on your palate longer than its traditional counterpart.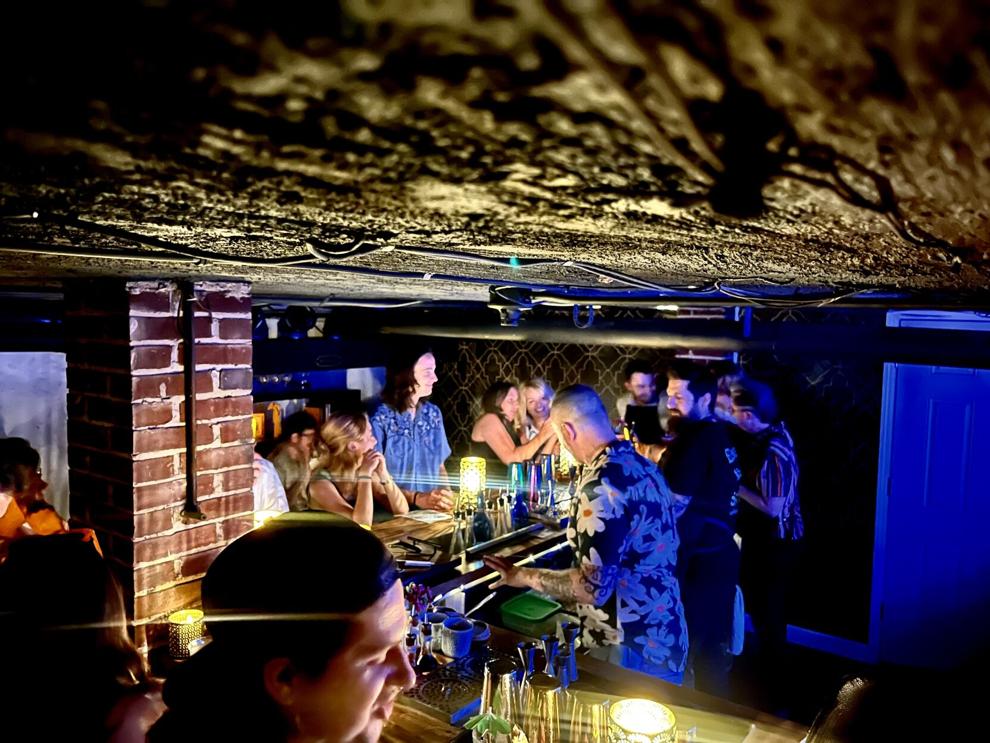 The finely-tuned details of New Society extend far beyond the drinks. "For us, details are where good bars become great bars," Fricker says. "That's something I learned in kitchens. You pay attention to your mise en place … it's a chef's mindset. Most bartenders don't think like that because they have the food element already, and the cocktails are an accent or pairing. We don't have that." Because the cocktails are the main event, each individual element of the experience needs to be flawless. "The experience has to be perfect … I lose sleep at night because I'm thinking there's something here that I know we can do better, and I know I have to figure it out," Fricker says.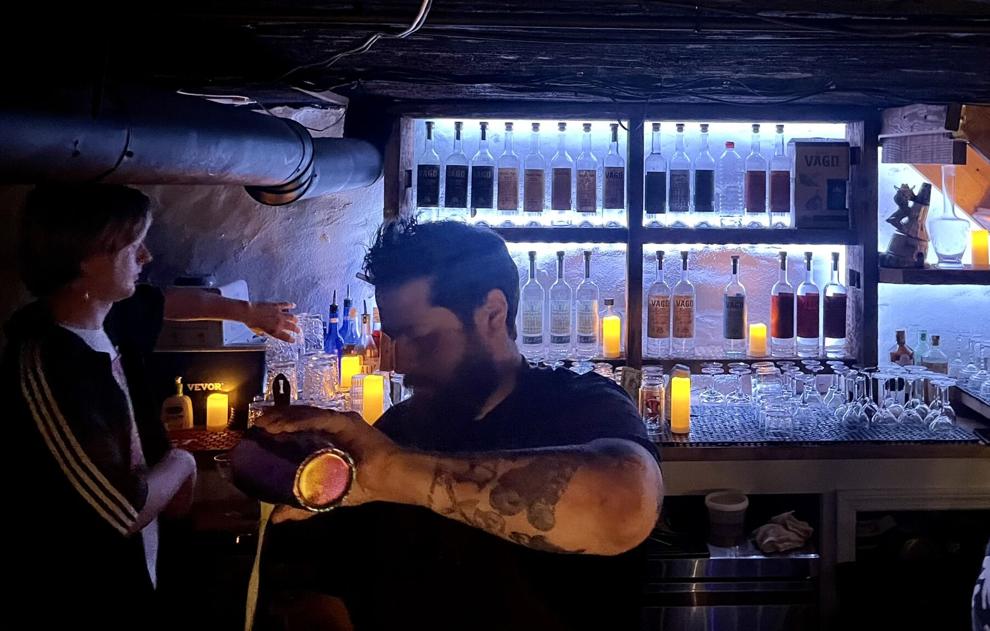 Fricker and Barry also actively use the concept as social commentary to further the ideas they put their voices behind, especially pertaining to the LGBTQ+ community. "One thing we've always tried to do on our platforms has been to give a voice to people that don't necessarily have the largest voice … and to be hyper inclusive." He says. "The poetry [in the menus] is written by members of the LGBTQ+ community and [racial] minorities, and we have a local trans artist doing a bunch of illustrations for us. Everything in this bar is meant to be that way. We have something to say, and just because we're bartenders doesn't mean we don't have the voice to say it. Who has a larger social view than those who see people socially every day? For us to have a social commentary is everything."
Just after a few months, New Society is establishing itself on South Grand as one to watch: an entity that uses its abbreviated space with confidence, adding another standout establishment to the ever-growing list of concepts that are reinvigorating the Tower Grove South area.
New Society Experimental Cocktail Lab (inside Grand Spirits Bottle Co.), 3194 S. Grand Blvd., Tower Grove East, St. Louis, Missouri, instagram.com/newsocietystl