If we eventually remember 2023 as the year St. Louis reversed its reputation for lackluster bagels, we will owe Einstein Bros. Bagels a thank you. Don't fret, bagel aficionados. We will be thanking Einstein Bros. for closing its location in Town and Country.
That was the go-to bagel shop for Scott "Lefty" Lefton, the eponymous co-owner of Lefty's Bagels in Chesterfield. Already a homebrewer and competition chili cook, Lefton discovered a new obsession: learning to make bagels at home. He blew out two mixers in the process, but his bagels started earning praise from his family.
Early in the pandemic, Lefton enlisted his brother-in-law Doug Goldenberg in his bagel-making, and the duo set up operations inside the shared-used Bakers Hub space in Chesterfield. Word-of-mouth drove demand, especially among the area's Jewish community. (Both Lefton and Goldenberg are Jewish, and they see Lefty's not only as a business, but also as something the community has needed.)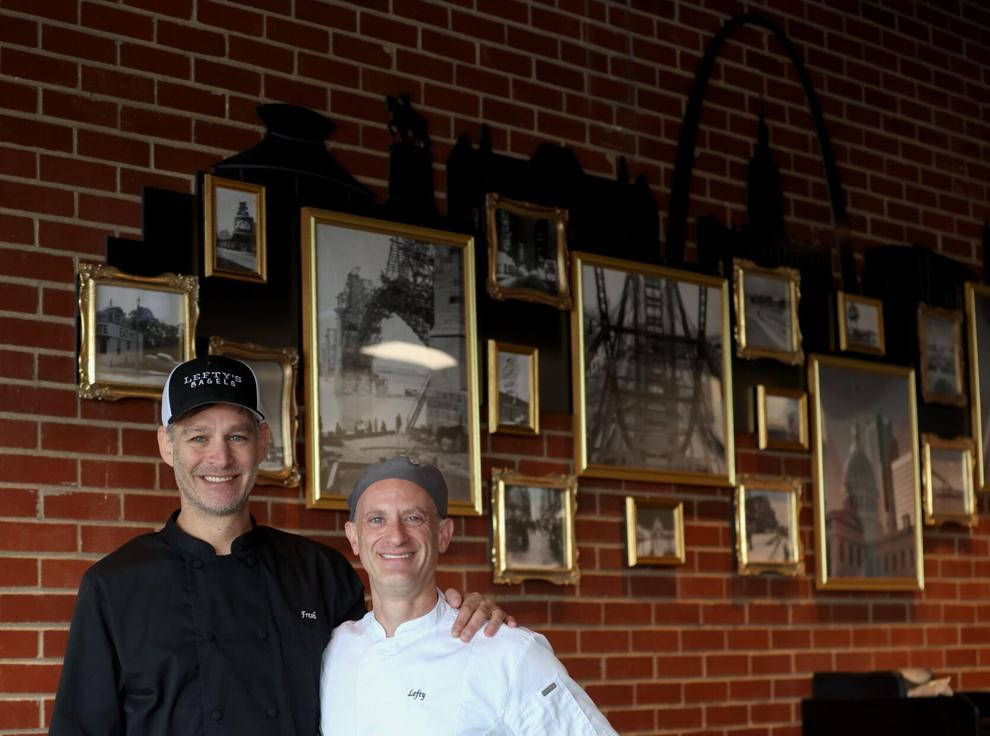 Demand necessitated a larger home for Lefty's Bagels than the Bakers Hub could provide. That storefront opened in April in the shopping plaza overlooking the interchange of Olive Boulevard and Highway 141. The counter-service layout features a few dining tables and a brisk business in takeout. Along one wall, a mural showcases photos of historical St. Louis against a backdrop of the Gateway Arch and other landmarks, a welcome touch of character in a space understandably designed for efficiency.
Lefty's is one of three bagel shops that have debuted in the metro area this year, along with Bagel Union in Webster Groves and C&B Boiled Bagels in Wood River. Bagels also feature prominently on the menu at Deli Divine, the new Jewish deli in the West End from acclaimed chef-restaurateur Ben Poremba.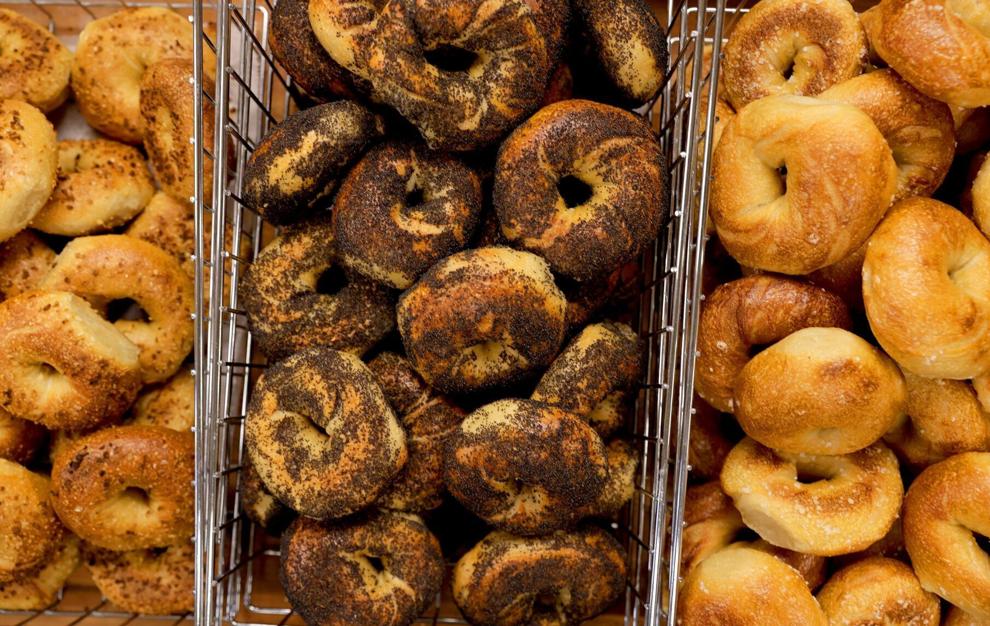 Lefton and Goldenberg might not boast the culinary bona fides of Poremba or the teams behind Bagel Union (Sean Netzer and Ted Wilson of Union Loafers) or C&B (Amy Herren, who previously operated the Edwardsville
restaurant Fond, and her husband, Matt, who founded 222 Artisan Bakery and Goshen Coffee). But having interviewed the brothers-in-law in person a few months ago, I doubt anyone can exceed their passion for bagels.
At Lefty's, Lefton and Goldenberg follow the traditional New York method of bagel-making. First, the bagels are boiled in a kettle in malt-sweetened water. Then, they are baked in a deck oven atop a bagel board lined with wet burlap. The bagels begin baking upside-down. After a few minutes, the bagel cook flips the board, and the bagels finish baking right-side-up. This flip is fast, hot and precise. You can watch a brief, mesmerizing video of the process on Lefty's Facebook page.
Or you can just order a bagel at Lefty's. You won't see the bagel flip, but you will learn firsthand how Lefty's process delivers a glossy bagel with a gentle chew and fleeting sweetness at its heart. Lefton and Goldenberg haven't overthought the varieties they offer beyond plain. You'll likely find your favorites among the regular selection — salt, garlic, onion, everything, sesame, poppy and tzitzel — while the daily specials include cinnamon raisin on Tuesday, pumpernickel on Friday and Saturday, and blueberry on Sunday.
Likewise, the schmear menu is straightforward: plain, garlic-herb, vegetable and Nova-style smoked salmon cream cheeses, as well as butter and margarine. (Lefty's bagels and cream cheeses are produced under kosher supervision. The rest of the menu is not.)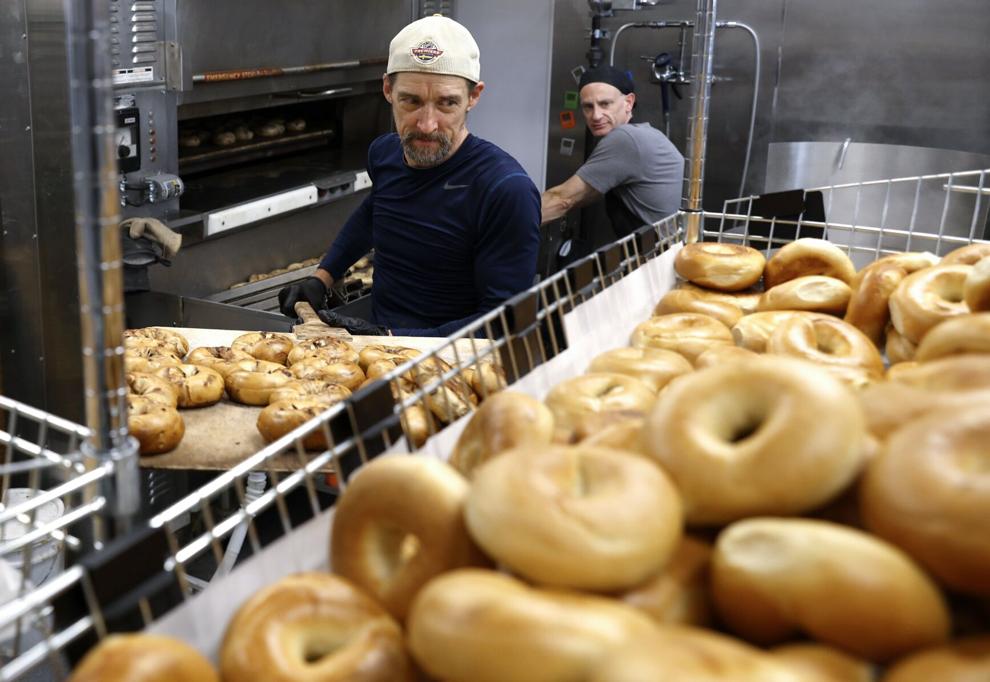 A bagel and a schmear is reason enough to visit Lefty's, but the shop distinguishes itself with its variety of breakfast and lunch bagel sandwiches, from a classic arrangement of scrambled egg with cheese and applewood-smoked bacon to the I Want It All. Or, as the menu styles it, the I WANT IT ALL: an imminently collapsing assemblage of scrambled egg, pastrami or corned beef, sauteed onion and a latke.
The King of the Hill packs so much juicy medium-rare roast beef between its bagel halves that it hardly matters which variety of bagel you choose. More delicate by far is deli-salad sandwich of smoked whitefish, creamy without being messy, the fish's mellow smokiness dressed with brighter notes of onion and cucumber.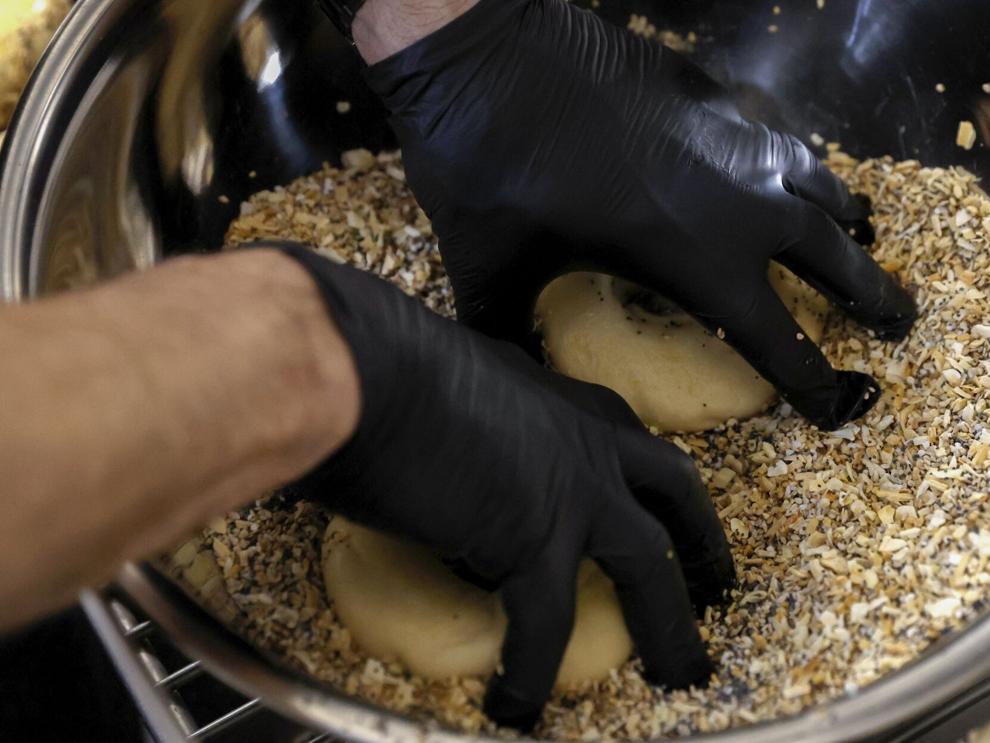 Lefton and Goldenberg have brought in several different types of smoked fish, which are available on bagel sandwiches or in larger takeout quantities for your own appetizing meal at home. For the Lox o' Love sandwich, Nova-styled smoked salmon — supple and sweet, mild in both its saltiness and smokiness — is served open-faced atop your choice of bagel and schmear with capers and thin slices of tomato, cucumber and onion.
Given the bread-sliced state of St. Louis bagels before now, I have been tempted both here and at Bagel Union in my review last month to let the superlatives accumulate. We are only halfway through the Year of the Bagel, however. I will leave Lefty's with this: Yes, if you order a bagel sandwich for lunch, you should also choose the thin, crisp, buttery bagel chips as your side.
Where Lefty's Bagels, 13359 Olive Boulevard, Chesterfield • More info 314-275-0959; leftysbagels.com • Menu Bagels with schmears and as breakfast and lunch sandwiches • Hours 7 a.m.-2 p.m. Tuesday-Sunday (closed Monday)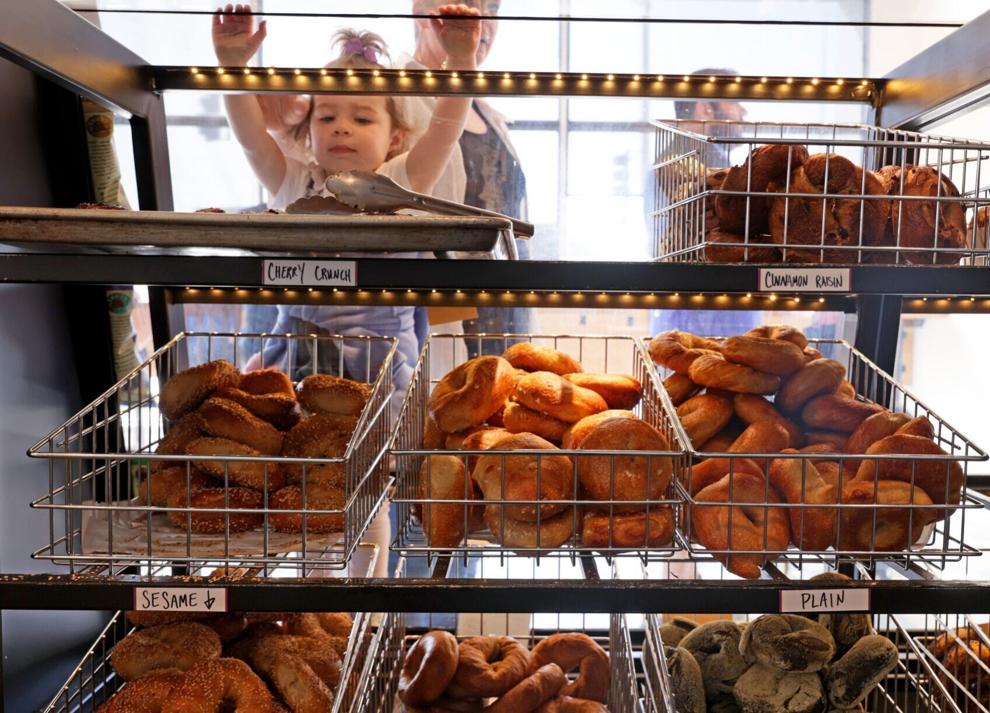 Three new storefronts — Bagel Union in Webster Groves, Lefty's Bagel's in Chesterfield and C&B Boiled Bagels in Wood River — are committed to bringing St. Louis a better New York-style bagel.