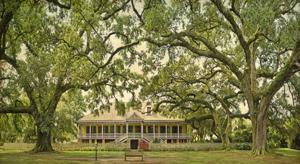 By Suzanne Corbett
Special to the Post-Dispatch
VACHERIE, LOUISIANA — Antebellum plantations haven't always been completely honest. After opening as tourist destinations many chose to soften, and in some cases, eliminate a pivotal part of their history: slavery. It's an uncomfortable subject for some who found it too challenging or painful to address, an omission that left a gaping hole at many sites' interpretation. It's also an unfortunate loss for historic preservation that placed countless stories of the enslaved at risk of being lost. But not at Laura Plantation, Louisiana's Créole heritage site."We have always told the whole story," said Joseph Dunn, Laura Plantation's director of communications and marketing. "When we opened Laura Plantation for tours in 1994, we were the first people to talk openly about slavery at their site and used the word slave. Up until then, most places were saying servants. And, if they did mention the enslaved it was a side bar often using cutesy little anecdotes as, they loved the family blah, blah, blah."
People are also reading…
Man shoots, kills robbery suspect during 'violent crime spree' in St. Charles
Cardinals' bullpen does the job, but Genesis Cabrera shows some bad mound presence
Hochman: Juan Soto is for the birds; starting pitching is for the Cardinals
Missouri's top mental health official balked at new homeless law. The governor signed it anyway.
Messenger: Daughter wants justice for dad's arrest at BJC while he was a kidney patient
Cardinals two-way prospect Masyn Winn flashes his 100.5-mph heat. From shortstop.
All-Star Game notebook: As trade buzz swirls, Nationals star Juan Soto could 'tremendously' shape race
BenFred: Arenado, Marmol make clear where they think bar for Cardinals should be
Blues GM Doug Armstrong on Tarasenko rumors: 'I expect (to have) him'
Nurses pack courtroom as judge denies bond for SSM DePaul stabbing suspect
Fed-up Missouri caregivers walk away from disabled client, leaving mother, sheriff's deputy scrambling
Safaris, glamping, tower ride: St. Louis Zoo reveals details of WildCare Park
Nolan Arenado says test vs. top teams underscores Cardinals 'needs'
Cardinals draft Oregon State's Cooper Hjerpe, lefty who defies bats, delights metrics
Pujolspalooza! All-Stars orbit around Cardinals great Pujols as he shines in his final Derby
Examples of the bowls and containers handmade from gourds, cane and wood, with miscellaneous tin and graniteware the enslaved used in their cabins. 
Photo Suzanne Corbett
Named for planation's founder's great-granddaughter, Laura Locoul, Laura Plantation was originally named I'habitation DuParc. Guillaume DuParc, an American Revolution veteran who offered his services with French Generals Rochambeau and LaFayette, was given land grants and acquired adjacent lands from the Acadians on the west side of the Mississippi River between Baton Rouge and New Orleans. It was a prime location perfect for sugar farming. Construction of the plantation's main house was completed in 1805, built with slave labor on what was once the Native American village of the Colapissa."Sugar is still grown on what was the original plantation, which at its height was 12,000 acres, most of which was cypress forest with 1,000 acres in cane," Dunn said explaining the large numbers of the enslaved who lived, labored and died on the site. "Before the Civil War 186 enslaved people worked the plantation, but over time, between 1805 and 1860, over 400 enslaved people moved through the site of which we can document 400 individual men, women and children by their first names. Our research has allowed us to re-create a family tree down to the present day of decedents of Flagy DuParc, Laura's great-uncle, and his enslaved women."Personal accounts of Laura Plantation's enslaved were documented in Laura Locoul Gore's memoirs, which were discovered in 1993 in St. Louis, the city she moved to after her marriage to St. Louis businessman, Charles Gore. This historic find included stories of the planation's enslaved, some of which are graphic and disturbing.The memoirs tell the story of Anna, an enslaved woman who was almost sold away from her child. Another tells the story of an elderly man Laura called Pa Philippe, who had been branded as a young man for trying to run away.
A colorized 1888 photograph depicts enslaved workers and managers at the Laura Plantation Sugar Mill. Third from left is Édouard Duparc Gros, a veteran of the Union Army, 75th U.S. Colored Troops. Édouard's story is an integral piece of the daily tours at Laura. 
Courtesy of Laura Plantation
"We also tell the story is of Edouard, an enslaved Créole Black mason. Edouard, who had left the planation to fight for the Union and returned to after the war. We tell his story of his quest to get his veteran's pension after the war and the challenge he faced because he was not an English speaker," Dunn said.Créole French was the language of Créole Louisiana, which included the enslaved. A population count in 1795 numbered 10 times more African descendants than the total number of Acadians that had arrived over a 22-year period. Non-English-speaking enslaved peoples are among the subjects Laura Plantation explores as part of its ongoing research. Visitors can learn more with the exhibit "From the Big House to the Quarters: Slavery on Laura Plantation.""I'm personally interested in these enslaved people who were not English speakers. It steps outside the myth of the American South's idea that all enslaved people as quote unquote African Americans, which brings back the idea of the African Créole people who called themselves Créole, not American," he said.
These 1840s cabins of the enslaved people at Laura Plantation have been restored and furnished with period artifacts.
Photo Suzanne Corbett
Louisiana Creole heritageIt's easier to explain what Créole is in the 19th century by explaining what Créole is not. It is not American. As Dunn explained, to be Créole is to not consider yourself American. After the sale of Louisiana in 1803 (Louisiana Purchase) by France to the Americans, the non-French speakers were seen as immigrants and foreigners by the Créole French, West Africans both enslaved and free, and the Native Americans, who also picked up the French language.The emergence of Créole identity in Louisiana from the early 19th century to the Civil War was that of opposition to Americanization. Throughout Créole Louisiana language was the baseline of identity. As Dunn explained, noting Laura's memoir, "Créole negros didn't like the American negros because they did not speak French." It was an identity conflict between enslaved Créole people and enslaved Americans.Identity conflict is something many visitors are confronted with when visiting Laura Plantation. This is not the "Gone with the Wind" stylized Hollywood Southern mansion many expect to see."The first thing I tell people is if you have an idea in your head what a planation tour is, we're none of that. We're the opposite of that. It doesn't fit into the box what most people think a plantation house should be," Dunn said. "We're not in the American South, we're in a former French colony. If you go to the Caribbean, West Africa and other places that were the French colonized you'll find similar architecture."Laura Plantation presents the many faceted elements that define Creole culture and its people. To learn about those differences, take a tour, but don't rush. Allow time to explore the property's 12 buildings, all listed on the National Register of Historic Places. Each holds within its walls unique stories of both the enslaved and free.
Lucy Moore Jones, one of the many faces of the enslaved, who was purchased and brought to Laura Planation at the age 8 with her mother. Lucy's story is included in the the meticulously researched and poignant exhibit, "From the Big House to the Quarters: Slavery on Laura Plantation"
Photo Laura Plantation
Walking through Laura's historic buildings, gardens and fields allows visitors to reflect on the complexity of the time and the revealing history it shares and preserves."It's a walk in the footsteps of four generations of one Louisiana Créole family and the enslaved and the complex relationships that existed among these people. A story of Louisiana's Créole heritage," Dunn said.Touring LauraAllow 175 minutes for the self-guided tour, which includes the main house, gardens and 1840s cabins of the enslaved.The tour includes admission to the exhibit, "From the Big House to Quarters: Slavery on Laura Plantation," housed inside the overseer's house, featuring artifacts and documents on the enslaved population, including a copy of the rare Registre des esclaves (registry of slaves) from 1808. It's the first list documenting Guillaume DuParc's slave inventory created after his death. It includes the first names of 17 men, women and children apart from the African Créoles who were born in Louisiana. Five African ethnic groups are represented: Canga, Congo, Minan, Moco and Quésy.IF YOU GOWhere • Laura Plantation: Louisiana's Créole Heritage Site is located an hour north of New Orleans, or about an hour south of Baton Rouge, at 2247 Highway 18 in Vacherie, Louisiana. How much •  Adults $25, teens (13-17) $15 and children $10. Reservations are required and can be booked online. Tours are offered in English and French. Check for the times for each, and reserve accordingly. More info • lauraplantation.com
Stay up to date on life and culture in St. Louis.