At Katsuya in the Delmar Loop, you will find the rare intersection of convenience, efficiency and elegance. The restaurant serves its signature dish, katsu, as a bento box. Surrounding your breaded, deep-fried main course will be separate smaller compartments: a couple of edamame pods, some potato salad and a slice of tamago, the springy Japanese-style omelet; cabbage kimchi and other pickled vegetables; a simple green salad with ginger dressing; a mound of white rice topped by two pieces of the restaurant's vegetable sushi roll sluiced with spicy mayo.
The specifics might vary from dish to dish and visit to visit, but Katsuya's bento box makes for a complete meal and then some, and at $13-$14.50, depending on which katsu you order, it should appeal to the Loop's college students and other value-conscious diners.
Each component of your bento box is a discrete dish, but if you order the cheese katsu, you might unintentionally connect them to one another in a spiderweb of stringy mozzarella. The cheese katsu isn't the token vegetarian option. (That would be the tofu katsu.) The molten mozzarella quivers inside a shell of panko breadcrumbs and a layer of pork loin pounded exceptionally thin, four individual cheese canoes in the main compartment of your box. The mozzarella remains contained inside its canoe until you try to eat it, at which point you trail strings of cheese across the rice and salad and other side dishes. Everything is a little bit more delicious for the mess.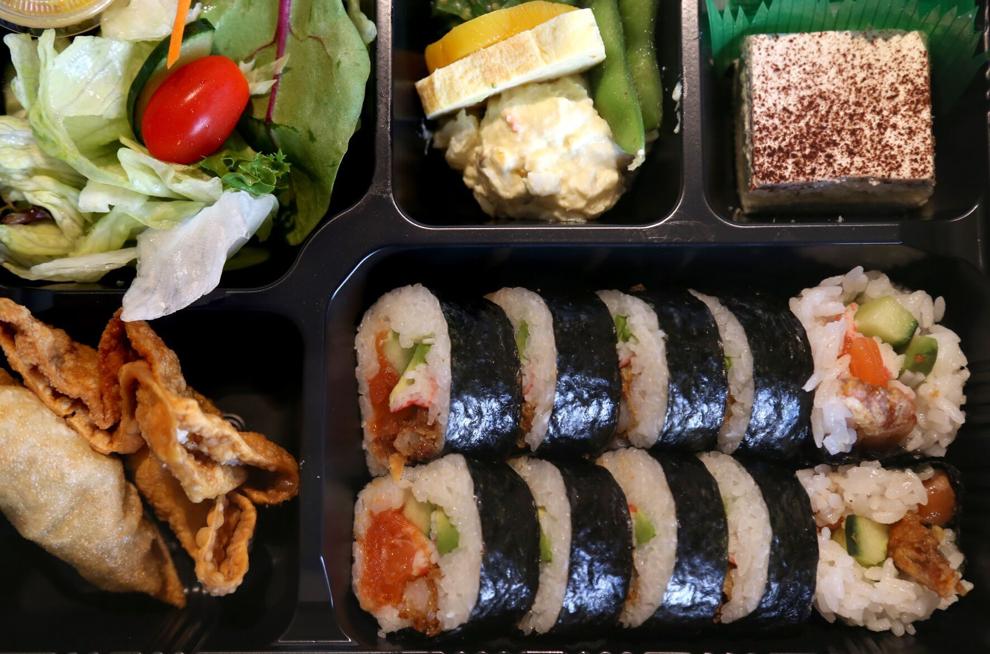 Dae "Teddy" Lee and Jack Li opened Katsuya in January in the Loop storefront previously occupied by T-N-T Wieners, which was briefly infamous for serving hot dogs infused with delta-8 THC derived from hemp. The buzz at Katsuya is strictly about the katsu. If you were to quibble with anything about the concept, it might be the straightforward counter-service design (dining tables and booths up front, ordering counter and kitchen at the back), which contributes to the anodyne style that has overtaken the Loop's eccentricities.
On the other hand, Katsuya's focus on katsu expands the diversity of dining options in the Loop and more broadly in St. Louis. Like the subject of last week's column, the shawarma-devoted West Bank Street Eats in O'Fallon, Illinois, Katsuya doesn't offer a sprawling, something-for-everyone menu. It knows exactly what it wants to do and is serious about it — so serious that Lee and Li imported a machine from Japan that shreds bread into fresh panko-style crumbs. This gives the restaurant's katsu more than just generic crunch but its own distinct texture, crisp and nubbly.
The chicken katsu is a fine introduction to Katsuya — and to katsu as a dish for the novice. The breast-meat cutlet is tender and juicy, but not greasy, inside its panko shell. The flavor benefits from a dab of the tangy katsu sauce served with your bento box and even more from the house sweet-chili sauce or the spicy mayo. These two sauces and a wasabi aioli are available in communal bottles that you squeeze into tiny (almost too tiny for dipping) individual cups.
The chicken katsu also showcases Katsuya's mastery of deep-frying. Each katsu I tried was the exactly proper texture for that dish: the aforementioned mozzarella in the cheese katsu liquid but still silken; the shrimp in the shrimp katsu cooked through but not rubbery, just a few seconds' difference in the fryer.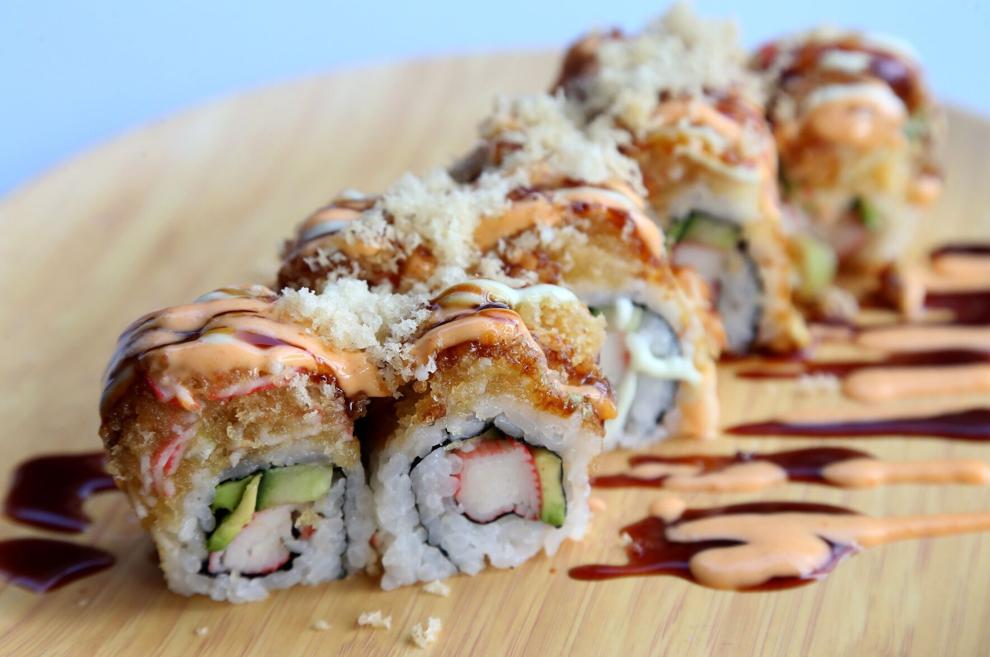 Katsuya's focus on katsu isn't exclusive. The menu also features a selection of sushi rolls, which you can order as a bento box or a la carte, as I did. For the most part, these are the sort of rolls you would expect to find in a fast-casual or no-frills American sushi restaurant: California, spicy tuna, spicy salmon. The signature Katsuya roll packs tuna, salmon, imitation crab meat and tempura shrimp with avocado and scallion inside its nori and rice. You get a flavor best described as light and fresh rather than characteristic of any one kind of seafood. The tempura shrimp does add a little bit of crunch to the Katsuya — more crunch than actually accompanies the Crunch roll, a California roll topped with imitation crab and the house "Crunch Mix."
I certainly understand why Katsuya includes sushi rolls on its menu, expanding the appeal of its convenience without overstretching its ambitions. Still, you can find these rolls at any number of sushi restaurants around town. Katsuya's focus on its signature dish, though, is singular.
Where Katsuya, 6301 Delmar Boulevard, University City • More info 314-296-3368; katuyastl.com • Menu Japanese katsu and sushi rolls • Hours Lunch and dinner Tuesday-Sunday (closed Monday)