Alecia Humphreys

Kara Stroud, the creative force behind the St. Louis-based Kalifornia Cuisine food truck, is serving up tasty tacos (and more) that are fresh and full of flavor. Stroud is a professionally trained chef, but rather than looking for a job at a traditional restaurant, she decided to create something a little more her style.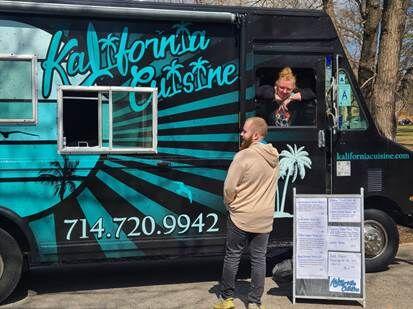 "I went to Le Cordon Bleu and since graduation, have wanted to have a truck," Stroud says. "I loved the culture of the trucks when I was in California, and moved here hoping one day I would be able to start one too. I wanted to bring some of my favorite flavors and cook with fresh ingredients, and this is the kind of food I loved in California. I blend all the cultures I love – I offer tacos, Mediterranean, Asian, whatever I'm feeling in the moment."
The menu reflects her passion for international cuisines, showcasing everything from a Mexican salad to a delightfully dubbed Kale-ifornia Caesar Salad that shakes up the classic with the addition of toasted chickpeas. Other offerings include Mexican street corn, chili, nachos, tacos and more. Stroud likes to keep things exciting by switching out the menu options from time to time. "I always have tacos," she says. "What I put inside them varies."
For example, Stroud has pulled pork tacos, Asian tacos (featuring shredded pork, Asian sauce, shredded cabbage and carrots, green onions, fried wonton pieces and chopped peanuts), fajita veggie tacos and jalapeño ranch chicken tacos — which she says are just one of the customer favorites from the food truck.
 "The Jalapeño Ranch Chicken taco, the street corn and the boba fruit tea are the items that are gaining lots of traction at the moment," Stroud says. "But my Mexican fruit salad has not been introduced yet, and I'm hoping it's loved as much as I want to make it!" Stroud has other favorites as well, and admittedly, it's hard to choose with so many flavorful dishes.
"The Baja Shrimp Tacos are up there, as are the chips for the nachos," she says, noting she creates a thicker chip so it can hold up when scooping hearty toppings. "Guests love the shrimp tacos because they don't know what to expect with the peach salsa, and they are constantly coming back to tell me that it was the best taco."
Which, Stroud says, certainly never gets old. "When I hand tacos out the window and they are met with wide eyes, and then I see the phone coming out to take a picture, that makes my day," Stroud says. "It's a chef's dream to fill bellies and get feedback on how delicious or amazing something was to a guest."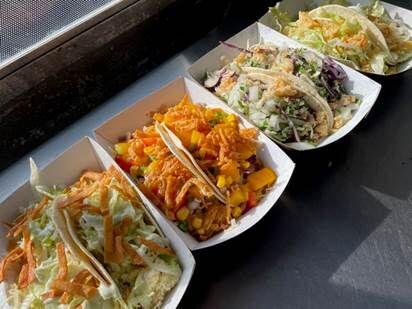 Stroud is also proud to offer items that can also be enjoyed by customers who may have dietary restrictions. The food truck has gluten-free, dairy-free, vegan and vegetarian options available daily. "I love that I can feed guests who have particular dietary needs, and I have healthy options you can order food from Kalifornia Cuisine and feel good about your choices," she says. Most recently Kalifornia Cuisine has also added breakfast items – like banana pancake tacos, black bean and egg tacos, a Kalifornia Burrito (with scrambled eggs, bacon, roasted red potatoes, a Mexican cheese blend and a side of pico de gallo) and more.
Above all, she's enjoyed having the opportunity to follow her dream in her own neighborhood. "I am grateful to be part of such an amazing city that lifts up and celebrates local food and business owners."
Follow Kalifornia Cuisine on Instagram for updates on locations and menu. 
Kalifornia Cuisine, kaliforniacuisine.com