Share this article paywall-free.
At Chuck's Hot Chicken, I can only blame myself. I didn't need to escalate my fried chicken to an "at your own risk" level of heat to recommend this small but growing local restaurant chain.
I didn't need to. I didn't intend to, either.
I do love spicy food. I belong to a hot sauce-of-the-month club, in fact. But even when those sauces feature Carolina Reapers or ghost peppers, they do so with a little restraint. Their names and labels don't tease imminent, explosive distress.
Forty-some years as a Baltimore Orioles fan notwithstanding, I'm no masochist. When I made the pilgrimage to Prince's Hot Chicken Shack in Nashville, Tennessee, the birthplace of the dish now known and feared as Nashville hot chicken — a recipe created, the story goes, as incendiary payback for infidelity — I ordered the medium heat level and still sweated my decision.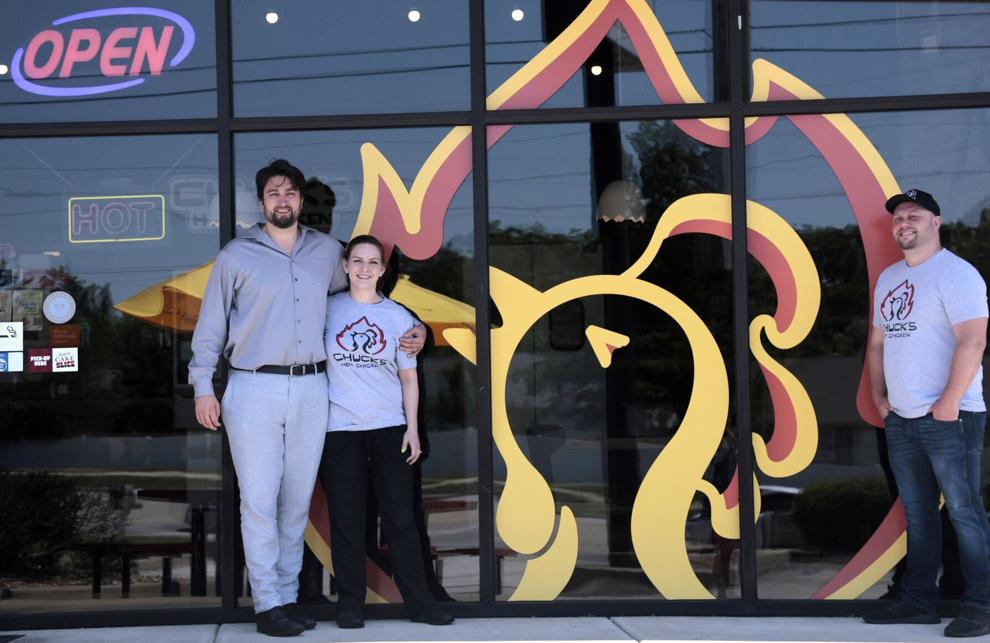 I approached Chuck's with similar caution. Co-founder Drew Taylor fell in love with Nashville hot chicken on a visit to that city with his then fiancée. He called his friend Jon Plawsky and said they had to bring the dish to St. Louis.
Taylor and Plawsky already co-owned the Maryland Heights franchise of Cecil Whittaker's Pizza. They repeatedly contacted the owners of a prominent Nashville hot chicken chain about opening a St. Louis franchise — to no avail. Meanwhile, they worked on developing their own recipes, and in 2020, at the height of pandemic restaurant pivoting, they launched Chuck's as a walk-up window "ghost kitchen" at their pizzeria.
(Taylor's given first name is Charles, hence the Chuck of Chuck's Hot Chicken.)
The Maryland Heights Chuck's remains a walk-up window — or windows, rather, one for ordering, one for picking up your food or an online order placed in advance — with seating available at a few tables along the shopping strip's sidewalk. Taylor and Plawsky also run a counter-service Chuck's in O'Fallon, Missouri, and the first Chuck's franchise debuted last year in Rock Hill.
For this review, I visited the Maryland Heights and Rock Hill locations. The latter, in the former St. Louis Wing Co. storefront on Manchester Road, features both counter service and kiosks for ordering. There are a few picnic tables inside to create a no-frills dining room, but the model is geared toward takeout of in-store and online orders. This makes sense. You don't want strangers to see you squirm, flush, grimace and yelp as the heat kicks in.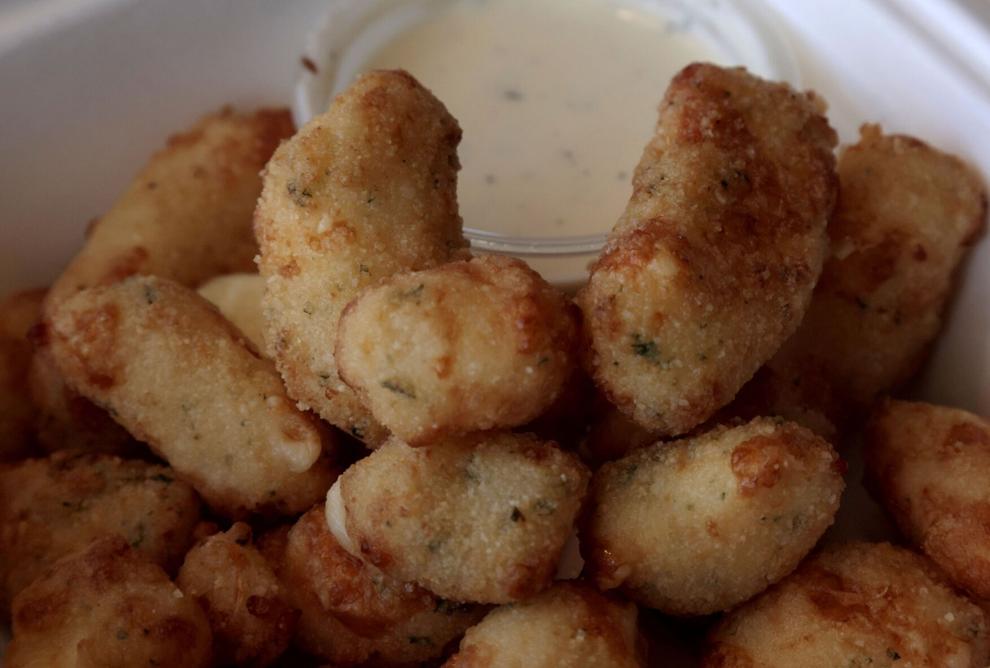 Before we discuss those heat levels, though, there is Chuck's fried chicken itself. The breading is crisp, the meat juicy and tender through and through, whether you choose boneless (tenders or the sandwich, which features a sizable piece of breast meat) or bone-in (drumsticks or whole wings). Crucially, even at the level zero of heat, Chuck's chicken is properly seasoned, if mildly so. An order of zero-level tenders with a side of crinkly fries and tangy, remoulade-esque Chuck's Sauce for dipping kicks Raising Cane's chicken right in the tailfeathers.
Out of curiosity, on the same visit when I tried those zero-level tenders, I also ordered the drumsticks at heat Level 1. Opening the drumstick's takeout box was as instructive as the first bite. The white bread underneath the chicken was already soaked crimson with chile oil. That first heat level will impress Nashville newcomers, but those of you who already crave spice will want to start at 2 or even 3. When I first tried Chuck's two years ago, I described Level 3 on Instagram as "strong, but not regrettable." Returning to it now, I stand by this description. I began to sweat, and my mouth tingled for a while after I finished my meal, but I never felt uncomfortable.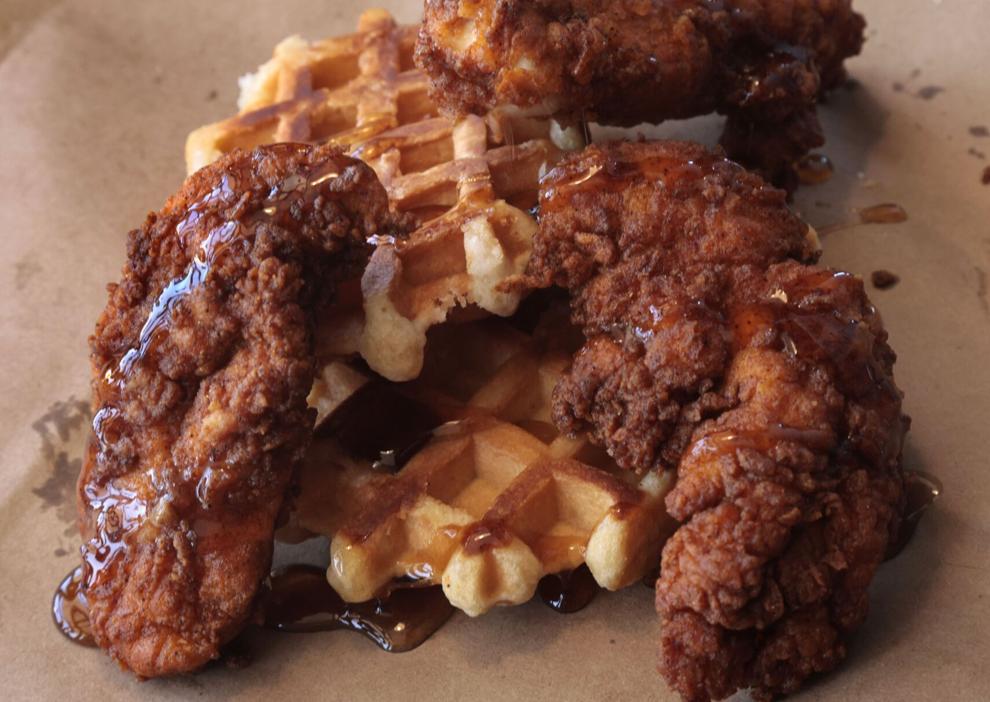 Then I moved up to heat Level 4. The cayenne-forward heat smacked me in the mouth, and I felt an all-over sweaty prickling I can only compare to the feeling of being called on in class without knowing the answer while simultaneously sitting next to the classmate I secretly have a crush on. I drove from Chuck's to the nearest gas station minimart, where I purchased a Snickers ice cream bar, which I unwrapped and ate before I even returned to my car.
Then I moved up to heat Level 5. This is the first of two levels beyond the main menu, which you undertake "at your own risk." (This is advertising copy. You don't have to sign a waiver.) I knew 4 had pushed me to my limit, but I couldn't help myself.
You can actually watch a video of my in-the-moment reaction on STLtoday.com — it's like "Hot Ones" without the interesting questions and attractive celebrities — but I would describe this heat as a tangible physical object that moved into my mouth and throat and stayed long enough to claim squatter's rights.
I didn't finish the sandwich, in part because of the pain, in part because I was also eating most of two full orders of Chuck's garlic cheese curds dipped in ranch in the false hope all of that creamy fat would counteract the heat. My mouth still burned an hour later. If not for an early deadline for Memorial Day weekend, I probably would have tried heat Level 6.
Where 11648 Dorsett Road, Maryland Heights; 2758 Highway K, O'Fallon, Missouri; 9816 Manchester Road, Maplewood • More info chuckshotchicken.com • Menu Nashville-style hot fried chicken • Hours Lunch and dinner Tuesday-Sunday (closed Monday)