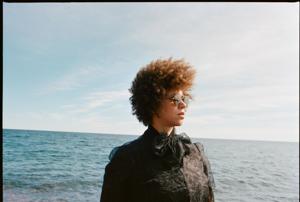 Jae-Ha Kim, Tribune Content Agency
Chastity Brown's latest album "Sing to the Walls" is a reflection of her life during these tumultuous past few years, which included navigating a pandemic and dealing with the aftereffects of the high-profile murder of George Floyd in her South Minneapolis neighborhood. Songs like "Golden" speak of her anger and resilience, with Brown singing, "I've got joy even when I'm a target." Overall though, the album is one of love and hope for a better tomorrow. "Sing to the Walls" is an Americana album that was recorded in Texas, Minnesota … and Sweden.Q: I get Texas and your hometown. But how did you end up in Sweden recording this album?A: A few years back I played an Americana festival on a cruise ship, which seems utterly astounding to think about now. While on board I got to meet the drummer (and producer) Brady Blade. Over the following months he kind of became a mentor and big brother to me. I called him up one day and asked if he would recommend someone to produce my record. He said, "I can think of a few, but I will throw my name in the hat." And that was that. We booked some studio time in Stockholm where he lives and I recorded half of my record there with a charming cast of folks.
People are also reading…
Q: How does travel inform your songwriting?A: I'm endlessly fascinated with the stories folks tell about themselves and their experiences. As a musician, it's different than being a tourist in an unfamiliar place. I get the privilege of meeting people in places where art is shared – my art. This sharing creates such a cool connection and I often get to learn about a place through the locals.Q: For many minorities, this pandemic has been eye opening in terms of access, fear mongering and hate. What have you observed?A: What feels different to me now is that there is no denying the experiences of minorities and non-binary people. We are too vast and complex to be cornered or silenced.Q: Do you feel like we're at a point in this pandemic where you can get back to almost normal traveling with friends and family?A: I feel the need to proceed with caution, but yes – sort of a new normal is beginning to seem possible. Even after two years, to be honest, I'm still baffled by this collective experience.Q: What untapped destination should people know about?A: This is tricky, because I do love to keep secrets. So, I won't say my fave places, but what I will say is what has led me to them. I find being totally immersed in the covering of a forest or standing in the sea to be the most humbling. I seek that. It's not so much a feeling of being small, rather a recognition that I'm not the most important.Q: What was the first trip you took as a child? And did you love it, or not so much?A: I was born in Claremont, New Hampshire. It's about a 40-minute drive to the Green Mountains. I remember the drive so vividly because the mountainside was covered in wildflowers. I remember that even though the river water was rushing, it wasn't so high – maybe to my knees. I was able to stand up in it. It was a searing delight.Q: What's the most important thing you've learned from your travels?Q: What are your five favorite cities?A: Harlem, New Orleans, London, Oakland, Minneapolis.Q: Where would you like to go that you have never been to before?Q: When you go away, what are some of your must-have items?A: Two sets of headphones, a good book and something to make music with.Q: What would be your dream trip?A: Right now it is one where I'm not working and neither is my computer.Q: What is your guilty pleasure when you're on the road?A: Whether I'm on or off the road I can always eat salt and vinegar chips.Q: What kind of research do you do before you go away on a trip?A: I try to keep it simple and be open to surprises.Q: What is your favorite getaway?A: It's probably no surprise that I'm about the woods!(Jae-Ha Kim is a New York Times bestselling author and travel writer. You can respond to this column by visiting her website at www.jaehakim.com. You may also follow "Go Away With…" on Twitter at @GoAwayWithJae where Jae-Ha Kim welcomes your questions and comments.)
Stay up to date on life and culture in St. Louis.