Visit 18 Church Street in Ferguson on Wednesday nights – aka Intergalactic Wednesdays – and you'll see that cannabis is more than just a substance: It's a source of community. And Jermasa Johnson, owner of STL Spacetreats, is on a mission to support and grow that community through her cannabis-infused meals and treats.
Johnson got her start in the culinary world by working at a vegan bakery. During the pandemic, she was out of work and was searching for a new career path. Once medical cannabis became legal in Missouri, she had a fresh source of inspiration. "Its [legalization] has dropped the veil. It's made more consumers want to reach out and explore options," she says. Johnson launched STL Spacetreats in 2019 to combine her culinary know-how with her interest in cannabis education.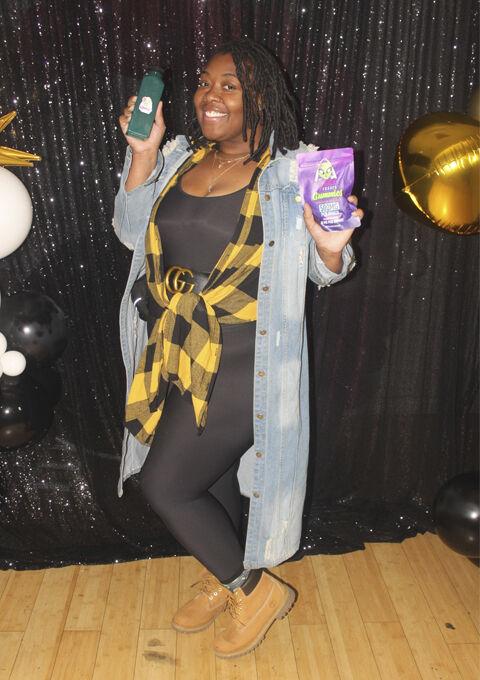 Johnson's dishes are noteworthy, even before she adds the THC. Signature dishes include a Philly cheesesteak and the soul food plate, with chicken, green beans, mac 'n' cheese, sweet potatoes and cornbread. Another classic is the quesadilla tacos, hearty cheesy griddled tacos filled with your choice of jackfruit, chicken and shrimp. Her St. Louis fried rice, with bell peppers, green onions, bean sprouts and your choice of meat of veggies, always sells out.
Accessibility and inclusivity are Johnson's guiding principles behind every product and event. With her time at a vegan bakery, she makes sure to offer vegetarian options to guests and always offers non-infused versions of her meals, too. "[That bakery] opened my eyes so much. I could have been stuck … It has allowed me to broaden my menu and broaden my options," she says. "We try to make it so everybody has an option."
That inclusivity also extends the sweet and savory aspects of her menu. She knows that some people may not want to consume sugar or sweets, so she offers full dinner plates. For those who do have a sweet tooth, Johnson crafts superb infused desserts, like caramel apples coated in peanuts, hot chocolate bombs and Oreo cookies.
Every bite of Johnson's food has countless hours of testing and care behind it. There are a variety of ways to infuse food, from oils to butters to sugars, and incorporating cannabis into foods without changing the texture or taste takes trial and error. For Johnson, that's part of the fun. "I'm learning new skills daily … I'm always looking for ways to improve, because at the end of the day, I've never seen anybody do what I'm doing," she says.
Johnson attributes her success to her community and word of mouth. "I get referrals all the time … It's humbling, it's crazy, the type of feedback and phone calls that I receive from people," she says. In addition to a weekly event, Intergalactic Wednesdays, where she serves infused food in collaboration with Rooted Buds, Johnson pop ups with STL Spacetreats at events throughout the state. "My brand has come so far. At the beginning of the year, I was able to cater food for Afroman who flew in."
In addition to her food, Johnson is proud of the environment she's fostered at Intergalactic Wednesdays. "You can play video games, we have Jenga, we have the music going," she says. "It's a great way to network. We have a lot of people in the cannabis community who come out, different brands." Guests can take their food to go, or dine-in, chat and hang around a while.
"People are being re-educated and more people are coming out. It's just really wonderful." 
STL Spacetreats, instagram.com/stlspacetreats/