In St. Louis Hills, a new Korean-style cafe from the owners of Chicken Seven offers light and fluffy bingsu (shaved ice), crisp buttery croffles, a unique okonomiyaki-inspired toast, Korean-style teas, dalgona coffee, daily lunch specials and more.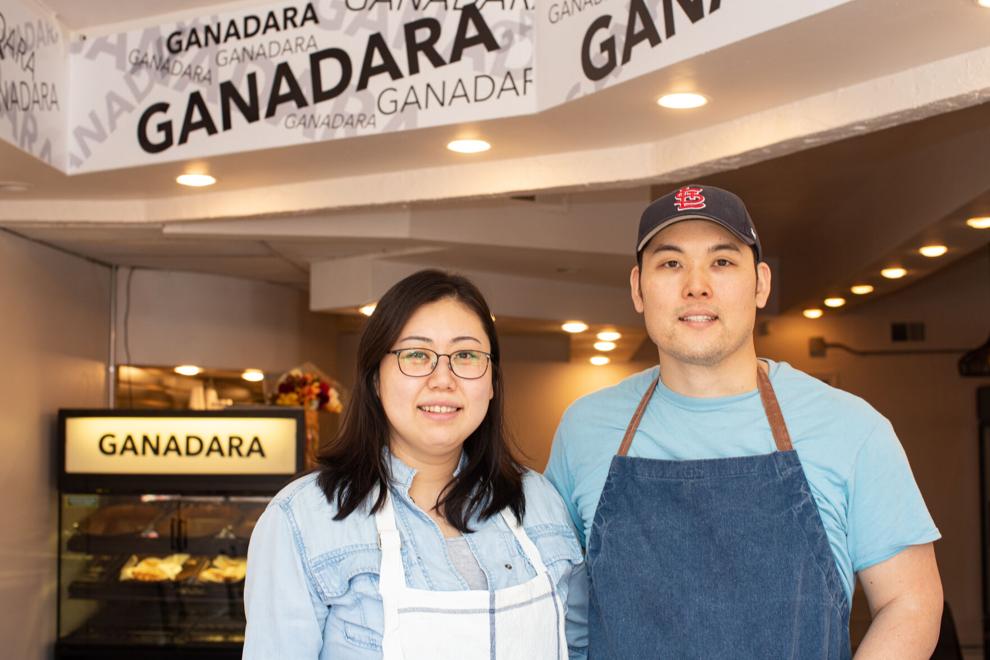 Cafe Ganadara debuted on March 30 and comes from husband-and-wife duo Sean Lee and Erica Park of Chicken Seven, a casual Korean fried chicken restaurant in Carondelet that opened in July 2021. The couple originally moved to St. Louis acting on a tip from their old friend Victor Jang of Wudon Korean BBQ and Shabu Day. Jang saw an opportunity to introduce Korean fried chicken to south St. Louis, and Lee and Park decided to take a leap of faith, relocating from their previous homes in New York and Texas to put his idea to the test – to the delight of local comfort food lovers.
The Seoul natives, whose past careers include private catering and acupuncture, respectively, put their all into building up the small neighborhood eatery, earning the adoration of fried chicken and street food fans with their tasty fare. With their new cafe, the duo aims to bring even more of their Korean favorites to yet another pocket of south city. Cafe Ganadara – which gets its name from the first four consonants of hangul, or the Korean alphabet – fills the 450-square-foot space previously occupied by Yapi Mediterranean Subs and Sandwiches, which has since relocated to Midtown.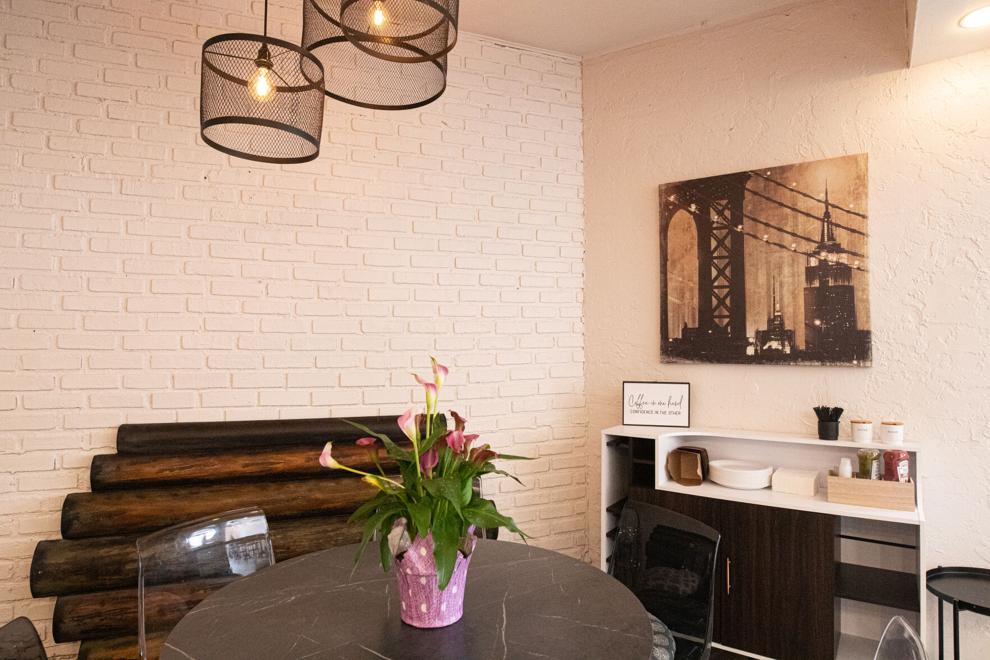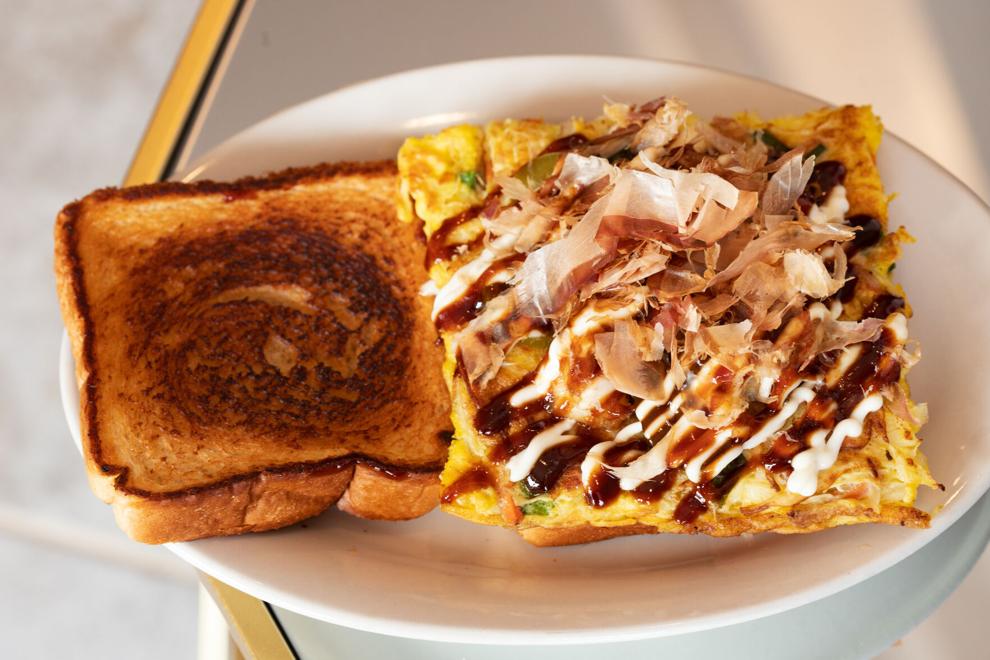 Low-key instrumental music sets the stage for the quaint space, which features a simplistic, modern black-and-white color scheme. The small seating area is accented by marble two-top tables with cushioned seats, and a larger table sits beside the ordering counter where a display case shows off the day's croffle offerings. Park initially tried the hybrid croissant-waffle treat a couple years ago in New York. "There are croffle shops on every block in Korea now," she says. Her version presses croissant dough in a waffle maker with granulated sugar and cinnamon to give it a crispy exterior that gives way to a dense and chewy, buttery interior. The cooled pastries are topped with whipped cream and garnishes such as fresh strawberries, grapes, Biscoff cookies and Oreo. "My daughter asks for it every day," Park says. Savory options include four cheese or basil pesto.
Ethereally light bingsu is available in five different flavors: strawberry, mango, Oreo, injeolmi (sweet glutinous rice cake) and green tea topped with red bean. Park says the frozen treat was her biggest pregnancy craving. She cites Sulbing – a dessert cafe chain based in South Korea – and Creve Coeur-based Spoonful as inspirations: "I think Spoonful did a great job introducing this kind of dessert to St. Louis people. We're hoping to bring it to a different area. There are a lot of restaurants here but not a lot of dessert places, so we're bringing a Korean experience to South City," Park says.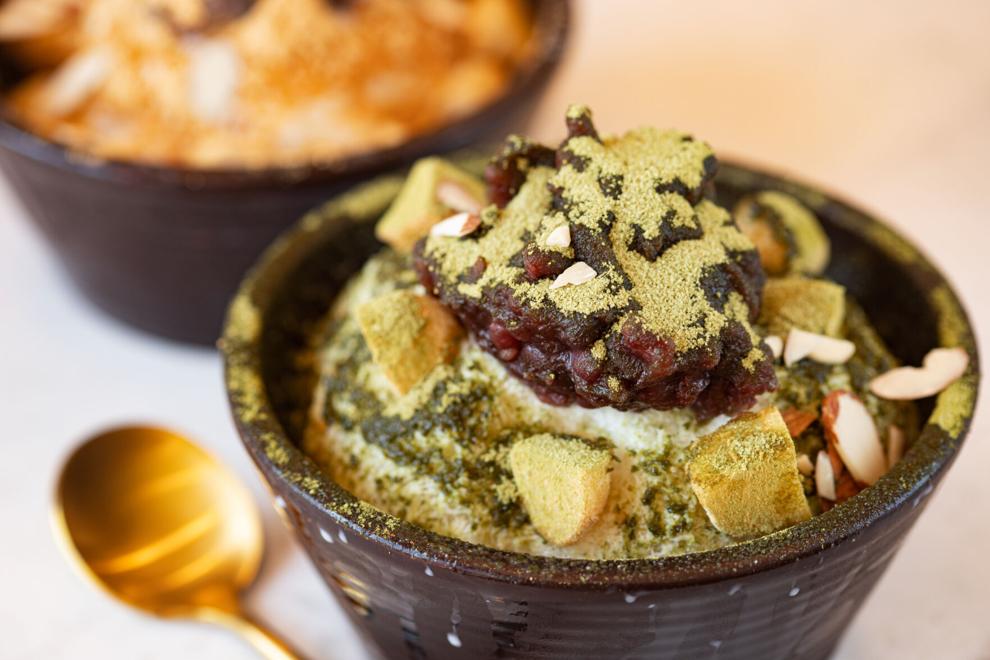 Cafa Ganadara's snowflake-like bingsu features a base of milk, condensed milk and water frozen in an imported bingsu maker. "It's a special Korean machine that instantly freezes the liquid milk into individual ice pieces."
For savory food options made to be available on the go, choose from bacon, egg and cheese toast and Ganadara toast, featuring an egg patty filled with cabbage, green onion, carrot, ham and jalapeno, topped with shrimp and bonito flakes. "We wanted to serve something that you can't find anywhere else. The ingredients are very similar to okonomiyaki but on crispy, buttery bread," Park says.
Korean sushi is also available, in options such as the St. Louis Roll with tempura shrimp and cream cheese, topped with Flaming Hot Cheetos, spicy mayo and unagi sauce. Each day of of the week that the cafe is open, one daily special is also available until the kitchen closes at 2:30 p.m., such as a gimbap combo with tuna or bulgogi and tteokpoki (spicy rice cake stew) as well as dakgalbi, or spicy chicken over rice cakes.
One of Park's favorite specials is the japchae, or stir-fried glass noodles with veggies and beef over rice, available spicy or mild. Donkatsu is Lee's go-to; his take features fried pork cutlet with Korean brown sauce over rice and salad. "We wanted to serve every menu item over rice, and those dishes are the ones I crave the most if I were to order Korean. That's why I came up with five different Korean dishes that are different and new to St. Louis people," Park says.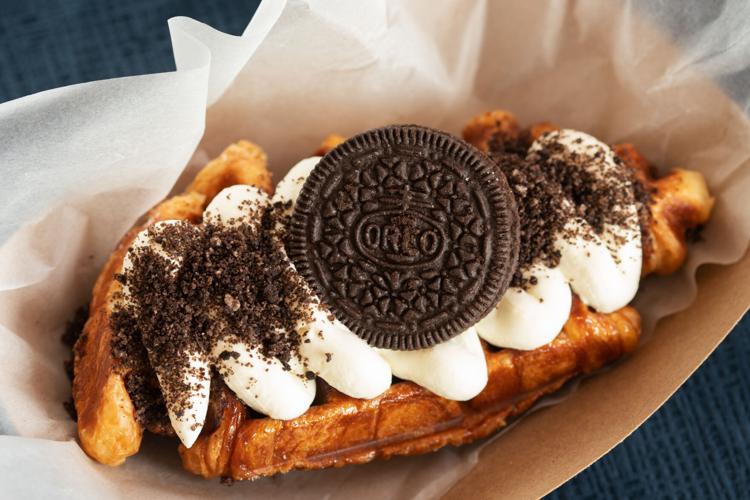 To pair with the fare, tea beverages include a matcha latte, honey yuzu and honey grapefruit teas. La Colombe coffee is available hot or iced, and it's also in an iced dalgona latte topped with made-to-order dalgona foam and housemade dalgona candy. Going forward, the cafe will offer dosirak, or lunch box meals, for grab-and-go options throughout the day.
"Because chicken can take so long to prepare, we wanted to serve something quick, convenient and healthier," Park says. "It's perfect for someone who wants to stop in for a quick bite."
Cafe Ganadara is open Monday and Tuesday from 9 a.m. to 7 p.m., Thursday through Saturday from 9 a.m. to 8 p.m. and Sunday from noon to 7 p.m.
Cafe Ganadara, 6413 Hampton Ave., St. Louis, Missouri, 314-802-7044, instagram.com/cafe_ganadara