Storefront by storefront, the absent restaurant lights of Wydown Boulevard are glowing again. This picturesque pocket south of downtown Clayton remained a dining destination after the pandemic's arrival, boasting Akar, Peno and Protzel's Delicatessen. But the closure of Zoë Robinson's beloved, acclaimed trio of establishments, which officially went from temporary to permanent late last year following months of speculation and rumor, left a void in both the neighborhood and the St. Louis restaurant scene. |
It is a tribute to Robinson's prowess as a restaurateur — and, unsentimentally, to the curb appeal of these Wydown addresses — that three of her most celebrated peers have stepped into her footprints. Last week, Ben Poremba flipped the switch of Bar Moro in the former home of Robinson's Billie-Jean, adding an Iberian-focused restaurant to his quartet of Elaia, Olio, Nixta and the Benevolent King. Matt McGuire, the owner of Louie, will soon unveil his transformation of Robinson's I Fratellini into Wright's Tavern.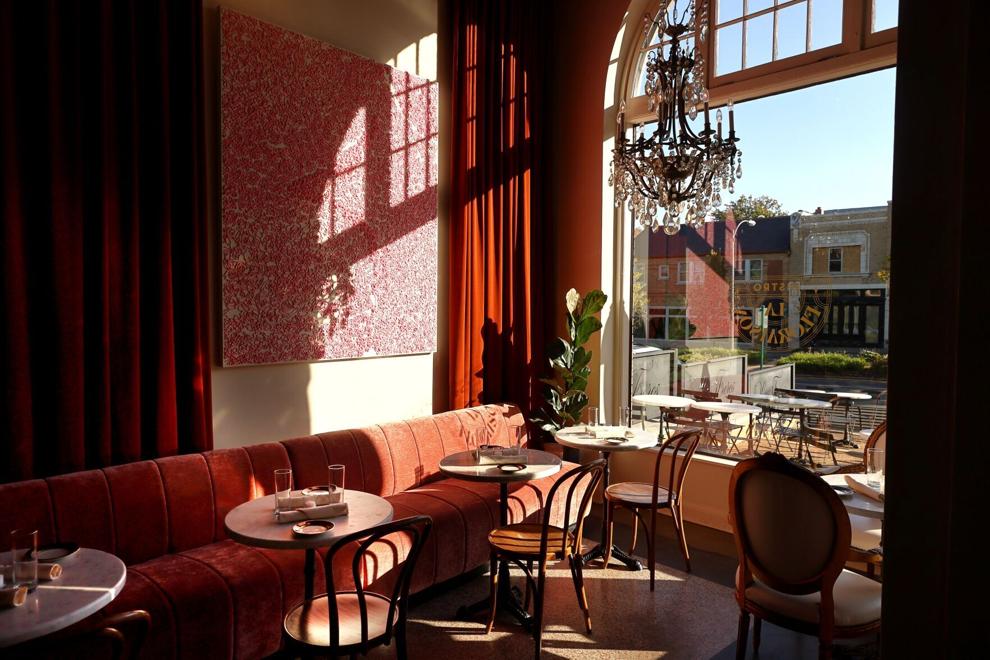 Take Root Hospitality, the restaurant group behind Vicia, Winslow's Table and Taqueria Morita, went first, debuting Bistro La Floraison in July in the space previously occupied by Robinson's Bar Les Frères. Take Root, which is led by married founders Tara and Michael Gallina and their partner and culinary director Aaron Martinez, doesn't flinch from the challenges of succession. Bistro La Floraison embraces Bar Les Frères' love of French cuisine, while its name winkingly copies Bar Les Frères' initials in its own handwriting.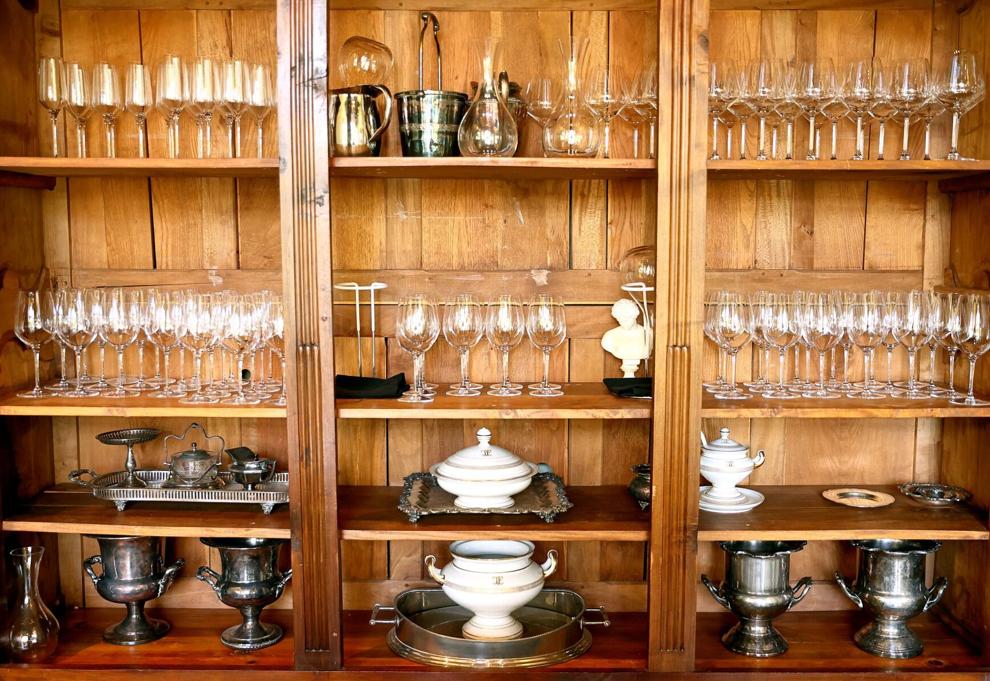 In fact, the Take Root team had originally planned to retain the Bar Les Frères name. If you knew that restaurant, you will understand the wisdom of the change as soon as you walk through the front door. Bistro La Floraison follows the layout of its predecessor, with two small, adjacent dining rooms that seat 40 between them, but it has traded Bar Les Frères' unique blend of romance and whimsy for a brighter, cleaner aesthetic.
Literally, the lighting is brighter. Gone are the array of antlers on the wall above the bar and the framed portrait paintings for which you could while away dinner inventing backstories. (An observant bar patron will spot a couple of antlers on one shelf.) In its place, Bistro La Floraison displays red drapes against one linen-colored wall and, in both dining rooms, contemporary pieces by local artist Andrew Millner.
Likewise, Bistro La Floraison doesn't overthink its approach to French cuisine. The menu is compact: a half-dozen "snacks," a couple of salads, four appetizers and four main courses. If your reference point here is Bar Les Frères, yes, you can still pair an order of gougères with your French 75 cocktail, though now you might be as charmed by the tangy Gruyère mousse served alongside the gougères as by the crisp, airy cheese puffs themselves.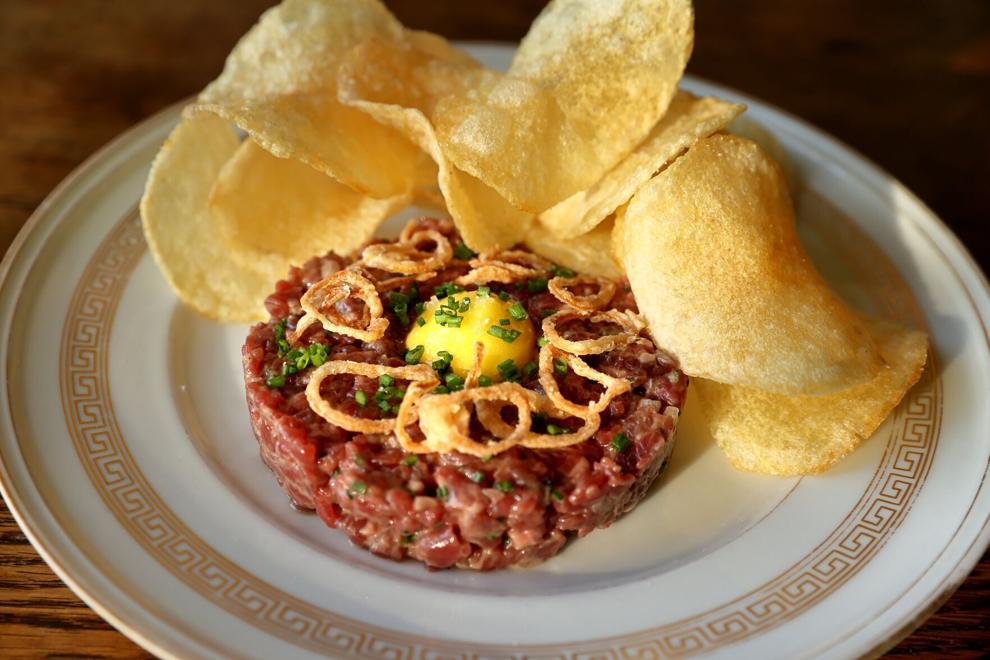 If your reference point is instead Take Root's flagship Vicia, an alum of that great restaurant, Patrick Fallwell, heads Bistro La Floraison's kitchen under the guidance of Michael Gallina and Martinez. The influence of Vicia is obvious in the quality of the ingredients and the kitchen's impeccable technique, more subtle on the plate. Three slurps into a snack of six Maine oysters on the half shell, I reveled in the seafood's briny freshness. By the end, I understood how the dish's seemingly straightforward seaweed mignonette had rounded out and intensified the oysters' natural sweetness and salinity.
Ironically, given Vicia's "vegetable-forward" ethos, I felt that restaurant's influence most directly in Bistro La Floraison's steak tartare. I could imagine the kitchen reverse-engineering what looks like a classic plate of chopped, raw beef to be even richer (a silken steamed egg yolk) and meatier (a bone-marrow vinaigrette). Then again, I could also imagine the kitchen's glee at serving steak tartare with housemade salt-and-vinegar potato chips for scooping. I would have
happily eaten these crackling chips by themselves, from a paper cone — preferably somewhere private where I could stab every last crumb out of that cone with my fingertips.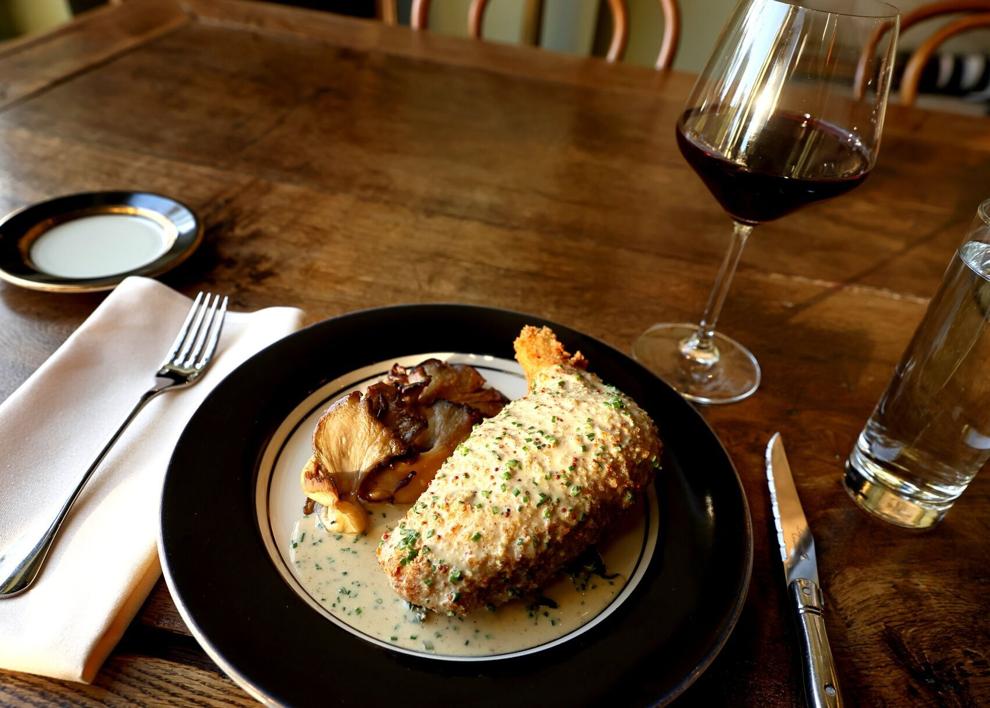 Maybe the best frame of reference for Bistro La Floraison is none at all, save the expectation of an excellent dinner. The fried chicken cordon bleu, one of the four main courses, is unlike anything I've seen at Bar Les Frères, Vicia or another restaurant, a tremendous chicken breast that maintains its crunchy exterior under a blanket of bracingly sharp sauce moutarde d'Orléans, its tender meat imbued with the smokiness of bacon and the nutty bite of Gruyère. My serving didn't "gush" molten cheese as traditional chicken cordon bleu does. Was I afraid to ask if this was an oversight in the kitchen? Maybe. As it was, served on braised greens, with a simple, autumnal side of roasted oyster mushrooms, this was one of the best chicken dishes I've eaten in St. Louis or elsewhere.
If not as spectacular as the chicken, the other main courses I tried found that middle ground between hearty and elegant. With the side of my fork, I nudged braised beef short ribs into pools of buttery pommes puree and a velvety, Escoffier-approved bordelaise sauce. Here, again, was the subtle Vicia influence: rather than a striking vegetable component, the soft-edged grace note of a shallot marmalade.
Pan-roasted monkfish lived up to the fish's reputation as "poor man's lobster," its richness delicately cut with roasted cabbage that had retained a kernel of crispness, a sherry vinaigrette and the occasional bite of capers. Pâté en croûte, an appetizer, could have passed for a main course both in its heft and in its delightful, sophisticated pop of verdus-braised bing cherries against duck confit, chicken breast and smoked pork loin.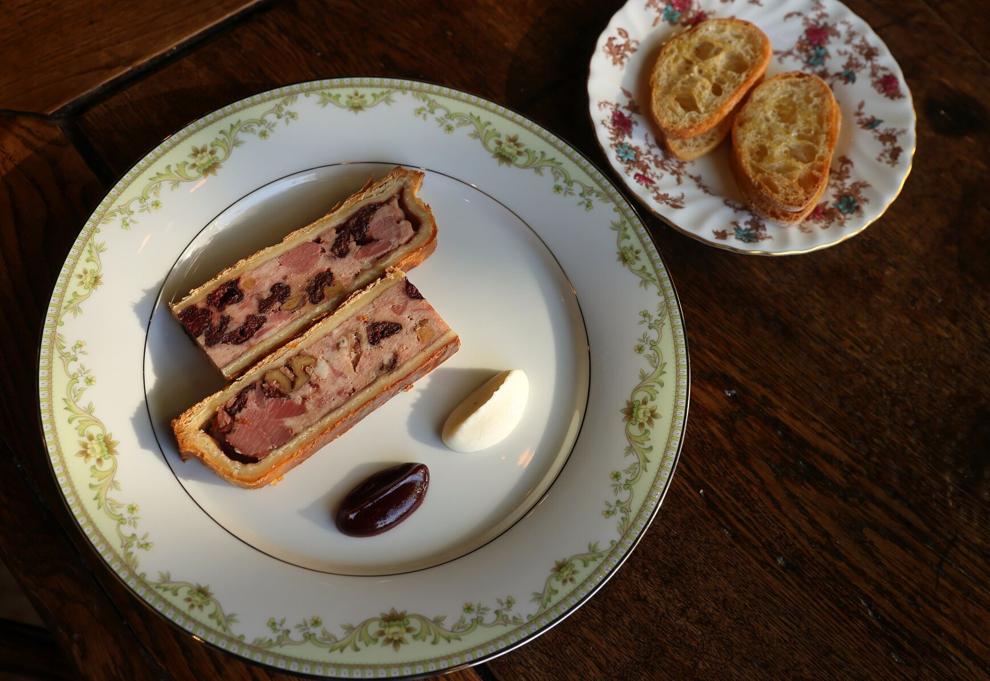 Take Root boasts one of the best beverage teams in town, with beverage director Kara Flaherty and bar manager Phil Ingram. Vicia was a semifinalist this year for the national "Best Wine Program" and "Best Bar Program" James Beard Awards, and Bistro La Floraison boasts impressive classic-inspired cocktails and a terrific wine list.
Sommelier Patricia Wamhoff is on hand to guide diners through the wine list, which features both French and French-influenced wines. Nearly every wine is available by the glass, so when Wamhoff recommended pairing my short ribs with the Domaine Jerome Gradassi Chauteauneuf du Pape, I happily splurged on a $28 glass, rather than blowing my budget on a $112 bottle. Wamhoff's knowledge and the restaurant's customer-friendly approach to wine are the sort of details that should let Bistro La Floraison shine on Wydown Boulevard for years to come.
Where Bistro La Floraison, 7637 Wydown Boulevard, Clayton • More info 314-725-8880; bistrolafloraison.com • Menu Hearty, elegant French cuisine • Hours Dinner Wednesday-Sunday (closed Monday-Tuesday)