Wil Brawley

If you dine out even semi-regularly, it's likely that at some point, you've been made to feel small by a very serious sommelier, working at a very serious restaurant, who sells you a very serious wine. That air of exclusion can hang all too thick in the space that surrounds a challenging wine list, and it can leave a mark on an otherwise exceptional experience. Beckie Lambson knows this feeling well; she also knows it doesn't have to be part of choosing a great wine or enjoying a special dining experience. In fact, as wine manager and house sommelier of Little Fox, she makes sure it isn't.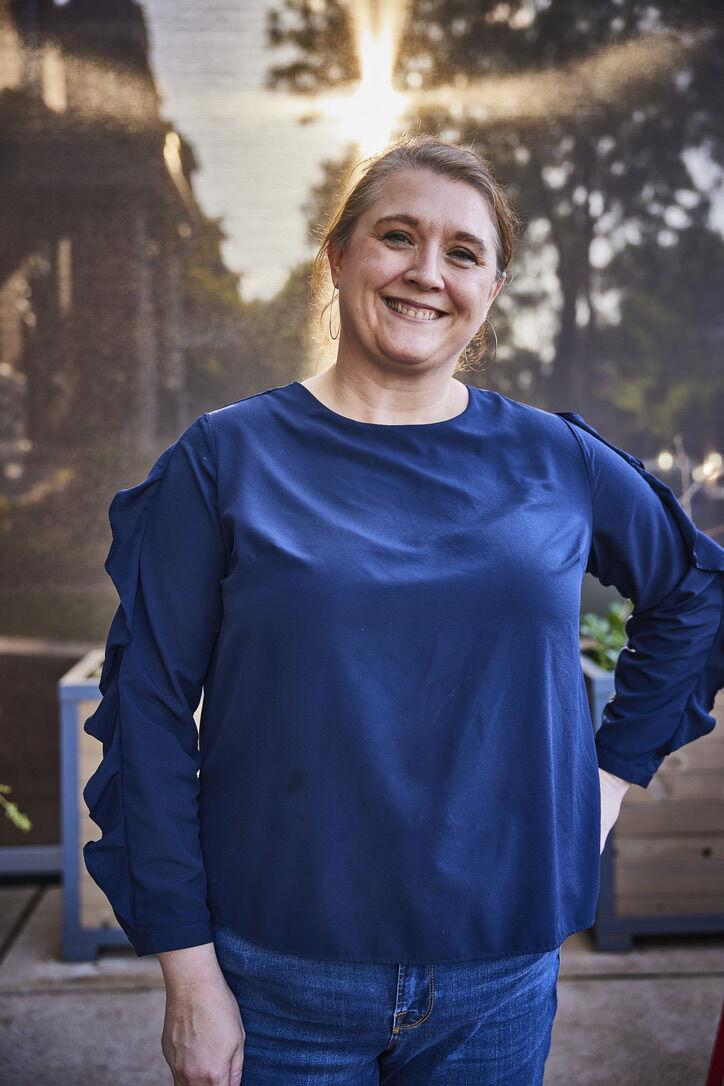 Little Fox is nestled at the corner of Shenandoah and California avenues in the Fox Park neighborhood, and its beverage program has helped pioneer the love for natural wine in St. Louis. Chef-owners Craig and Mowgli Rivard brought their love of natural wine with them to St. Louis from Brooklyn, where the two initially connected: Since opening in December 2019, the restaurant has boasted a wine list completely comprised of natural wine. In 2021, the duo linked up with Lambson, who has a storied background in wine and hospitality, grounded by a years-long stint in Hawaii where she learned from chefs, creatives and restaurateurs. When she started at Little Fox, the Rivards charged her with continuing to push the envelope of innovation by finding holistically natural wine selections.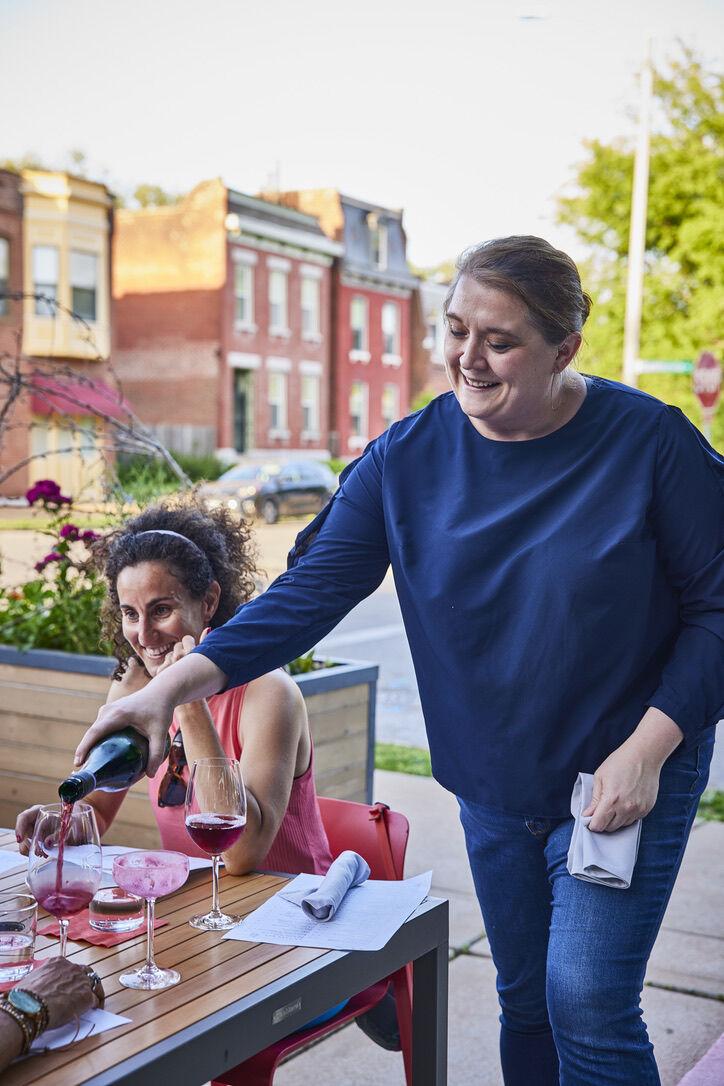 If you've been to the effortlessly attractive, highly revered Little Fox, it's evident they place high value on the beauty of simplicity. That extends to the service, which also seems effortless in its generosity – a result of Lambson's direction and charm. To her, it's about the hospitality, and the creation of an experience that always puts the guest first. "I'm a people pleaser at my core … I love to make people feel welcome and comfortable," she says. "I want them to enjoy every part of their experience. Even if wine wasn't involved, I'd still want to be a part of the reason they want to come back." She demonstrates this in myriad ways through the evening: a quick check in to see how a group is faring, a bit more of something at one table or a quick hello at another. 
This service-forward mentality is bolstered by the equally charismatic team who works the floor alongside Lambson. From the general manager, Casey Dinkelaker, who has held various tenancies alongside Lambson over the years before the two linked up at Little Fox, to the band of hospitality professionals that work alongside them, the group operates with a unified vision of how to approach selling their wines to make it all work. "Wine has a mystery and intimidation around it. I know that filters down to our guests … It is very important to me that we can have a conversation that doesn't take itself too seriously." Lambson says. "I need the guest to trust me as I take them through the list, and I think they do. I try to paint a picture in a relatable way: things [and flavors] they can understand and visualize instead of getting too esoteric."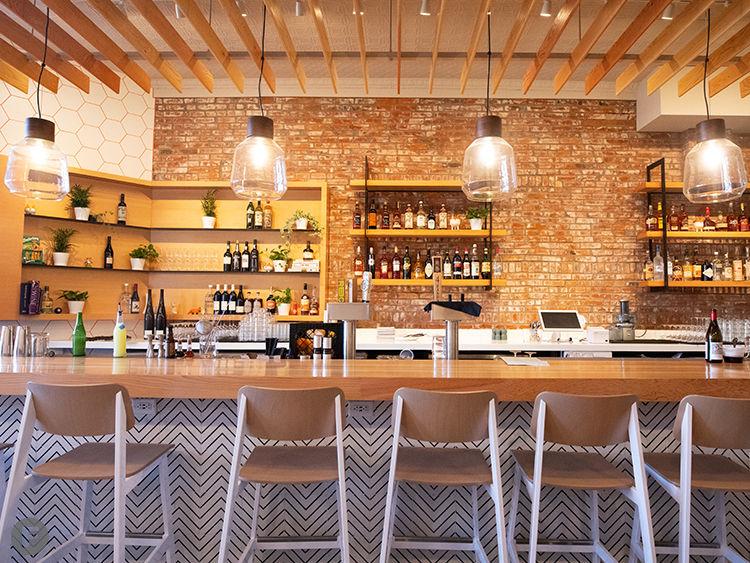 Lambson recognizes that natural wine, which she describes at its most basic as "low intervention wine, that works with the earth and the surrounding environment to produce the best grapes possible," can be intimidating. "There are no expectations for a natural wine list," Lambson says, noting that it's often challenging to get casual wine drinkers to take the leap into the unknown. But the challenge is what excites her, and what makes it fun. "It is my job to make a wine list that everyone who comes to Little Fox can relate to," she says. And even if the grapes are unfamiliar, the flavors surely won't be; she also likes to listen to what guests are looking for in a flavor profile and find a wine to match. "I love it when I get all sorts of requests, from crunchy and acidic, to familiar and comforting," she says, and whether it's someone seeking out the mellow fruit and tang of a chardonnay, or the bold grip of their favorite cabernet sauvignon, she and the service team will find something that fits perfectly.
If you're just getting your feet (and palate) wet with natural wine, check out some of these introductory bottles you'll find on Lambson's carefully curated list at Little Fox. If you're typically into approachable whites, check out one of the extended-skin contact orange wines it regularly offers – like the Gulp Hablo Orange blended from sauvignon blanc and verdejo, with five to seven days of (grape) skin contact. "[It's] just enough time to give it some cool tannins, but still retain the classic tropical flavors of Sauvignon Blanc and Verdejo", Lambson says. Or try the carbonically macerated Lo-Fi Cabernet Franc, a chilled red that Lambson suggests is "easily crushable … with peppery cranberry notes." 
Above all, Lambson pushes inclusion with natural wines; if you find yourself in Fox Park, grab a space at the bar, and let her take you on a journey into new territory while dispelling some of the myth and mystery surrounding wine. "My approach is … approachable. It's not precious knowledge, it's a consumable product," she says, noting that "It doesn't have to be that big of a deal. What would make me sad is if you don't try something new because you feel intimidated or you don't know what to get, and that's my job, to help you understand, and challenge you a bit." 
Little Fox, 2800 Shenandoah Ave., Fox Park, St. Louis, Missouri, 314-553-9456, littlefoxstl.com