Before she moved to St. Louis from San Francisco last month, Ashley Kellar started Googling places that would welcome her constant sidekick, a 108-pound goldendoodle named Ace.
The traveling nurse ended up at Bar K in the Forest Park Southeast neighborhood a couple weeks ago, sipping on a frozen Blue Heeler cocktail, while Ace bounded in and out of a wading pool.
"It's amazing," Kellar says. "It's nice that you can just hang out with your dog."
As pets have ascended the family hierarchy, they have nuzzled their way into spaces once off-limits to four-legged patrons: hardware stores and fashion boutiques, craft breweries and ice cream parlors. Dog parks have proliferated, but a few St. Louis business owners found them wanting. The dogs like them, of course, but owners are left to mostly stand around and look at their phones.
"We thought, 'Wouldn't it be great to reinvent this experience?'" says Leib Dodell, who co-founded Bar K in Kansas City in 2018. "We are living in a revolution of how people see companion animals."

Watch now: Bar K has space for dogs, humans to roam
Dodell moved to St. Louis last year to open Bar K's second location, on 2 acres just south of the Grove. Since November, more than 3,000 households have become members, surpassing Kansas City's total.
"St. Louis is such a dog-friendly city," Dodell says.
A few years back, Kevin Simpson of Oakville noticed the inclination of dog owners to socialize with pets in tow. He and his wife felt that way themselves. For a while, the dogs in their household outnumbered their children.
Simpson had spent his career working in sports bars. Why not combine his two passions, he thought. He, his wife and a friend started scouting locations. They wanted a neighborhood that was residential and walkable but also drew visitors from other parts of town.
In 2018, they found two adjoining lots in Soulard and christened the space the Doghaus. Then, they got to work setting it up.
"No one else here had this idea," Simpson says. "There was no blueprint."
Safety was the first priority. The Doghaus posts about a dozen rules each for the on-leash patio and the off-leash dog park, including a prohibition against digging, a protocol for poop pickup and a list of vaccination requirements.
"In four years, we've never had a dog injury," Simpson says.
Our guide to dog parks in the St. Louis area will help you find the right spot for Spot.
The bar's second level can be rented out for birthday parties (dog or human) and baby or wedding showers (usually just human). Out back, there are balls to chew and chase, tubes to trot through and stairs to scale. The bar and patio are free; a day pass to the yard is $10, and a yearly membership runs $75. More than 2,000 pet owners have become members of the Doghaus.
"It's become like a neighborhood Cheers," Simpson says.
Trent Barnhart of the Botanical Heights neighborhood often knows by name the dogs who are regulars, if not their owners. He takes Sturgill, a Belgian Malinois mixed breed, to watch Blues and Cardinals games.
"He has fun, and I have fun," Barnhart says.
The Simpsons are on the hunt for a second Doghaus location, most likely in the city.
A slow start
Lynn Terry's dog cafe evolved from her business as a pet photographer. She attached an animal-themed boutique to her tiny studio in the Shaw neighborhood in 2014, selling a menagerie of cat coin purses, beagle necklaces and all-natural dog treats.
But she really wanted enough room to welcome the pets themselves, a place where people could enjoy a coffee with their pup lounging at their feet.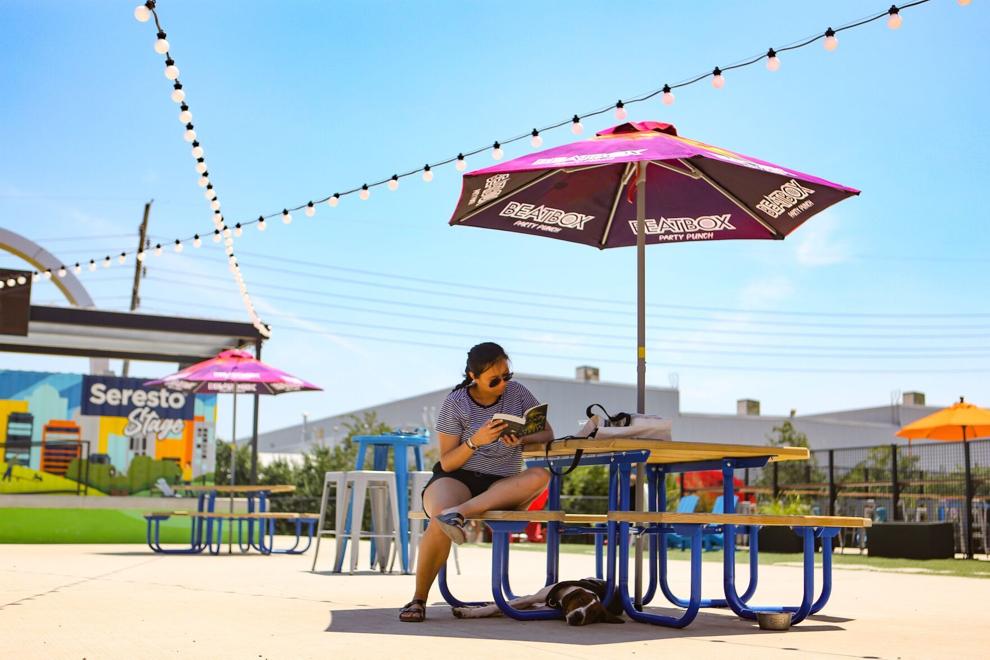 "I thought, 'My friends are going to laugh at me,'" Terry says, but she signed a lease for a bigger space in the Princeton Heights neighborhood in March 2020 — just before the world closed down.
The pandemic delayed her for months; the cafe and "bark yard" finally opened in November of that year.
"We couldn't have a grand opening," Terry says. "We struggled a lot at the beginning."
By last spring, she was ready for a rebrand: from the Wagamama to Zoomies. Despite the new name — and the exclusive First Crack coffee roast it sells — "it's not about running around hyperactively," she says. "You can teach your dog how to be out in public."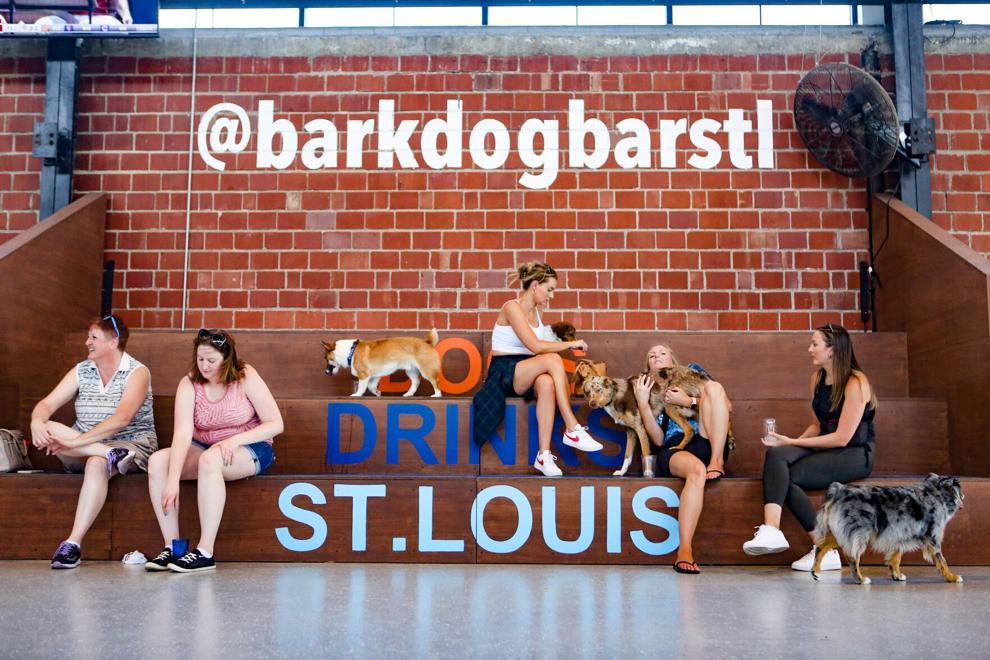 Kelly Chavez adopted her black Labrador mix, Gary, in the early days of the pandemic. The pair have become Zoomies regulars, even though Chavez's nearby home has plenty of space for running around.
"The thing about my yard is it doesn't match him playing with other dogs," Chavez says.
On a visit last month, Gary made acquaintances with Oscar, who belongs to Kaley Marcinski of south St. Louis, and Hobbs, whom Kaley's mom had brought with her for a weekend trip from Nebraska.
"I want to open something like this at home," says Tracy Marcinski, who lives outside Omaha.
A second wind
At Bar K, Jordyn Rubin and Ron Thongsithavong's 4-month-old mini goldendoodle, Nico, weaved figure eights around their legs, occasionally breaking form to sniff hello to another dog.
"She's crazy," Thongsithavong says. "She loves to meet friends."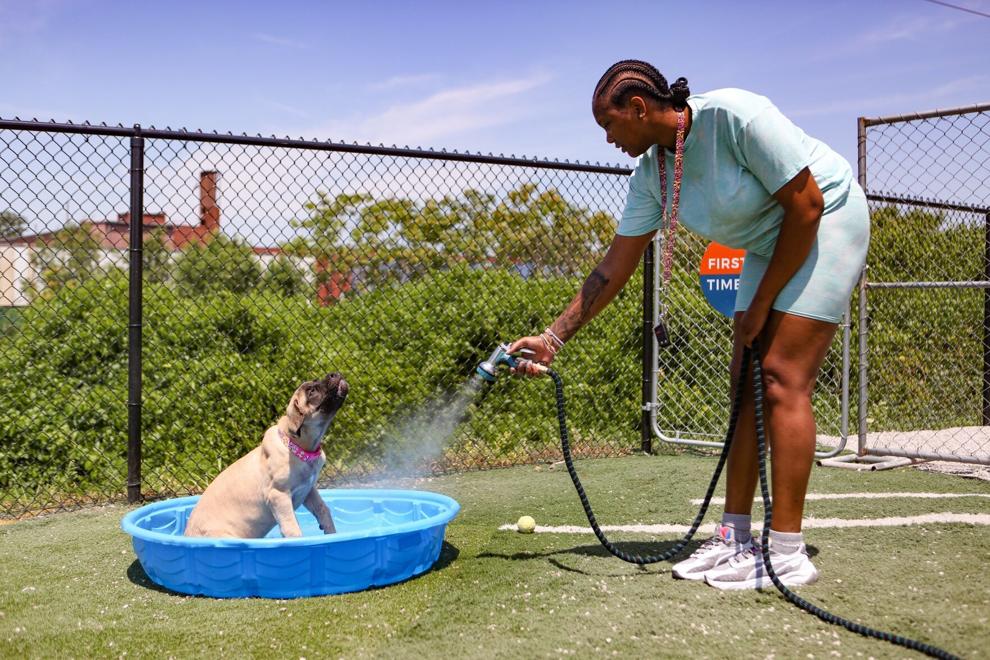 The couple, who live downtown, decided to check out Bar K for the first time on a recent Tuesday. Fifteen minutes in, they were ready to sign up as members.
A day pass at Bar K starts at $10; monthly memberships are $35, and annual access is $225.
Bar K was deliberately designed so that every detail creates an "interactive ecosystem" for dogs and owners, says Dodell, the co-founder.
The indoor park's epoxy floor is paw-friendly. The restaurant's tables come with leash hooks and flip-down water bowls. A "healthy casual" menu features acai smoothies and bean-and-rice bowls for humans, and chicken risotto and whiskey biscuits for dogs. Kennelwood Pet Resorts runs the day care, training and grooming center.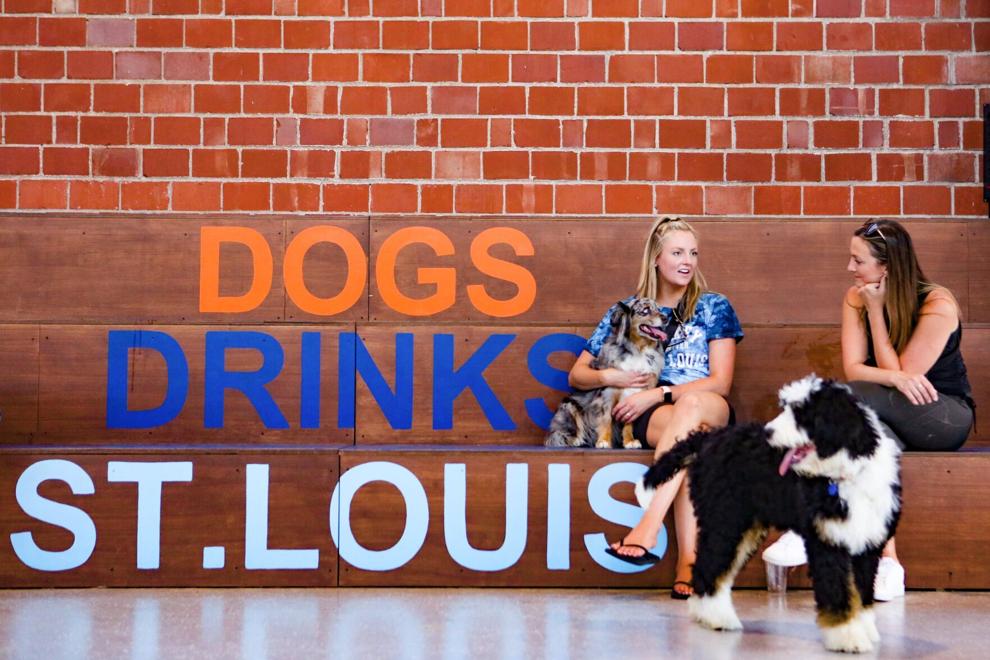 "It's very similar to dropping your kid off at school," says Meghan Dyonzak, Kennelwood's marketing director.
Outside, there's a Kaldi's Coffee stand, a 4 Hands beer van and a rickhouse that sells Still 630 cocktails. Dogs can play "soccer" on an AstroTurf pitch sponsored by St. Louis City SC. Bar K's take on the childhood game Guess Who? — called Guess Whoof? — features caricatures of actual canine members. The weekly calendar includes live music, trivia nights and adoption events.
For Erin and Scott Richter of O'Fallon, Illinois, it's worth the 25-minute drive. There's a dog park near their house, "but there's not a lot of dogs there," Scott Richter says.
On a sweltering afternoon, their terriers, Ivy and Fiona, darted through a fountain, scooted around a trio of bigger dogs and flirted with a few tennis balls before sliding into a square of shade next to the Richters' Adirondack chairs.
"It's a great place for them to wear themselves out," Richter says. "But they'll get their second wind."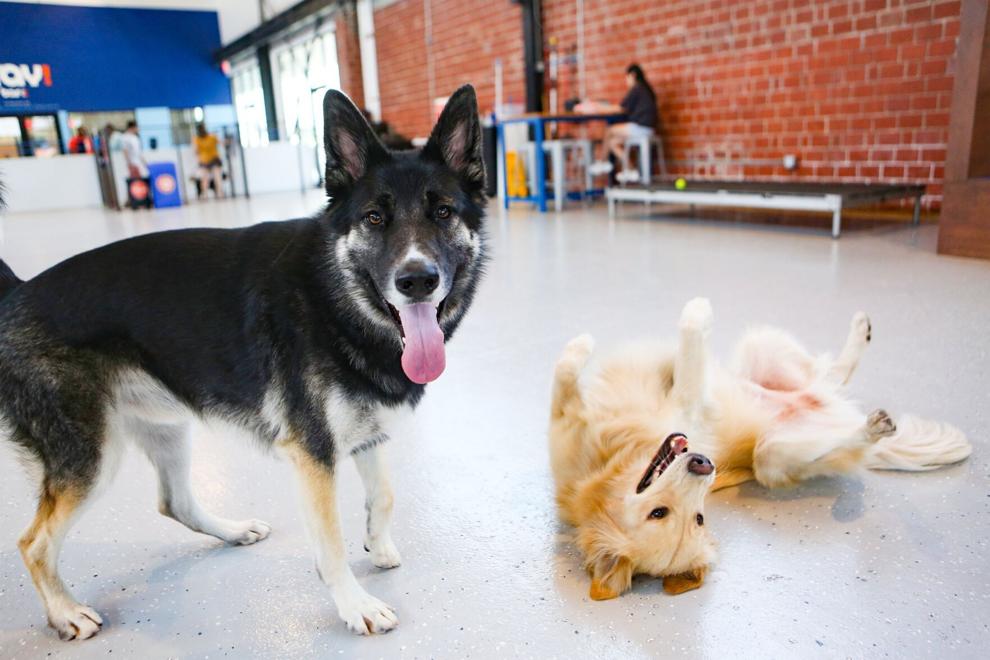 Where Bar K, 4565 McRee Avenue • How much $10-$15 for a day pass; memberships available • Hours 9 a.m.-10 p.m. Monday-Saturday, 9 a.m.-8 p.m. Sunday • More info 314-530-9990; barkdogbar.com
Where The Doghaus, 1800 South 10th Street • How much $10 for a day pass to the dog park; memberships available • Hours 4 p.m.-1:30 a.m. Tuesday-Friday, 11 a.m.-1:30 a.m. Saturday, 11 a.m.-midnight Sunday • More info 314-420-6992; thedoghaussoulard.com
Where Zoomies Pet Cafe, 5838 Macklind Avenue • How much Free • Hours 7 a.m.-7 p.m. Wednesday-Friday, 8 a.m.-5 p.m. Saturday, 8 a.m.-4 p.m. Sunday • More info 314-696-2003; zoomiespetcafe.com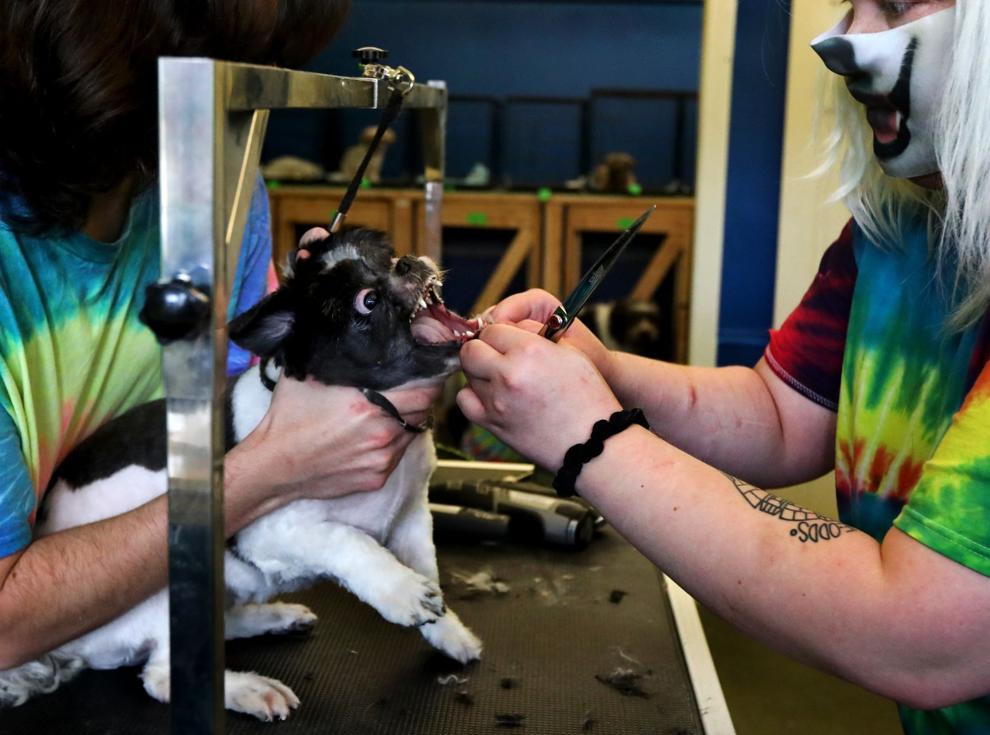 When you're in the poo-scooping business, it helps to have a sense of humor.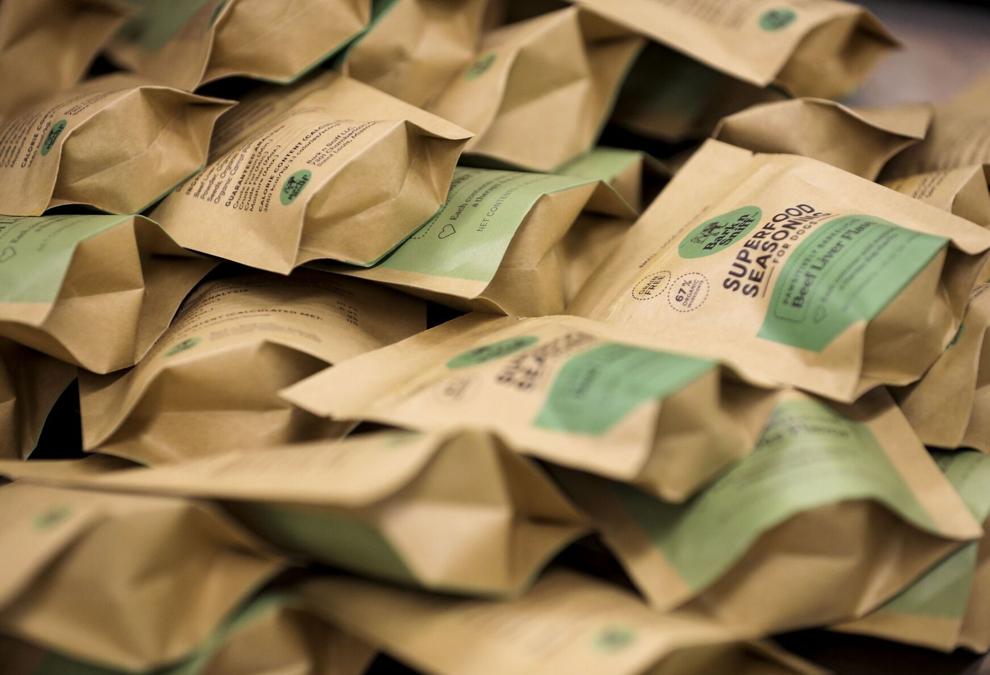 Our guide to dog parks in the St. Louis area will help you find the right spot for Spot.