Feast Staff

Webster Groves is home to a wide array of restaurants, cafés, pastry shops and confectionaries. Get our guide to these (very walkable) areas in one of St. Louis' favorite places to dine.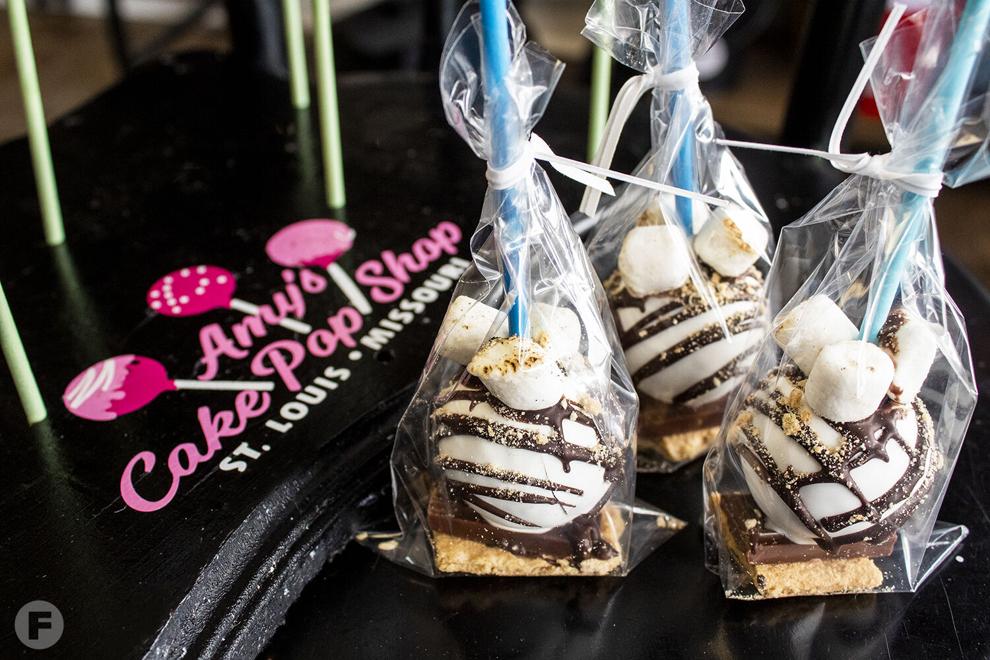 At her storefront, local maker Amy Gamlin offers little treats created with a lot of love. Amy's Cake Pop Shop boasts custom cake pops, cake cups, boozy bites, hot chocolate bombs and more. When ordering cake pops, you can choose the cake flavor – from chocolate to birthday cake to red velvet – and the design – from tie-dye to unicorns to footballs. Perfect for chilly days, the hot chocolate bombs come in flavors like milk chocolate, salted caramel, peppermint and pumpkin spice, but if you're looking for something buzzier, try the boozy bites – flavors include lemon-vodka, bourbon-chocolate, Margarita and rum spice cake.
7961-A Big Bend Blvd., Webster Groves, Missouri, 314-954-3157, amyscakepopshop.com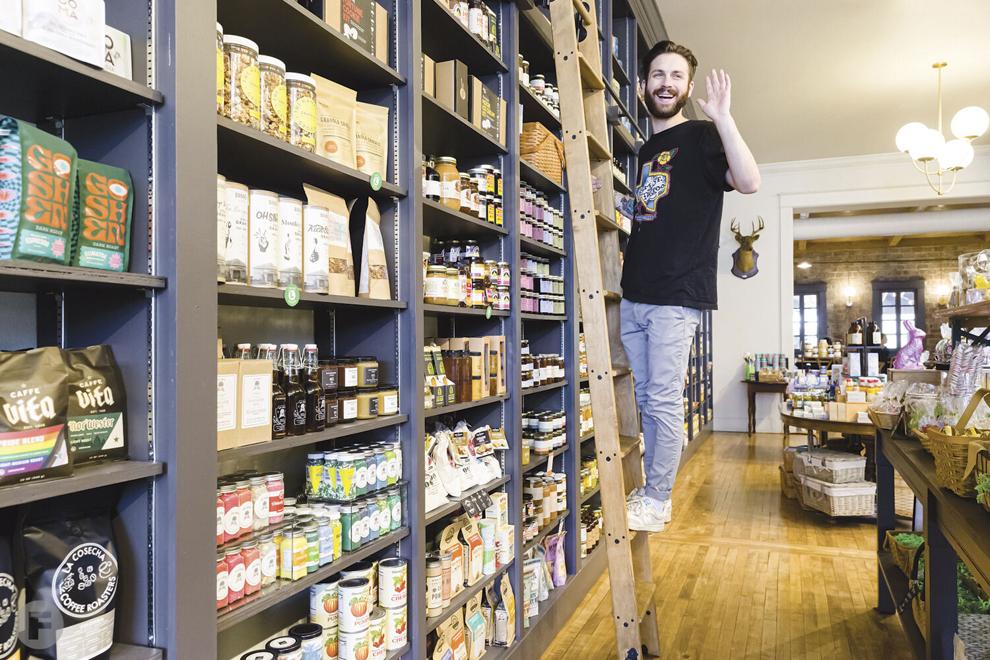 Part specialty foods store and part café, The Annex is the perfect spot to grab a coffee, a quick lunch and a gift for someone's birthday or other special occasion. Enjoy classic sandwiches like a chicken Caesar wrap, Cuban or BLT, or creative coffee drinks like the shop's lemon hazelnut cold brew. Peruse The Annex to find products like barbecue seasoning, small-batch jams and artisanal mustard. 
8122 Big Bend Blvd., Webster Groves, Missouri, 314-731-6329, the-annex-coffee-foods.square.site
Since 1994, the Art of Entertaining has offered gourmet carryout and catering for all kinds of events in the St. Louis area. Catering options include everything from appetizers to casseroles and party trays to bag lunches. However, even if you don't have a special occasion on your calendar, you can still enjoy meals like single-serving dinners (available for pickup on Tuesdays, Wednesdays and Thursdays after 2 p.m.). Past highlights include a festive salad, chicken crepes with berry relish and honey-almond green beans or a pistachio- and cranberry-crusted salmon fillet with lemon cream sauce and asparagus spaghettini.
8796 Big Bend Blvd., Webster Groves, Missouri, 314-963-9899, theaofe.com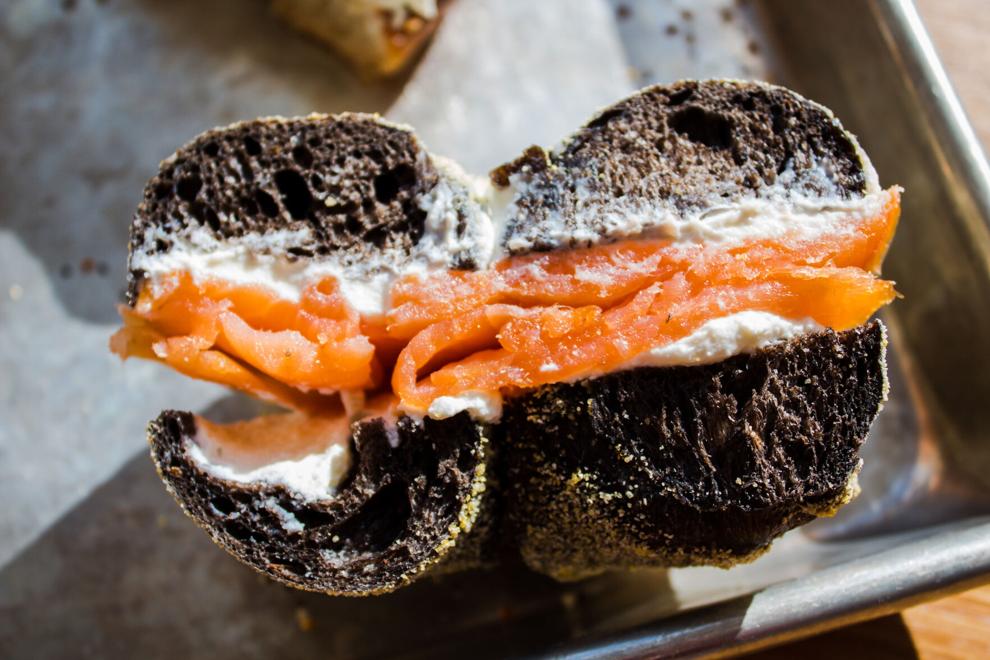 From the bread experts at Union Loafers comes Bagel Union, a casual storefront that prides itself on making a dang good bagel. Order a dozen bagels for the office, or grab a sandwich. The Iggy – hot-smoked salmon, scallion cream cheese, Passenger chili crisp and cilantro salad – is salty, spicy and herbaceous. 
8705 Big Bend Blvd., Webster Groves, Missouri, bagel-union.com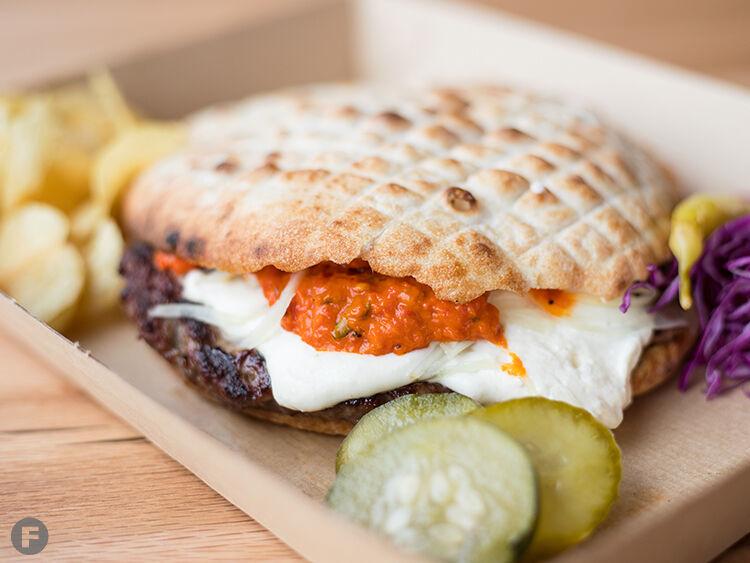 Traditional dishes get contemporary inspiration at Balkan Treat Box. From döner to patlidzan (wood-fired eggplant) to balik ekmek (grilled whitefish), everything on the menu is spectacular, but if we had to recommend just one dish, it would be the pide. The boat-shaped Turkish flatbread comes with seasoned meat, the daily vegetable or cheese, plus ajvar (roasted pepper and eggplant spread), kajmak (Balkan clotted cream), herbs and a side of cabbage salad. If you're looking for a standout vegan item, look to the lahmacun: wood-fired flatbread rolled up with spicy cauliflower or plant-based meat, onion, sumac salad and housemade sauce. 
8103 Big Bend Blvd., Webster Groves, Missouri, 314-733-5700, balkantreatbox.com
With each menu, this neighborhood establishment strives to showcase seasonal, farm-fresh dishes created with the highest-quality local ingredients. The Block also prides itself on butchering locally procured livestock in-house, offering a full-service meat counter for those who want to cook fresh, quality cuts at home. If you're stopping by for a meal, though, you won't be disappointed. Share a few appetizers, such as the flash-fried Brussels sprouts or daily flatbread, followed by the smoked beef brisket sandwich, pork and dumplings (braised pork, Parmesan dumplings, roasted fennel and orange zest) or Parmesan and ricotta gnocchi with pulled roasted chicken, butternut squash, mushrooms, white wine-sage cream and chicken cracklings. 
146 W. Lockwood Ave., Webster Groves, Missouri 314-918-7900, theblockrestaurant.com
Local and sustainable – that's the mantra at Big Sky Cafe. Of the beef, chicken, pork, eggs and bread that the restaurant uses, 99 percent is naturally raised and locally sourced. On Saturdays from 10:30 a.m. to 3 p.m., you can get your brunch fix, too. Start with the house-cured salmon pastrami or blueberry muffins with roasted walnut-maple butter. Then, dig into brunch specials like the fried eggs, asparagus and Ozark Forest mushrooms over grilled Breadsmith sourdough; buttermilk pancakes with lemon ricotta and blueberry compote; or the quinoa and lentil burger topped with smoked mushrooms, fontina cheese, harissa aïoli and arugula. 
47 S. Old Orchard Ave., Webster Groves, Missouri, 314-962-5757, bigskycafe.net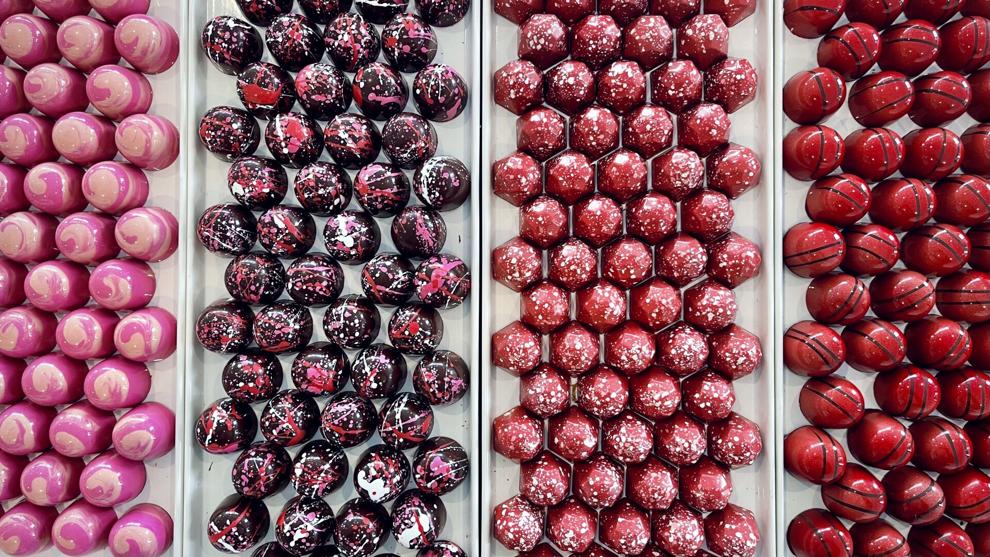 At Bijoux, owner Meggie Mobley takes the craft of chocolate-making and elevates it to a fine art. Her spectacularly decorated bonbons come in flavors like tiramisu, black currant balsamic and salted caramel. Mobley loves to experiment with unusual flavors, so you never know what specialty flavors she'll come up with next. Check the website frequently for updates on holiday collections with limited-run flavors throughout the year. 
7930 Big Bend Blvd. Ste. A, Webster Groves, Missouri, bijouxchocolates.com
Brunch is the name of the game at The Boardwalk Cafe. This no-frills eatery boasts all the breakfast classics – omelets, pancakes, skillets and more – alongside a handful of gourmet country burgers for lunch. House specials include the Farmer's Breakfast (two slices of French toast dusted with powdered cinnamon and sugar, two eggs and bacon or sausage links); a pancake sandwich (baked ham fixed between two buttermilk pancakes and topped with two eggs); and housemade biscuits and gravy. 
600 E. Lockwood Ave., Webster Groves, Missouri, 314-963-0013, facebook.com/boardwalkcafestl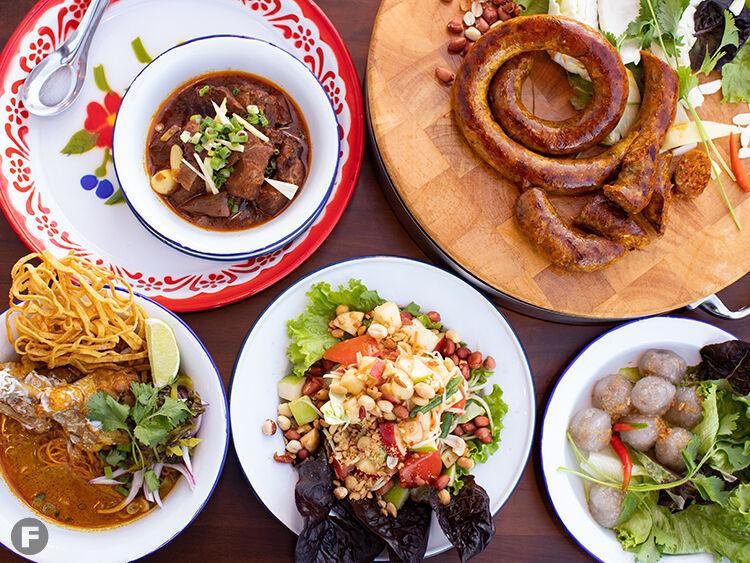 For a taste of northern Thailand, head to Chiang Mai in Webster Groves. The cuisine's signature flavor notes – sour, salty and bitter – shine in dishes such as the som tum (green papaya salad), sai oua (grilled pork sausage with chiles and lemongrass), laab kua (sautéed spicy minced pork served with steamed rice and vegetables) and khao soi (tender chicken drumsticks or beef, egg noodles and red coconut curry).  
8158 Big Bend Blvd., Webster Groves, Missouri, 314-961-8889, chiangmaistl.com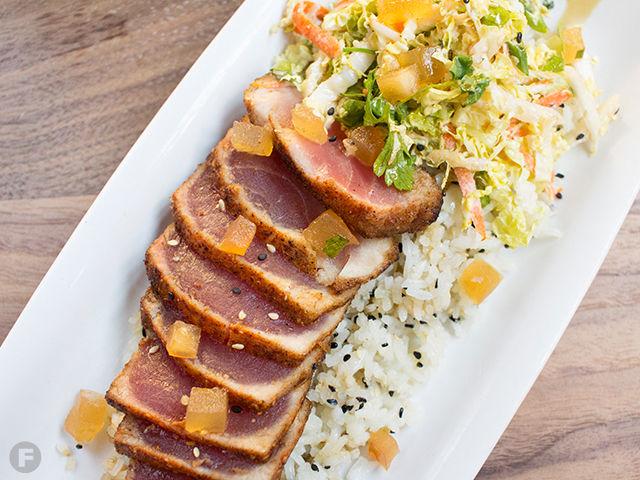 The camaraderie and collaboration among The Clover and the Bee kitchen team, led by executive chef Mike Risk, produces one knockout dish after the next. Served in a quick and easy format, for dine-in or carryout, the scrumptious breakfast and lunch items have ranged from butternut squash strata with whipped burrata and fig honey to cauliflower soup with American, fontina and Parmesan cheeses. At night, the space transforms into Clover, a natural wine bar with light bites. 
100 W. Lockwood Ave., Webster Groves, Missouri, thecloverandthebee.com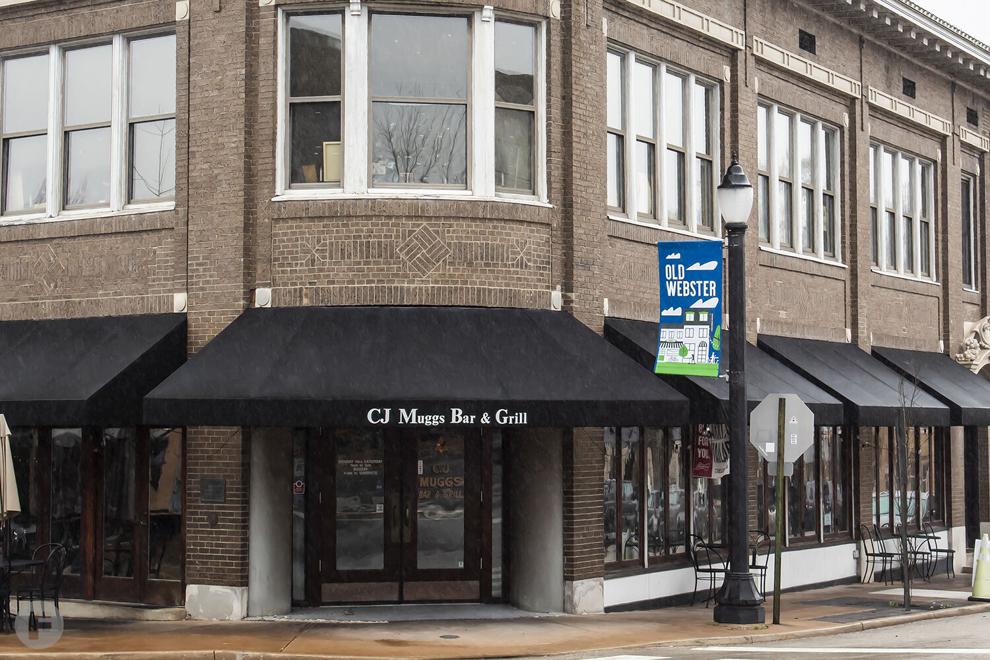 Whether you want to grab a quick drink or hunker down with friends to enjoy lunch or dinner, CJ Mugg's is a great spot to stop. The food menu is extensive, featuring appetizers, soups, salads, sandwiches, burgers, pizza, pasta and more, but you can also just sip a seasonal draft and revel in the lively atmosphere. 
101 W. Lockwood Ave., Webster Groves, Missouri, 314-963-1976, cjmuggs.com
Cravings Gourmet Desserts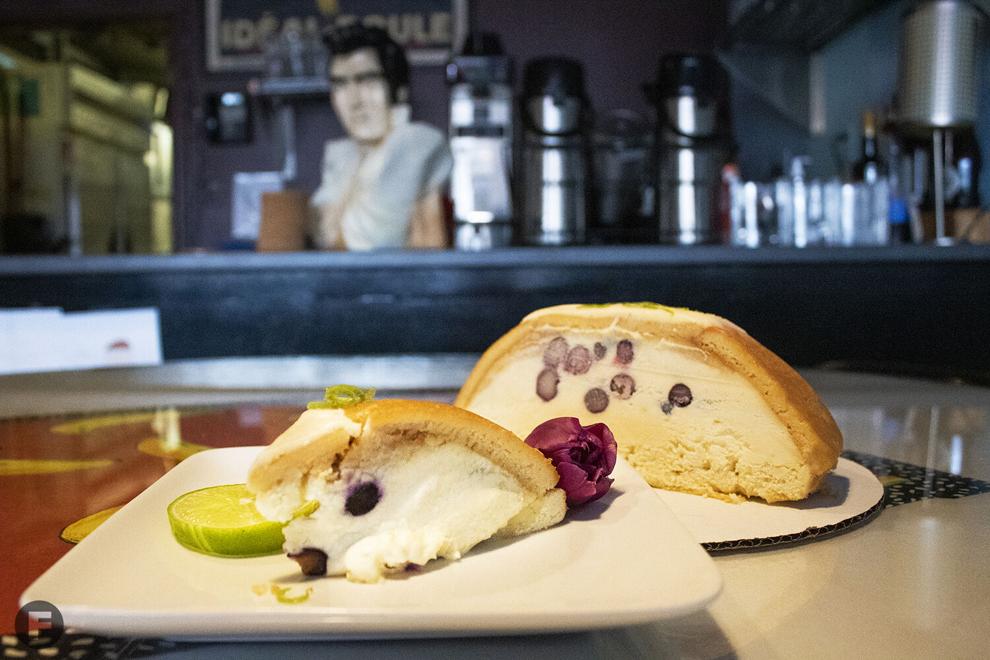 Cravings is best known for its award-winning gourmet desserts, but its savory lunch and dinner options are not to be missed. Named one of the "10 Best Places to Have Dessert in the USA" by USA Today, the cakes, cookies, brownies and fruit crumbles are all must-trys. The spot's lunch and dinner menu includes selections like a wild mushroom tart, spanakopita, filet mignon and fresh Atlantic salmon. According to its website, everything is "painstakingly made by hand."
8149 Big Bend Blvd., Webster Groves, St. Louis, Missouri, 314-961-3534, cravingsgourmetdesserts.info
After being destroyed and revived several times since 1960, Cyrano's Cafe finally found its home in Webster Groves. The restaurant is best known for its decadent desserts – like the caramel brioche bread pudding – and its small plate, New American-style food. Bacon-wrapped meatloaf and smoked pork sliders are just a couple offerings from the eclectic menu. If you're looking for a happy hour deal, find $5 house cocktails and Martinis and discounted select appetizers Monday through Friday from 4 to 6 p.m.
603 E. Lockwood Ave., Webster Groves, Missouri, 314-963-3232, cyranos.com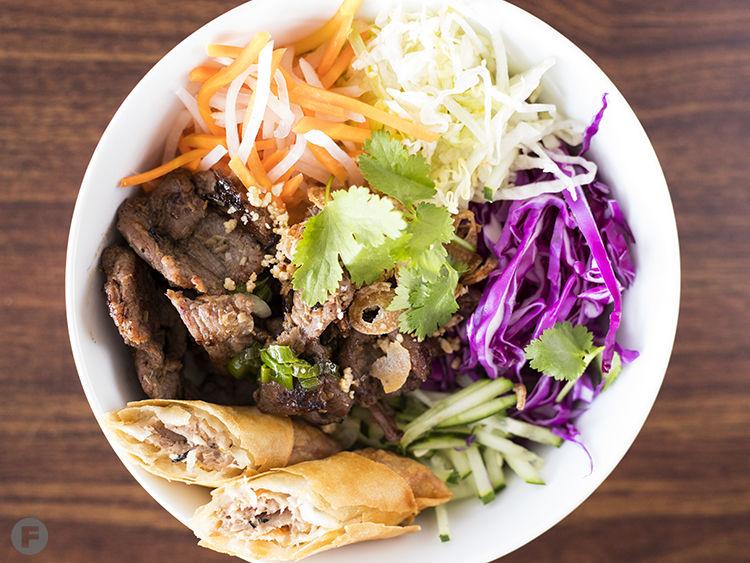 After growing up in St. Louis's Vietnamese food scene, owner Julie Truong decided to put her own spin on tradition by opening DD Mau. The name means "go fast or hurry up" in Vietnamese, which fits the grab-and-go vibe of the restaurant. DD Mau offers healthy Vietnamese options like spring rolls, banh mi and rice bowls. Almost every dish is protein-customizable, ranging from chicken to seafood to vegan beef. A local favorite is the rare steak pho, a traditional Vietnamese noodle soup. 
20 Allen Ave., Webster Groves, Missouri, ddmaustl.com
With seven locations across the area, Dewey's Pizza is a St. Louis staple. Fun toppings like pickles, caramelized red onions and black bean-corn salsa are just the tip of the iceberg here. Specialty pizzas run the gambit from classics like the Don Corleone (red sauce, pepperoni, Genoa salami, capicola ham and oregano) to the Green Lantern (red sauce, mozzarella, minced garlic, mushrooms, goat cheese, artichokes and pesto). Try Ryan's Inferno for something spicier – it includes an olive oil base, all-natural Buffalo chicken, gorgonzola, red onion, celery and ranch.  
122 E. Lockwood Ave., Webster Groves, St. Louis, Missouri, 314-961-1000, deweyspizza.com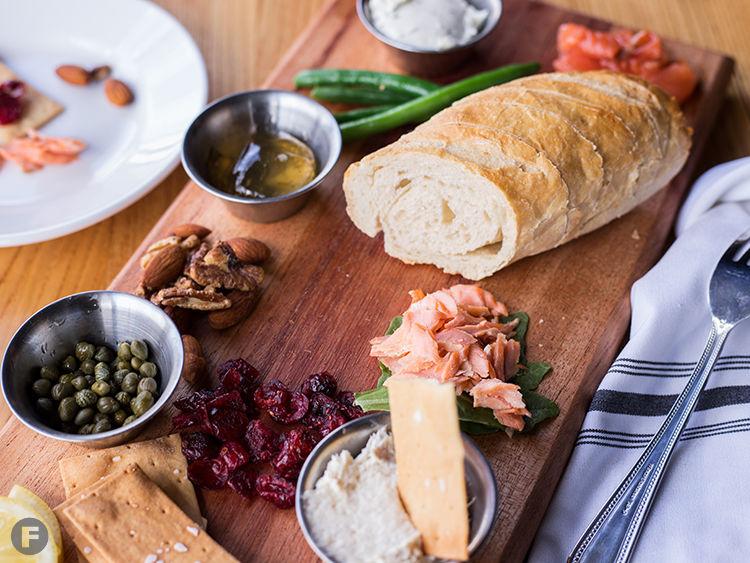 The Frisco Barroom both embraces its Midwestern roots and expands on them with an approachable menu. The farmer's cheese pierogi, one of the more popular dishes, consists of Polish dumplings filled with sweet farmer's cheese and is served with a cinnamon syrup. The deviled eggs and pastys are other favorites, but for something heartier, try the chicken paprikash (pappardelle noodles, paprika-braised chicken thighs, onions, sour cream) or the grilled kielbasa served with mashed potatoes and kaputsa (sauerkraut cooked with bacon). If you're lucky, you might catch some live folk music on your next visit. 
8110 Big Bend Blvd., Webster Groves, Missouri, 314-455-1090, thefriscostl.com
Hwy 61 Roadhouse and Kitchen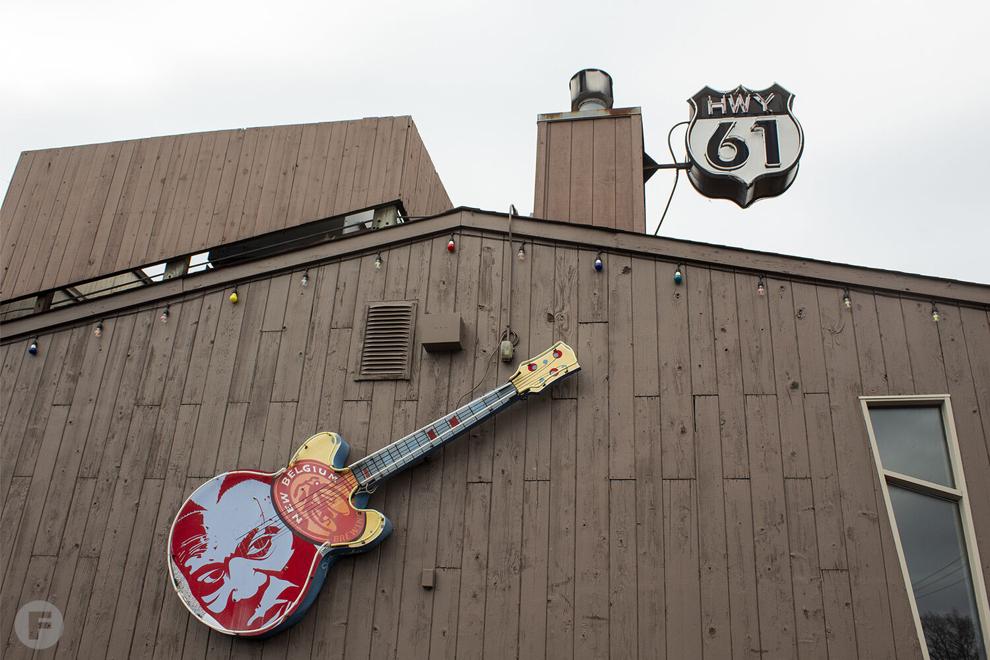 Inspired by a trip along the "The Blues Highway," Hwy 61 Roadhouse and Kitchen serves up Creole and Southern food from its spot on Old Orchard Avenue. It takes a little from a lot of places: New Orleans jambalaya, Memphis pulled pork and ribs and, of course, St. Louis toasted ravioli and gooey butter cake. The diverse food is accompanied by blues, jazz, rock or country bands throughout the week. 
34 S. Old Orchard Ave., Webster Groves, Missouri, 314-968-0061, hwy61roadhouse.com
Layla is one of Webster's easiest places to head out to for lunch or dinner. Situated in the same plaza as DD Mau, the casual restaurant serves a mix of sandwiches, burgers, appetizers and salads you can mix and match. Go classic with The Royale burger, or try the Fungus Amongus, layered with bacon, swiss, mushrooms and greens. If apps are what you're after, the falafal fries are a must-try. 
20 Allen Ave., Suite 130, Webster Groves, Missouri, 314-395-6649, laylastl.com 
Llywelyn's Pub is a bar and restaurant featuring 30 beers on draft and traditional Celtic fare. Fish and chips and shepherd's pie can be found on the menu along with the famous steak and cheese sandwich. Its traditional Pub Room has the feel of an Old-World pub, complete with an antique bar from St. Louis' Gaslight Square, and the McPherson Room is great for family dining. Whether you're looking to watch the game, get together with old friends or meet new people, Llewelyn's has a place for it all. 
17 Moddy Ave., Webster Groves, Missouri, 314-962-1515, llywelynspub.com
Whatever kind of Thai food you're craving, you'll find it at MeYou. Enjoy classics like pad Thai and fried rice; don't miss the Hung Ley Curry with pork shoulder, garlic, ginger and peanuts. If you have dietary restrictions, this spot has plenty of vegan and gluten-free options as well. 
8162 Big Bend Blvd., Webster Groves, Missouri, 314-961-5999, meyoueatery.com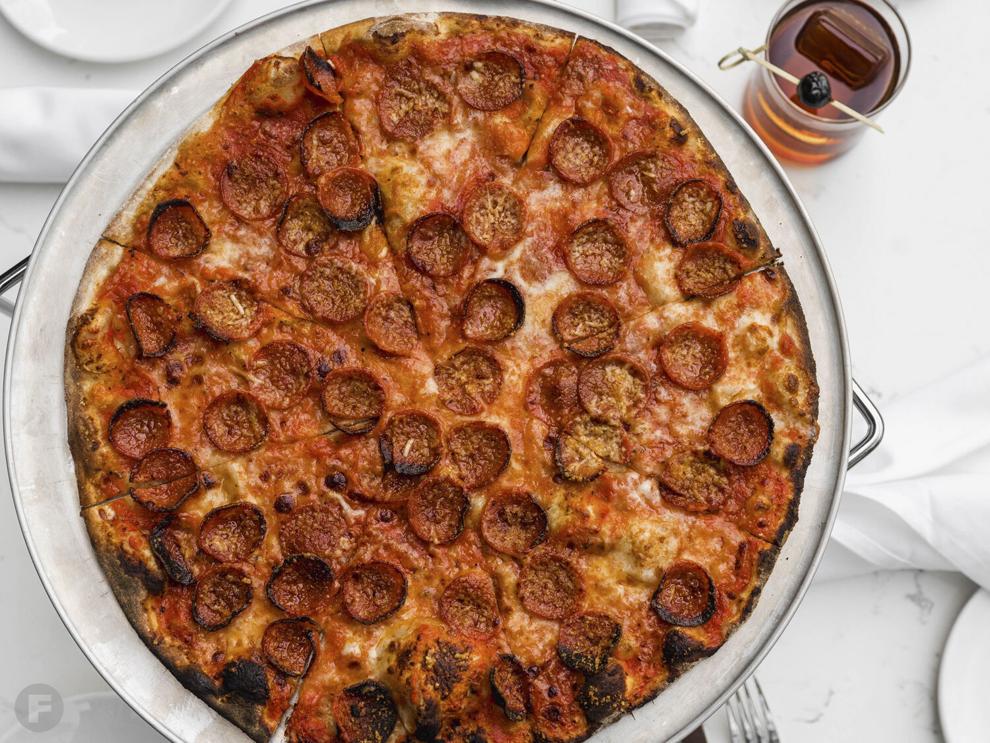 O + O Pizza serves up thin-crust pizza and pasta inspired by neighborhood trattorias in Italy. Its pizza is made using natural, freshly milled flour and Bianco DiNapoli plum tomatoes. The menu's signature items reflect the kind of care associated with the Olive + Oak name: The Prosciutto features burrata, arugula, squash and fig honey, and the Vegan Friendly brings a lot of flavor without any of the cheese, featuring tomato sauce, giardineria, red onion and Kalamata olives. 
102 W. Lockwood Ave., Webster Groves, Missouri, 314-721-5422, oandopizza.oohosp.com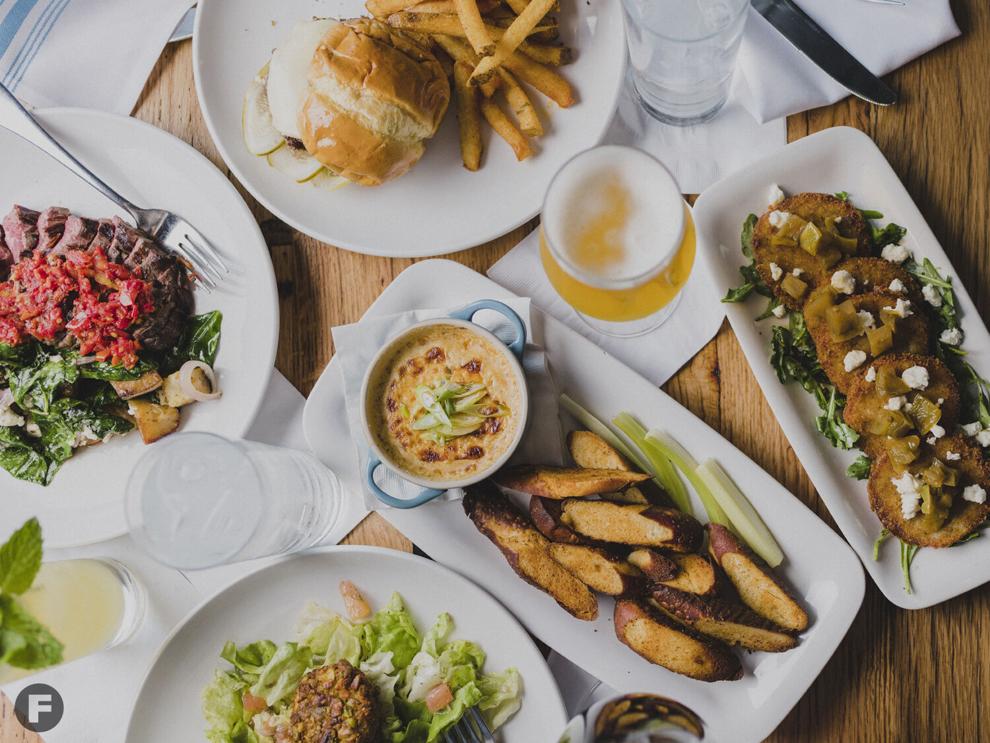 Olive + Oak has thought out every aspect of the dining experience, from the cocktail ingredients to the restaurant's layout. This lively neighborhood restaurant and bar is made for locals to come and enjoy fresh food and drink from an ever-changing menu. Seafood – like blue crab gratin, charred octopus and an oyster menu – make Olive + Oak stand out from other restaurants in the area. Some of its popular dishes include beef tenderloin flavored with vanilla bean, parsnip and balsamic-glazed mushrooms and chicken wings with a ginger, coconut and red curry glaze. 
216 W. Lockwood Ave., Webster Groves, Missouri, 314-736-1370, oliveandoakstl.com
This reboot of a St. Louis classic drive-in should be on your short list. The Parkmoor Drive-in features all your drive-in classics like smash burgers, fries and shakes. New Orleans-style dishes, including gumbo and po'boys, are its specialty, but make sure not to miss out on the snoballs. You can find a variety of flavors, but they are available in five styles: classic, cream, frosted, sugar-free and spiked for those 21 and over. 
220 W. Lockwood Ave., Webster Groves, Missouri, 314-938-5554, theparkmoor.com
Head to Perennial on Lockwood for a distinctive experience of handcrafted, locally sourced food. Located in a repurposed historic garage, this dining experience is enhanced by its small-batch brewery and tasting room. The owners of Perennial Artisan Ales and Olive + Oak collaborated to open this location. Perennial's craft beers are mostly American and Belgian styles, but many incorporate fruits and spices. You can also get beers in a smaller 5-ounce portions and build your own flight. 
216 W. Lockwood Ave., Webster Groves, Missouri, 314-682-3823, perennial.oohosp.com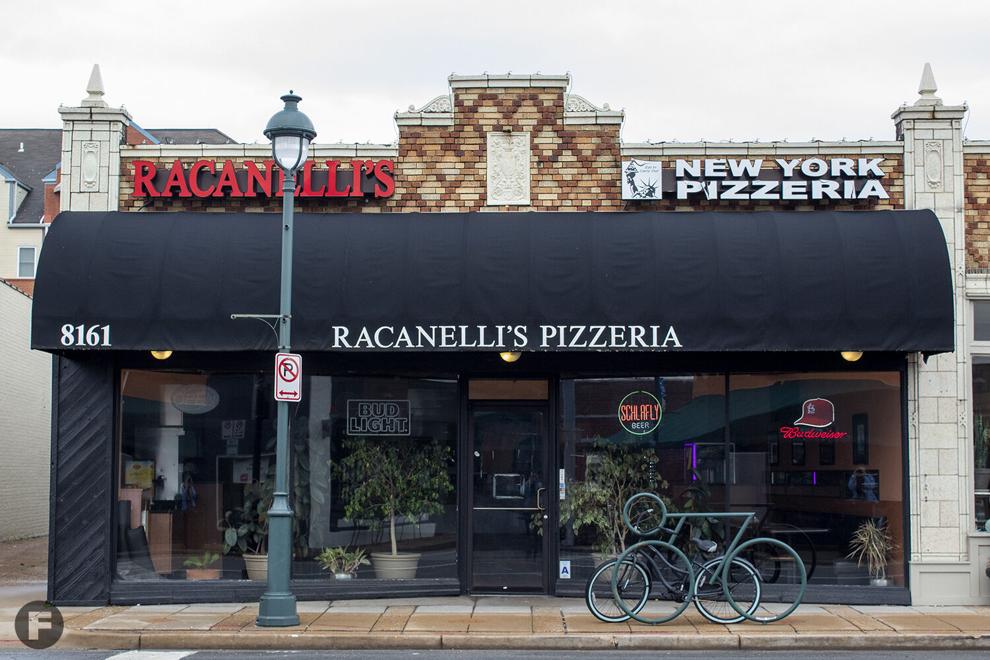 Racanelli's might look simple on the outside, but inside, a burning brick oven produces some serious New York-style pizzas. This casual St. Louis-based pizza chain also serves hoagies, wings, garlic knots and salads. Freshness and quality of ingredients are two top priorities at Racanelli's: The shop uses 100 percent natural, whole-milk mozzarella and grinds it in-house. 
8161 Big Bend Blvd., Webster Groves, Missouri, 314-963-1111, racanellis.com/racanellis-webster-groves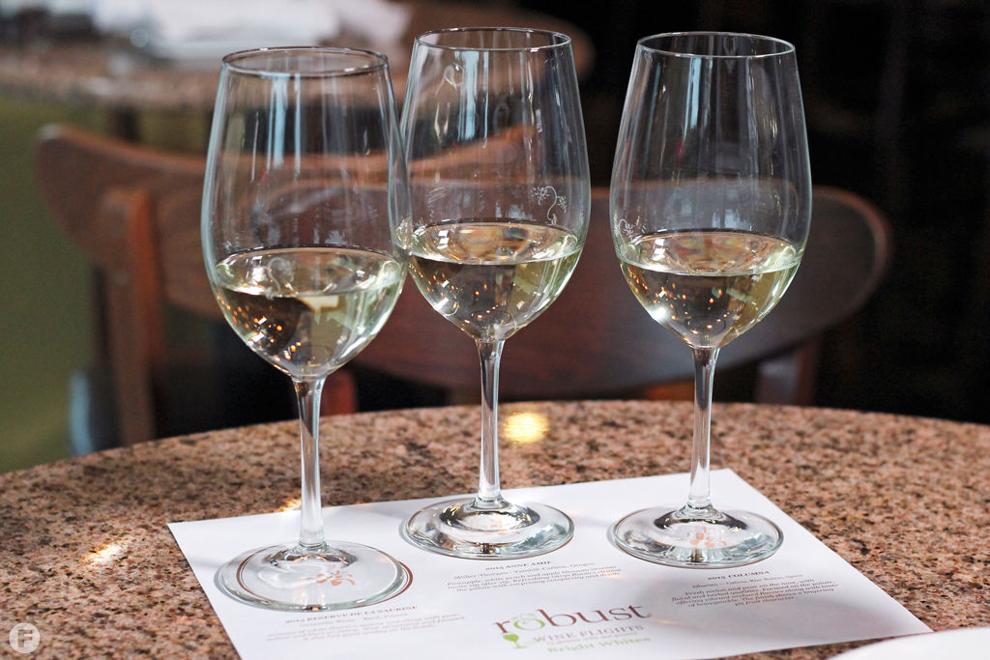 Robust Wine Bar offers a variety of food pairings to go along with its 40 options of wines by the glass. The sommeliers at Robust are there to help you select which wine suits you, and from there, you can choose to accompany it with a local cheese plate, a shared order of apple-sage meatballs or an entrée, like the pan-roasted Australian sea bass. If you find a wine you love, bottles are also available for you to purchase and take home. 
227 W. Lockwood Ave., Webster Groves, Missouri, 314-963-0033, robustwinebar.com
San Jose Mexican Restaurant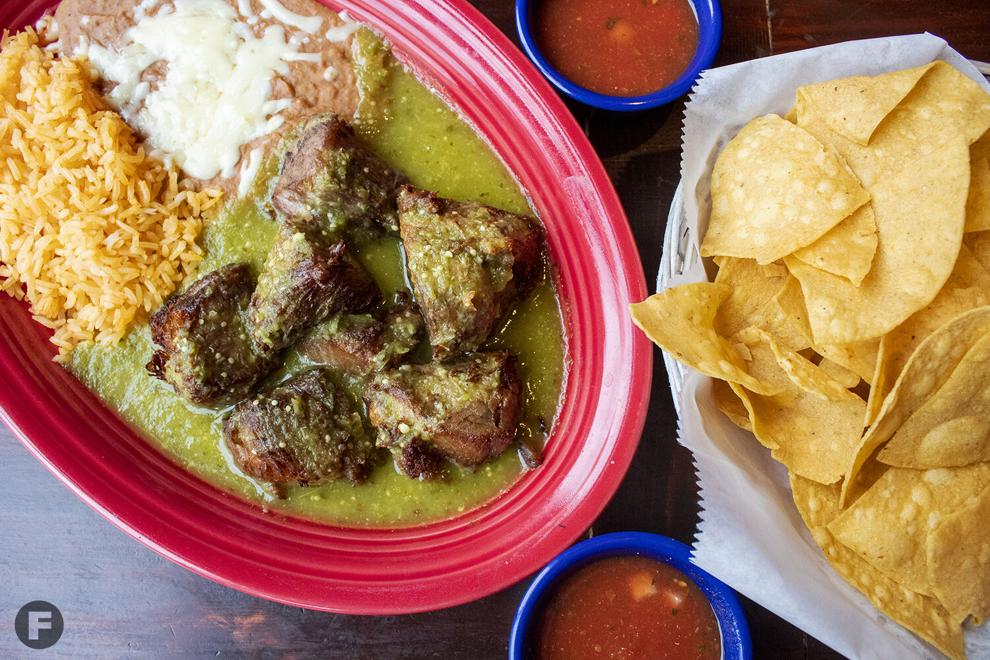 San Jose Mexican Restaurant is best known for its warm hospitality and large Margaritas. You can find plenty of Mexican classics here, such as quesadillas, nachos and enchiladas. Some of the more popular dishes include pork carnitas, chile verde and arroz con pollo. Can't make up your mind? You can even make your own combination of two or three assorted items from the menu with a side of rice and refried beans. 
35 N. Gore Ave., Webster Groves, Missouri, 314-475-5099, sanjosewebstergroves.net
This Webster Groves restaurant is a sushi go-to for many in the area. Sushi Station has it all, from classic shrimp tempura and spicy tuna rolls to more creative combinations, such as the Cardinals Roll stuffed with spicy tuna, eel sauce, wasabi mayo and sprouts and topped with deep-fried asparagus and crab salad. Its popular crab rangoons also make the perfect starter for whatever roll or nigiri you choose. 
29 N. Gore Ave., Webster Groves, Missouri, 314-733-5522, thesushistation.com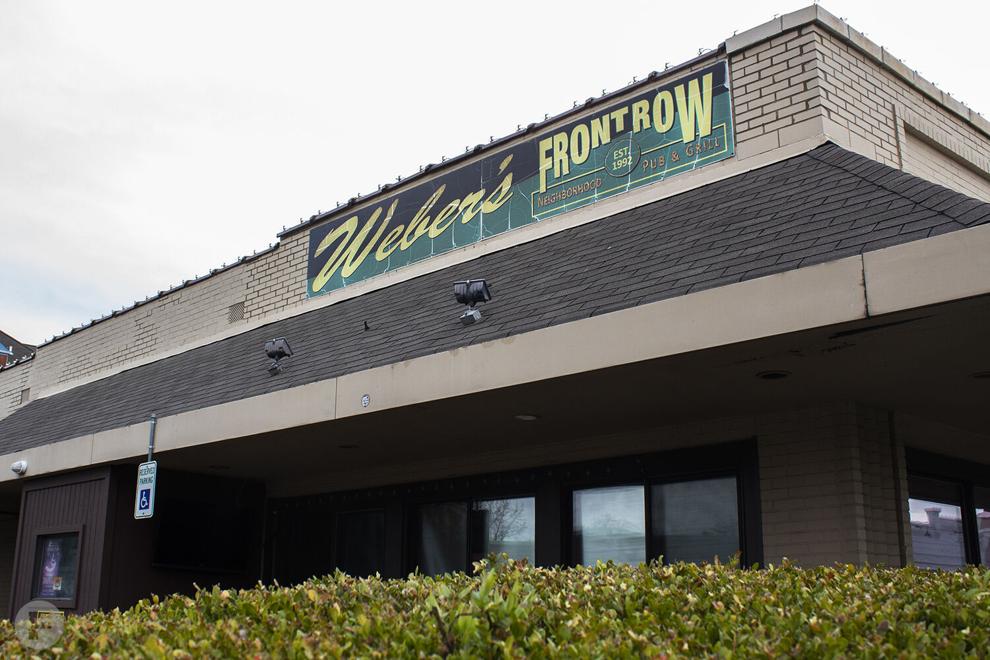 Weber's Front Row is a neighborhood pub and grill that boasts award-winning hot wings. The restaurant is full of HD TVs (30 of them, to be exact), so watching your favorite team is a cinch. Plus, there are also arcade games for the kids. Toasted ravioli and thin-crust pizza make a classic St. Louis pairing at Weber's, but it also offers sandwiches, burgers, soups and salads. 
8169 Big Bend Blvd., Webster Groves, St. Louis, Missouri, 314-961-4500, webersfrontrow.com
Webster Garden Vietnamese & Chinese Restaurant 
Webster Groves is home to a variety of global cuisines, including Webster Garden's Vietnamese and Chinese food. The extensive menu has everything from pho to egg rolls to St. Paul sandwiches. Do take note: This restaurant is cash-only. 
5 S. Old Orchard Ave., Webster Groves, Missouri, 314-931-2131, webstergardenrestaurant.com