Sometimes a little staycation is necessary to get some much-needed distance from your week. Whether you've made it to Friday or it's only Tuesday but you already need a break, check in to one of these hotels, where you can relax by the pool, grab a drink and head out to eat without ever leaving the campus.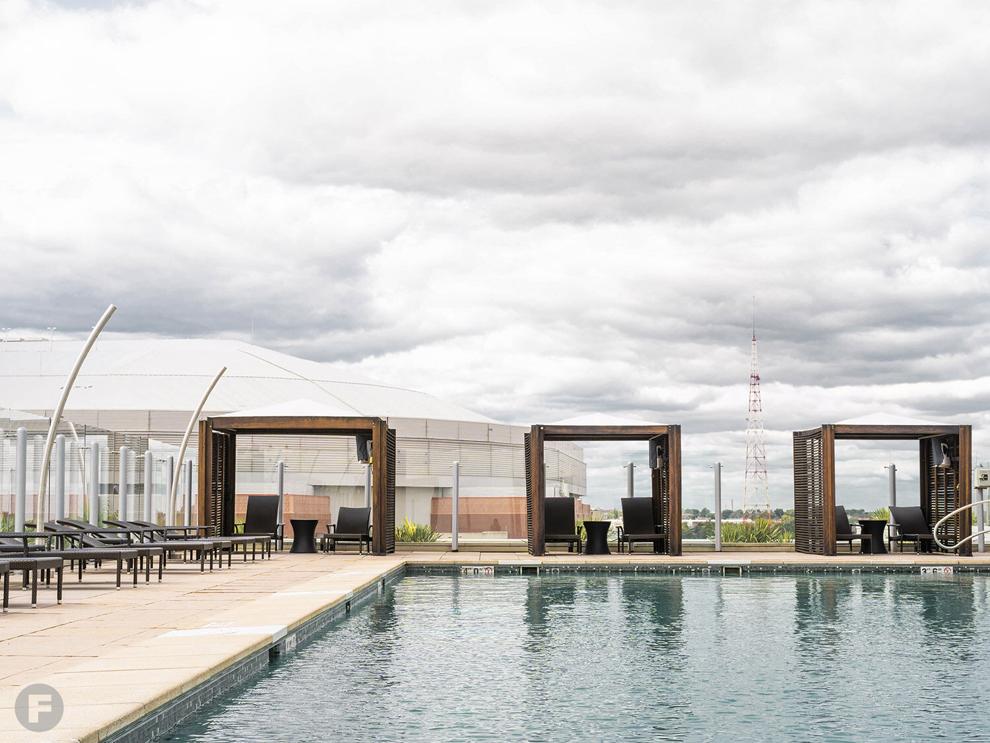 Four Seasons Hotel St. Louis
Book a room for the night or the weekend at the 4 Seasons Hotel in downtown St. Louis, and you're headed to maximum luxury.
Dip | In the summer, the resort-style rooftop pool and hot tub are the perfect way to spend the afternoon, available exclusively to hotel and spa guests. Lounge in one of the poolside chairs, or reserve a cabana surrounded by lush greenery and views of the Mississippi River and the Arch.         
Drink | Head to Cinder Bar, where you can sit inside or grab a few more moments of fresh air courtesy of the outdoor bar that overlooks the city. The gathering spot offers finely crafted cocktails, an extensive wine list to peruse and snacks like charred onion dip and crispy calamari to pair with whatever you're into. Try the Margarita picante, a spicy-sweet take on a classic Margarita perfect for the summer heat.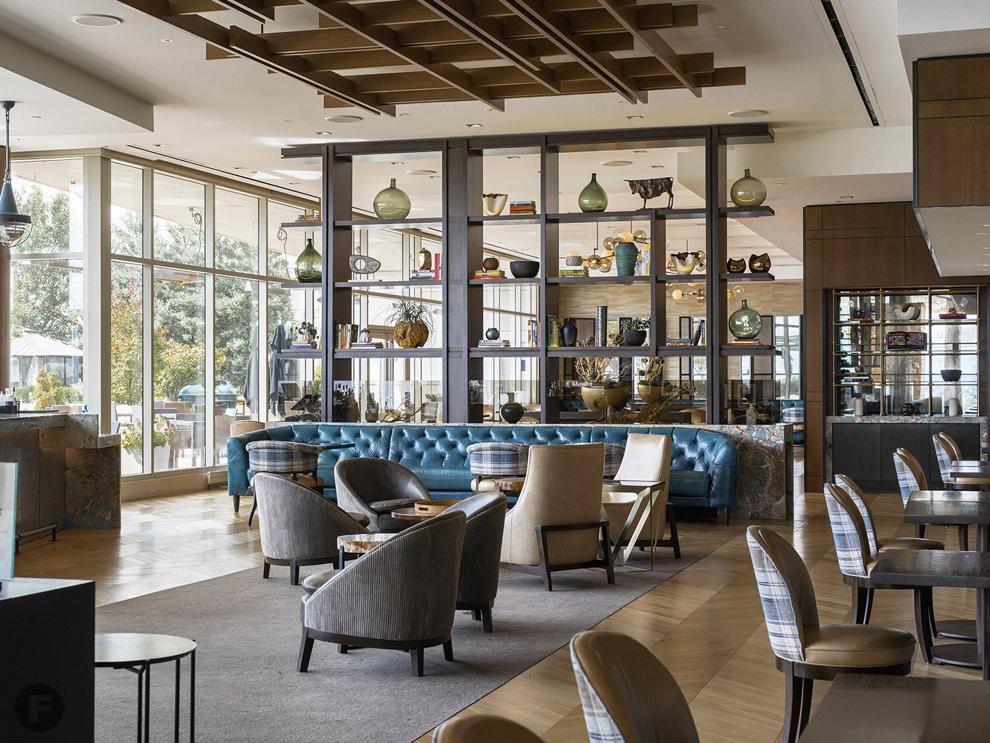 Dine | With its South American cuisine and live-fire cooking, Gerard Craft's Cinder House is at its most inviting during the warmer months. Sit indoors or dine al fresco on an assortment of appetizers and small plates, or go big with entrées like Piri Piri chicken, a half chicken with Manioc polenta, preserved lemon and sweet pepper or feijoada, with cuts of beef and pork served with black beans, rice, kale, chimichurri and orange. No need to rush out in the morning, either: Cinder House is open for breakfast, brunch and lunch as well. 
Four Seasons Hotel St. Louis, 999 N. Second St., St. Louis, Missouri, 314-881-5800, fourseasons.com/stlouis
Located in the Central West End, the Royal Sonesta Chase Park Plaza is close to a myriad of attractions and restaurants, but once you're inside the historic space, you won't want to leave. The hotel even has its own movie theater, but you'll be too busy relaxing by the water.
Dip | For the first time, the Chase is offering tiered pool memberships to give St. Louisans a taste of the Mediterranean-style pool all summer long. The pool is adjacent to the Chase Club for convenient dining and drinking poolside. Visit the website for more information about membership tiers and benefits.
Drink | The Preston is an easy pick to grab a drink; the beautiful environment is home to a selection of beer, wine and vibrantly hued craft cocktails. If you're hungry, the small plates menu has plenty to choose from, including fois gras with salsify, Champagne pears and toasted hazelnuts and classic beef tartare, with egg, onion, bread crisps, baby pickles and sturgeon caviar.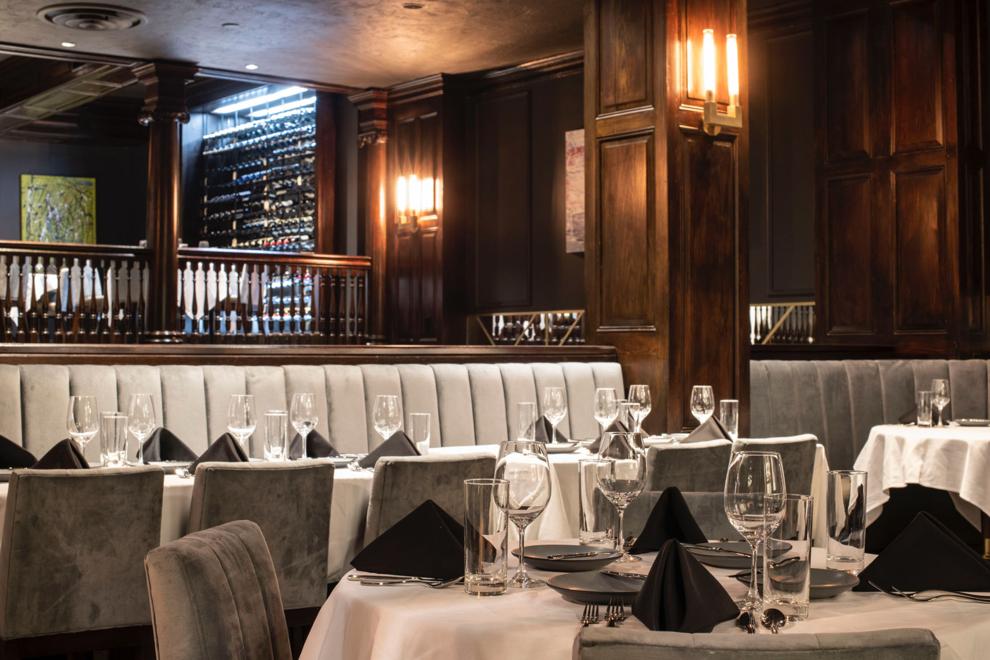 Dine | Get carried back in time with dinner at the Tenderloin Room, a 1950s-era steakhouse that marries old school elegance with a decidedly modern interpretation of the classics. Standards like the Senate Bean soup and an array of steak, chicken and fish entrées anchor the menu, while inventive sides hew to the classics but spin them in new ways. Pair the proteins with options like the honey balsamic Brussels sprouts or fingerling potatoes with chimichurri.
The Chase Park Plaza, 212 N. Kingshighway Blvd., Central West End, St. Louis, Missouri, 314-633-3000, sonesta.com/royal-sonesta/mo/st-louis/chase-park-plaza-royal-sonesta-st-louis
If you've lived in St. Louis for any length of time, you've likely passed by the Cheshire, a standout near the intersection of Clayton and Skinker in Clayton. The century-old hotel has a distinctly British air, and recently underwent an extensive remodel, bringing old into new while preserving the classic atmosphere. 
Dip | The pool at the Cheshire is a delight; when you book your stay, consider the Cabana Pool Package and get all-day access to a cabana steps away from your room, to lounge with up to six friends. To make it a party, book a catered event with food and drink service from Fox & Hound's onsite restaurant.
Drink | Basso's steel and wood décor and sleek atmosphere is a great place to start the night. Order a beer or pick something from the restaurant's wine list, and order some small plates to share. Try the truffle fries or play spicy roulette with an order of shishitos.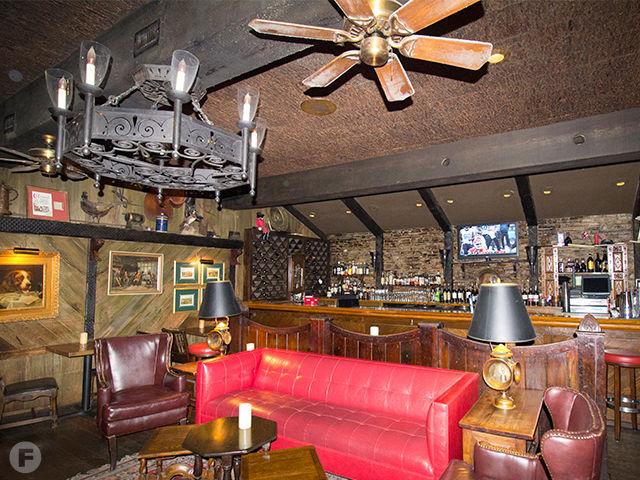 Dine | Fox & Hound's is a world away from the heat of the summer; relax into a chair in the dimly lit space, but not before ordering your favorite drink from the extensive cocktail list. The bar boasts a wide collection of Scottish, English and American whiskeys that pair well with the classic pub fare on the menu. Indulge in lamb sliders, Coventry fish and chips or snack on the Nottingham cheese and salami plate.
The Cheshire, 6300 Clayton Road, Richmond Heights, Missouri, 314-647-7300, cheshirestl.com
Hotel St. Louis, minutes from many of downtown's sports venues and attractions, is an easy choice for a little weekend getaway if you're looking for a historic setting with a modern flair. 
Dip | The rooftop pool overlooks the city from above, so you'll enjoy breathtaking views as you cool off by the water. Spend the day on one of the lounge chairs above the bustle of the city. 
Drink | If you like the view from the pool, grab a drink at Form Skybar. Set high atop Hotel St. Louis, the bar offers eclectic cocktails and small plates to start off your night. 
Dine | For dinner, head to Union 30, which gets its name from the landmark Union Trust Building, which sits at number 30 on the historic register. The dinner menu boasts classics like tuna tartare and bourbon-glazed shrimp alongside heartier fare like crispy duck breast or a beer- and cider-glazed pork shank. 
Hotel St. Louis, 705 Olive St., St. Louis, Missouri, 314-979-1032, hotelsaintlouis.com
Located in the heart of downtown St. Louis, The Last Hotel is great for out-of-town guests, but even better if you're looking for an elegant boutique-style staycation or just a day away.
Dip | The rooftop pool at The Last Hotel boasts breathtaking views of the city skyline, with daybeds available to guests on a first-come, first-served basis. Take a swim in the main pool, or cool off in the wading pool. If you're in the mood to sip and snack, poolside food and drink service is available from The Last Rooftop bar.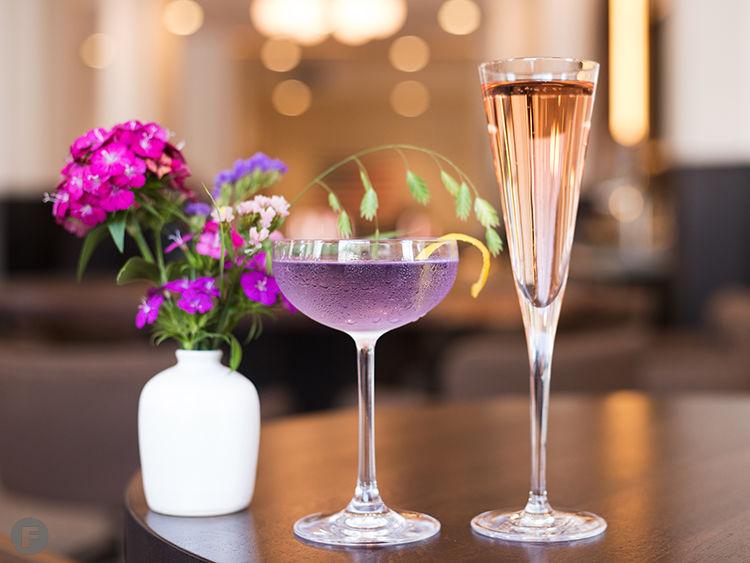 Drink | If you didn't grab a drink from The Last Rooftop during the day, head there before dinner to grab a Tiki-inspired cocktail or a classic gin & tonic made with StilL 630's Two Step gin. A wide range of regional and local craft beers are available along with a wine list curated by winemaker Grant Long. If you're ready to snack, small bites are available to pair with what you're sipping.
Dine | Ultima Cucina's dinner menu is filled with everything you'd expect from a classic Italian steakhouse. Choose from starters like marinated olives or bruschetta, then move on to soups, salads, pizza and pasta and, of course, steaks. Stay for the triple chocolate mousse cake, or make a stop on the way back to your room at The Pantry, the hotel's provisions area, where you'll find rotating flavors of soft-serve gelato.  
The Last Hotel STL, 1501 Washington Ave., St. Louis, Missouri, 314-390-2500, thelasthotelstl.com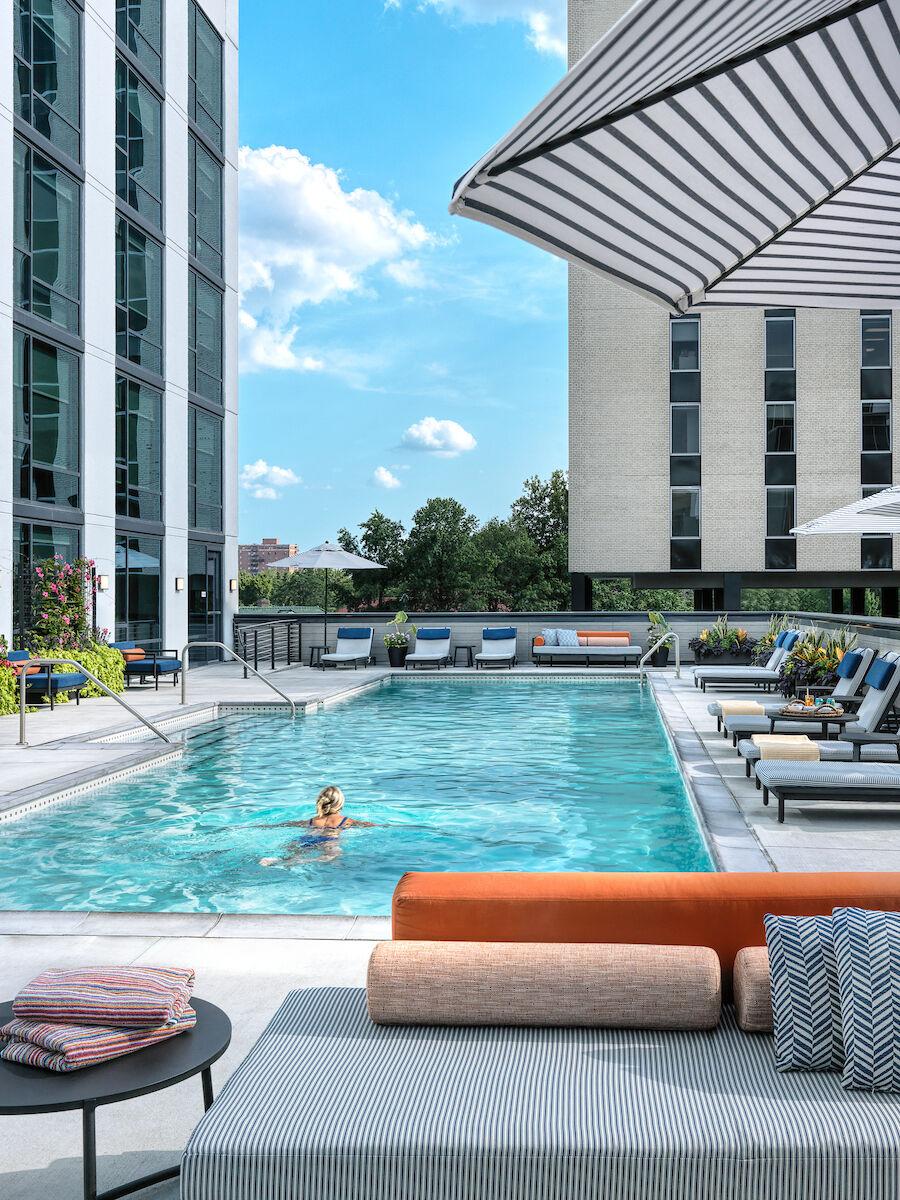 Le Méridien Clayton, conveniently located in the central corridor, makes the most of its rooftop pool deck all year round, but for the first time ever, the hotel is offering memberships that give locals a chance to take advantage of the pool, parking and gym all season long.
Dip | The rooftop pool is available to all guests of the hotel, but if you really want go all out, book the Au Soleil package during the summer season, which includes an in-room olive oil tasting, a rosé and sorbet pairing at Café la Vie and a record player with records that evoke a summertime mood. If you're staying on a Thursday, the pool deck opens to the public for Golden Hour from 5:30 to 8 p.m. The weekly event features live music, games, an exclusive rosé and lemonade cocktail menu and bites from Café la Vie. The hotel also hosts a monthly yoga event on the pool deck.
Dine & Drink  | Café la Vie's French-inspired fare will have you coming back morning and night. In the evening, sip a sparkling wine or classic cocktail at the bar area, then settle in for dinner at the luxurious banquette. The menu offers an array of sharables, like baked Brie or a ratatouille tartine, as well as soups, salads, sandwiches and entrées. The restaurant is open as a café for breakfast and lunch, so stop in early the next morning to grab a macchiato on your way out.
Le Méridien Clayton, 7730 Bonhomme Ave., Clayton, Missouri, 314-863-0400, marriott.com/en-us/hotels/stlmy-le-meridien-st-louis-clayton/overview
Union Station has seen its share of transformations over the decades, but the current iteration is the best yet. The historic hotel, perhaps most famous for the intricate soaring arches of the Grand Hall, is the perfect place to stay if you're looking for a true food destination. In the summer, the pool is just a bonus.
Dip | The pool at Union Station Hotel is partly shaded by the building and by lush plant life that surrounds the space. The large pool deck is available to guests of the hotel, with both table and daybed seating so you can find a comfortable spot to lounge.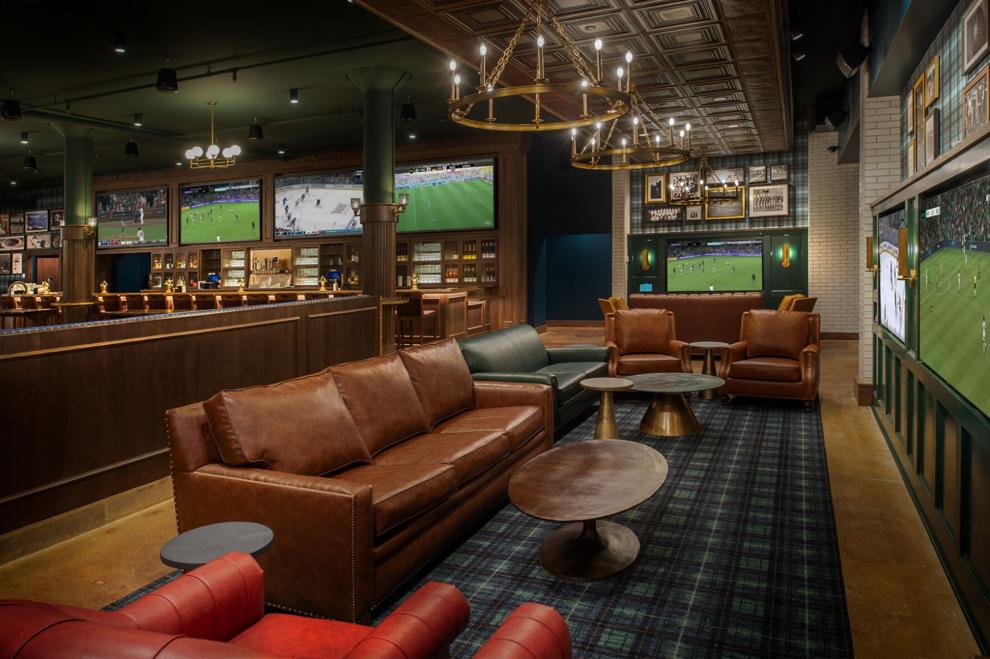 Drink | There's so many choices here, it can be difficult to pick just one. You can't miss the Grand Hall, however, and grabbing a drink in the soaring space feels like you've stepped into a classic film. Sit at the bar, or sink into the well-appointed lounge seating and take your time starting the night. For a more casual evening, head to The Pitch, with English pub flair and a wide selection of craft cocktails and beer on tap.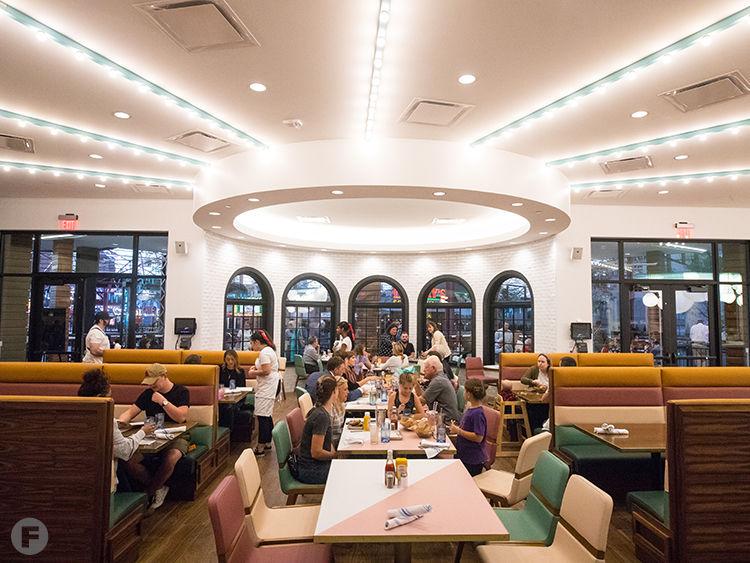 Dine | If you've landed at The Pitch, stay for the elevated tavern fare on the menu, or head over to either the Train Shed or Station Grille for approachable, contemporary fare that has a little something for everyone. If you're skipping dinner in favor of dessert, the whimsical Soda Fountain will satisfy your sweet tooth. With delightfully retro décor and mile-high treats, you'll end the night on a good note.
The Union Station Hotel, 1820 Market St., St. Louis, Missouri, 314-231-1234, hilton.com/en/hotels/stlcuqq-st-louis-union-station-hotel