Patio season has arrived (finally!), and there's really only one way to celebrate. From charming beer gardens to neighborhood green spaces dressed in twinkling lights, we've rounded up more than 50 of our favorite patios in St. Louis.
See something we missed? Reach out on Instagram so we can add it to the list.
Whether you're in the mood for a burger, beer or both, 5 Star Burgers has you covered on sunny days and drizzly ones. And when it's chilly, scoop a spot next to one of the restaurant's heat lamps with a green chile cheeseburger in hand.
5 Star Burgers, 8125 Maryland Ave., Clayton, Missouri, 314-720-4350, 5starburgersstl.com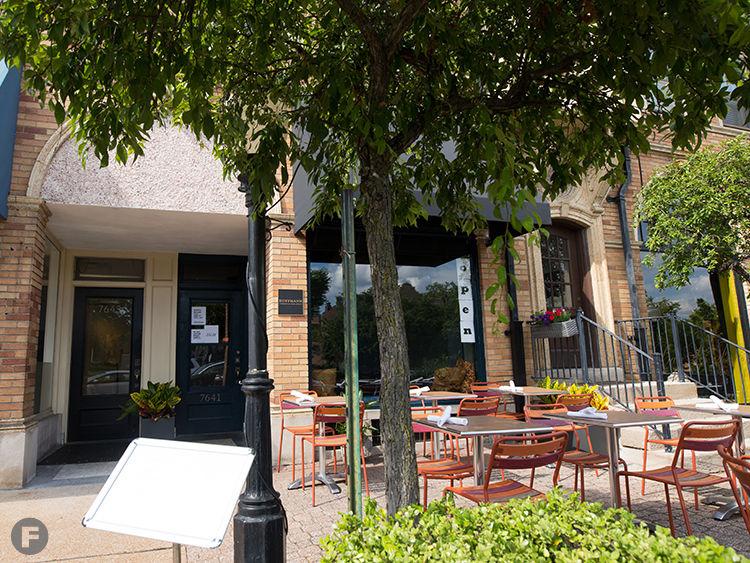 This first-come, first-served patio is the perfect way to enjoy acclaimed chef Bernie Lee's menu of Malaysian comfort food three seasons out of the year. The space is warmed by heaters in the cold months, with pops of greenery throughout to give a truly welcoming vibe. Our tip? Try the mapo tofu, made with mushroom "mincemeat."
Akar, 7641 Wydown Blvd., Clayton, Missouri, 314-553-9914, akarstl.com
This Central West End gem is bustling on most weekend nights, and it's no surprise why. With a menu featuring shared plates like eggplant caponata and beef carpaccio – plus a large selection of pastas and Italian entrées – you'll feel like you're on holiday in Italy.
Bar Italia, 13 Maryland Plaza, Central West End, St. Louis, Missouri, 314-361-7010, baritaliastl.com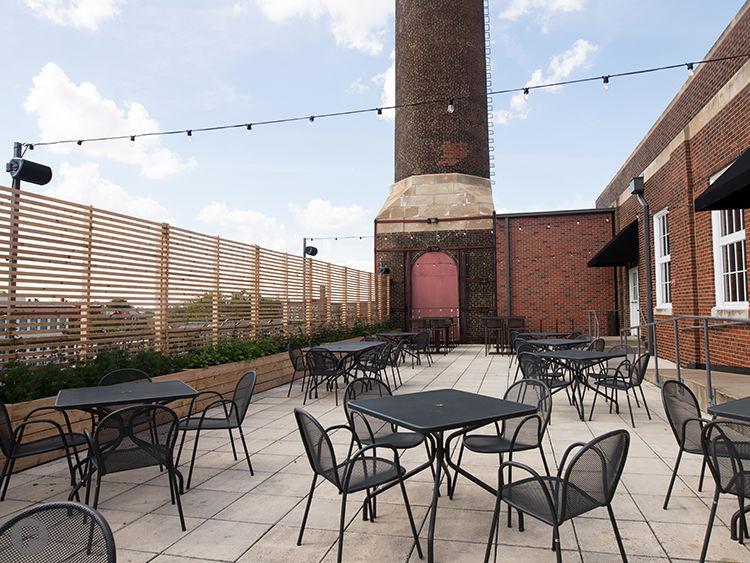 If you want a well-made cocktail with a view, check out The Bellwether – the restaurant's rooftop patio is especially good for sunset watching. Sit beneath the twinkle lights, share the smoked octopus and sip on one of the spot's complex cocktails – like the Paradise Lost, made with rye and fig leaf syrup.
The Bellwether, 1419 Carroll St., Lafayette Square, St. Louis, Missouri, 314-380-3086, thebellwetherstl.com
Drinks, brunch, lunch and dinner – you could stay on Billy G's huge outdoor patio in Kirkwood all day. Grab a spot near the fire pit with a plate of the restaurant's signature wings – offered in classic, backyard and "trashed" varieties – or check out the weekend barbecue specials, offered Thursday through Sunday.
Billy G's, 131 W. Argonne Drive, Kirkwood, Missouri, 314-984-8000, billygskirkwood.com
In Chesterfield, Bishop's Post features a beautifully landscaped patio next to a waterfall. Take in the scenery accompanied by a glass of signature red sangria, or give the pomegranate Martini a try. The menu is expansive yet intentional: Order the smoked Missouri trout for a starter and the fresh pasta du jour as an entrée.
Bishop's Post, 16125 Chesterfield Parkway West, Chesterfield, Missouri, 636-536-9404, bishopspost.com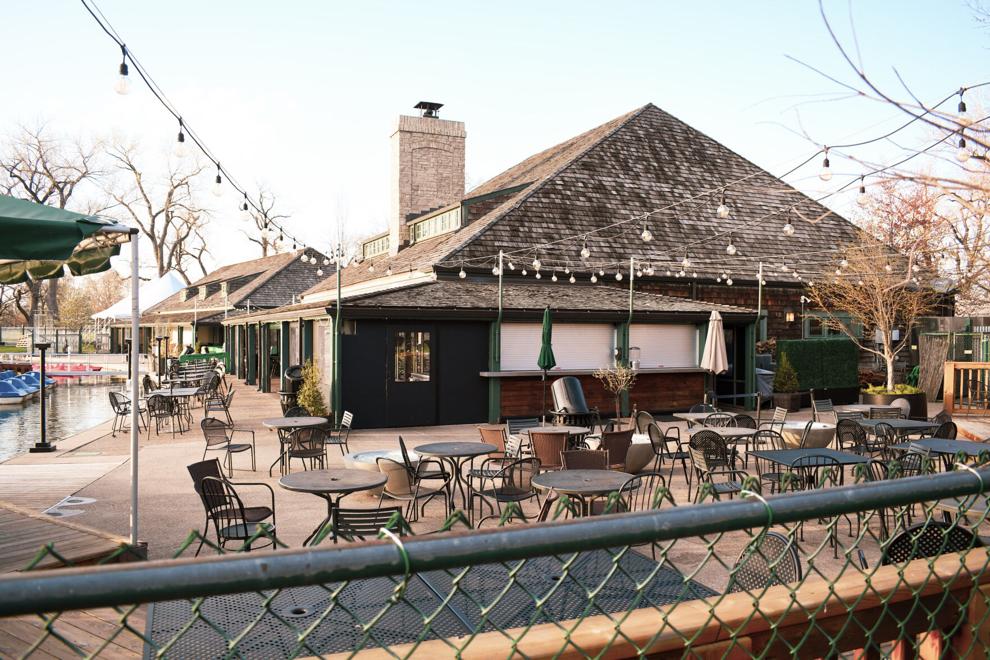 The Boathouse at Forest Park
A summery drink just tastes better by the water. And with so much to see and do in Forest Park, the Boathouse is a prime location for family and out-of-town friends to get together. When you've finished your drinks on the sun-soaked patio, head out on the water in a paddleboat.
The Boathouse at Forest Park, 6101 Government Drive, Forest Park, St. Louis, Missouri, 314-366-1555, boathousestl.com
For a dive bar with a heart, look no further than Bootleggin' Bob's in south St. Louis. The low-key vibe on the patio out front is all picnic tables and after-work drinks with friends. Bob's keeps funky sours and craft IPAs – as well as domestics, seltzers and ciders – stocked up and ready to try.
Bootleggin' Bob's, 3457 Morgan Ford Road, Tower Grove South, St. Louis, Missouri, 314-335-7924, bootlegginbobs.com
Take in the atmosphere on Brasserie's street-facing patio while enjoying classic French fare, perhaps the wild Burgundy escargot or mussels in white wine. Looking for something more casual? The signature Brasserie burger, dressed with American cheese, dijonnaise, dill pickle and onion, is a definite crowd-pleaser.
Brasserie by Niche, 4580 Laclede Ave., Central West End, St. Louis, Missouri, 314-454-0600, brasseriebyniche.com
It goes without saying that the patio at Broadway Oyster Bar evokes those Bourbon Street patios of New Orleans. With a menu full of Cajun favorites – and about 10 ways to eat oysters – BOB also hosts regular live music nights and makes a mean Sazerac. 
Broadway Oyster Bar, 736 S. Broadway, St. Louis, Missouri, 314-621-8811, broadwayoysterbar.com
On a Friday night, Café Napoli's comfortable-yet-elegant patio is bound to be one of the busiest spots in Clayton, because of its extensive wine list, which is separated by category into specific regions. Pick your favorite red or white to pair with the lobster caprese salad.
Café Napoli, 7754 Forsyth Blvd., Clayton, Missouri, 314-863-5731, napolistl.com
The sidewalk-side patio seating at Café Mochi is perfect for people-watching on South Grand, an activity that pairs well with one of the restaurant's many sharable rolls. Dig into specialties like the Hurricane roll with scallops and shrimp, or the White Tiger roll with crab. Pork and chicken katsu are also tasty choices.
Café Mochi, 3221 S. Grand Blvd., Tower Grove South, St. Louis, Missouri, 314-773-5000, cafémochi.com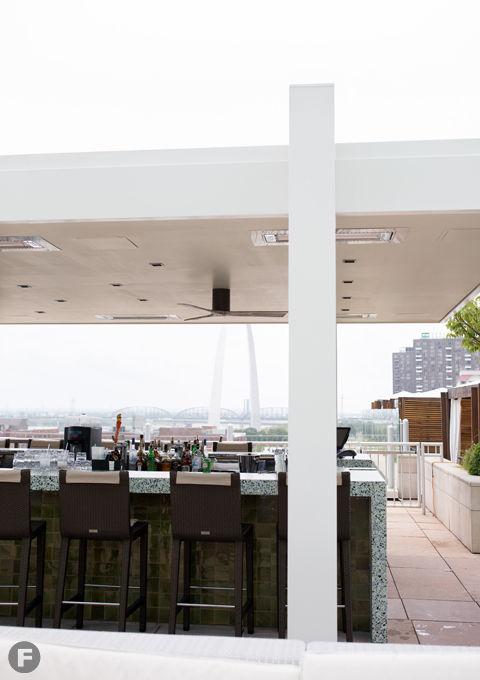 Cinder Bar offers one of the highest restaurant patios in St. Louis, perched on the eighth floor of the Four Seasons Hotel St. Louis. With sweeping views of Downtown and the Gateway Arch, dinner and drinks in this elevated location make a special occasion even better. The menu is refined but fun: Think charred onion dip and potato chips, stuffed dates and mussels with fennel.
Cinder Bar, Four Seasons Hotel, 999 N. Second St., Laclede's Landing, St. Louis, Missouri, 314-881-5759, cinderhousestl.com
There's no spot in St. Louis quite like The Crow's Nest. Bring your metalhead friends, or people that just like something different than the usual – the bar and restaurant hosts Metal Brunch each Saturday and Sunday, with "Judas Feasts" like stuffed French toast and a brunch burger on an English muffin. Enjoy a Bloody Beer out on the patio and you're set.
The Crow's Nest, 7336 Maplewood Road, Maplewood, Missouri, 314-781-0989, crowsneststl.com
You'll know when you see the spinning windmill that you've made it down to Bevo. Wander into the Mill's large beer garden for a drink in the open air or a fun Sunday brunch. Even though the street itself is filled with activity, this outdoor picnic area feels like a much-needed reprieve from the rest of the world.
Das Bevo, 4749 Gravois Ave., Bevo, St. Louis, Missouri, 314-832-2251, dasbevo.com
Just south of Das Bevo on Morgan Ford is El Catrin, the vibrant Mexican restaurant serving Margaritas made with fresh-squeezed lime juice. And did we mention the double decker patio? Even if the popular spot gets busy on weekends, your group should have no problem snagging a table outside.
El Catrin, 6902 Morgan Ford Road, Boulevard Heights, St. Louis, Missouri, 314-669-9005, elcatrinstl.com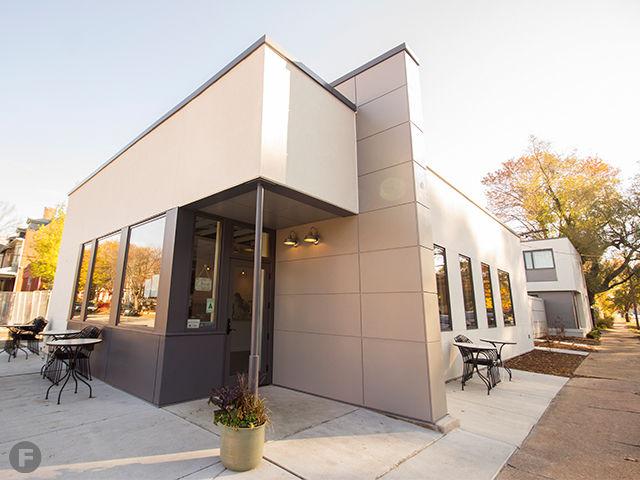 The patio at Fiddlehead Fern Café is big enough for weekend groups of friends and iced-coffee drinking students alike. Built on the site of a historic gas station, the spot opened in 2017 and has evolved from a simple coffee shop to a fully-fledged restaurant within the Shaw neighborhood. Take your pick from cold-pressed juices, cocktails, fresh bakery goods and savory fare on the brand new patio.
Fiddlehead Fern Café, 4066 Russell Blvd., Shaw, St. Louis, Missouri, 314-300-8111, fiddleheadferncafé.com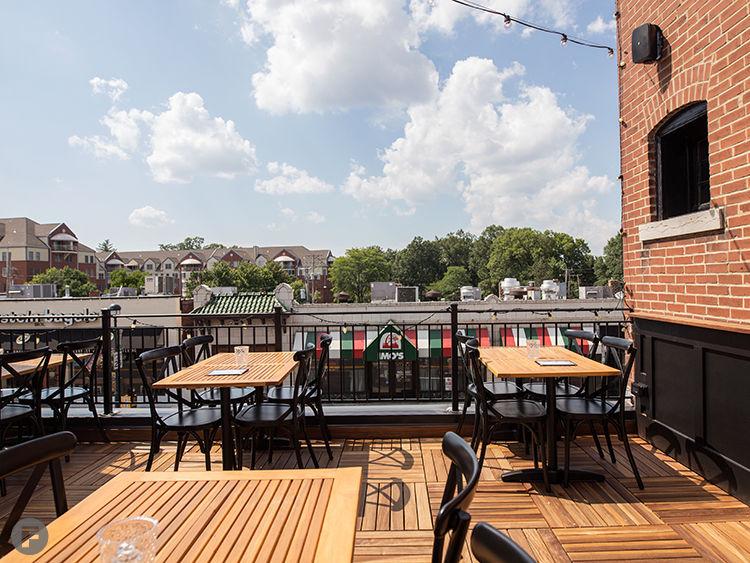 Meeting friends for drinks at The Frisco Barroom feels like a special occasion, especially when you're surrounded by leafy plants in the courtyard or above the street at a rooftop table. These patios are either covered or heated, so enjoying the Buffalo-roasted, tempura-fried cauliflower – and maybe a blood orange spritz – is pleasant, rain or shine.
The Frisco Barroom, 8110 Big Bend Blvd., Webster Groves, Missouri, 314-455-1090, thefriscostl.com
Gather offers a large patio with plenty of picnic benches to meet with friends and family. Keep an eye on its rotating seasonal lattes, like the spring bee latte the shop offers for spring, with honey, vanilla and lavender syrup. Open for breakfast and lunch, the café is also vegan-friendly.
Gather, 1854 Russel Blvd., Lafayette Square, St. Louis, Missouri, 317-376-4235, gathercaféstl.com
Located beneath a bold black-and-gold sign on an unassuming block of Kingshighway, The Golden Hoosier's stylish interiors match its charming, campground-style backyard patio. Sit on a bar stool shaped like a log and make your way through all three signature Old Fashioneds.
The Golden Hoosier, 3707 S. Kingshighway Blvd., St. Louis, Missouri, 314-354-8044, thegoldenhoosier.com
Located on Morgan Ford Road, Grand Pied boats a cozy, shaded outdoor patio and a menu influenced by sustainably sourced food. Try the beignettes – baby beignets dressed with butter and cinnamon sugar dust and served with a side of jam. The restaurant is currently BYOB, so if you want a beer or cocktail with your meal, plan ahead.
Grand Pied, 3137 Morgan Ford Road, Tower Grove South, St. Louis, Missouri, grandpied.com
Not only is this Grove classic open daily until 2 a.m., but its kitchen also serves toasted ravs, pretzels and more until 10 p.m. The drink menu is extensive, and NA cocktails, beers and CBD seltzers abound. Bring your food out to to the patio behind the building on a sunny day; in summer, beat the heat by sitting under tabletop umbrellas. 
HandleBar, 4127 Manchester Ave., The Grove, St. Louis, Missouri, 314-652-2212, handlebarstl.com
Hangar's sprawling patio has plenty of shade for sunny days and fire pits for chilly nights. While you're there, relax with a crafted cocktail, like the Up in Smoke (Montelobos mezcal, agave, lemon juice, blueberries and sage), or share a small plate, like the seared scallops with wasabi cream.
Hangar Kitchen + Bar, 9528 Manchester Road, Rock Hill, Missouri, 314-473-1221, hangarkitchenandbarstl.com
With plenty of tables and flowers to liven up the lot, the patio at Heavy Riff in Dogtown is good for meeting big groups of friends. For a refreshing drink any time of year, try the classic Layla sour, available in rotating flavors like blood orange and pineapple mango.
Heavy Riff Brewing Co., 6413 Clayton Ave., Dogtown, St. Louis, Missouri, heavyriffbrewing.com
Purchased by the Hendel family in 1915, and then by the Bennetts in 1994, Hendel's is a living piece of history in of Old Florissant. The restaurant's patio has plenty of seating in its quaint backyard garden, where you can enjoy dishes like Key West Grouper with citrus lime sauce or burnt ends mac 'n' cheese. Wash it all down with Hendel's rhubarb Negroni.
Hendel's Restaurant, 599 Rue St. Denis, Florissant, 314-837-2304, hendelsrestaurant.com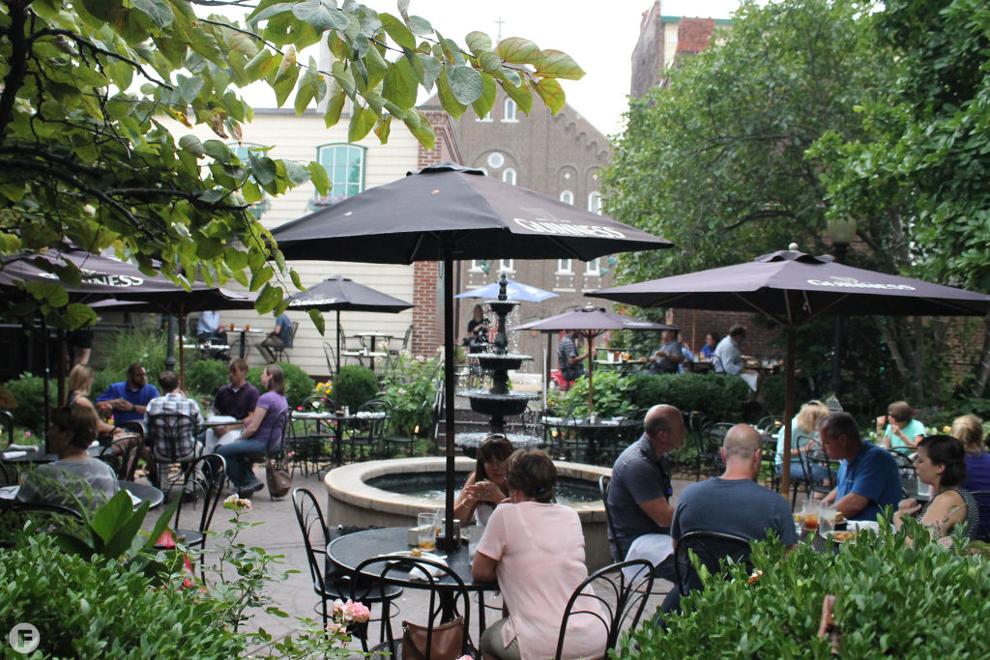 The garden patio at John D. McGurk's in Soulard will make you feel equal parts festive and right at home. Pair your day (or night) out with a signature appetizer like the housemade pretzels, or head straight to the main event with the Guinness stew with beef tips. You're in luck if you love live music – the pub hosts performances most nights of the week.
John D. McGurk's, 1200 Russell Blvd., Soulard, Missouri, 314-776-8309, mcgurks.com
What pairs better with Southern-inspired food than a balmy Missouri night? Take in the Central West End on Juniper's patio while sipping on a refreshing Kentucky Bramble, or order a Put It In Your Purse (gin, grapefruit, rosemary, lime and bubbles). Whether you opt for a fried chicken dinner or blackened catfish, you're sure to enjoy it out in the open air.
Juniper, 4101 Laclede Ave., Central West End, St. Louis, Missouri, 314-329-7696, junipereats.com
Katie's Pizza & Pasta Osteria
A seasonal menu on a seasonal patio is always a special kind of treat. Whether you opt for the Rock Hill or Town and Country location, the patios at Katie's will welcome you with open arms. Pair a glass of Grüvi NA Prosecco with a seasonal or classic pizza topped with anything from pancetta and fig to pears and prosciutto.
Katie's Pizza & Pasta Osteria, multiple locations, katiespizzaandpasta.com
Living Room Coffee & Kitchen
Want to get outside and enjoy a summer morning? Head over to Living Room Coffee & Kitchen in Maplewood for a chill patio experience. We recommend ordering a Sunset (espresso and blood orange San Pellegrino) or a Latte Maria (burnt orange and cinnamon) to pair with the warmer weather. For lunch, try the panzanella salad or the smoked egg sandwich, back for the spring.
Living Room Coffee & Kitchen, 2810 Sutton Blvd., Maplewood, Missouri, 314-899-0173, livingroomstl.com
In Clayton's DeMun neighborhood, relax on the sidewalk patio at Louie's while indulging in one of the restaurant's excellent pizzas – like the Margherita or the Pomodoro Fresco with burrata, heirloom cherry tomato, basil and garlic – or something heartier, like the Roman Gnocco with pork ragù.
Louie, 706 DeMun Ave., Clayton, Missouri, 314-300-8188, louiedemun.com
Decorated with umbrellas for the sunny days and candles for cool nights, both the fare and outdoor atmosphere at Marcella's recall breezy nights spent outdoors in Italy. While you're there, try the crispy semolina-crusted calamari, braised beef tortellini with Prosciutto di Parma or the veal piccata in a roasted garlic-lemon sauce.
Marcella's Mia Sorella, 14464 Clayton Road, Ballwin, Missouri, 636-333-1015, miasorellastl.co
You'll never go thirsty while hanging at Molly's – this Soulard spot has seven bars, including the ones on its massive outdoor patio. Hang out with friends over a batch of drinks, or come to the bar-side patio with your pooch before 8 p.m. Molly's serves a full lunch and dinner menu Tuesday through Saturday and weekend brunch until 3 p.m.
Molly's in Soulard, 816 Geyer Ave., Soulard, St. Louis, Missouri, 314-241-6200, mollysinsoulard.com
The much-loved frozen drink destination has patio seating at its locations in Midtown and St. Charles. Thanks to a highly inventive rotating menu – which currently includes frozen guava Margaritas, smoke and fire Palomas and bourbon slushes – there are no wrong choices.
Narwhal's Crafted, multiple locations, narwhalscrafted.com
With coverage overhead and cold weather heaters, Olive + Oak is prepared to serve you outside in all sorts of weather. Match the scenes of summer with something from the seasonal cocktail menu, whether it's a #141 (rye, orange spice, earl grey, lemon and bitters) or something from the NA menu, like the crafted spritz, with aperitif, almond syrup and lime.
Olive + Oak, 216 W. Lockwood Ave., Webster Groves, Missouri, 314-736-1370, oliveandoakstl.com
This Irish pub hasn't always had a patio, but when COVID-19 closures forced gatherings outdoors, the bar's side yard became a charming choice to enjoy a drink. Sitting on a wooden tables with twinkle lights above and a cocktail in hand feels like the best picnic ever.
The Pat Connolly Tavern, 6400 Oakland Ave., Dogtown, St. Louis, Missouri, 314-647-7287, patconnollytavern.com
With multiple shaded tables outside, Perennial on Lockwood is great for meeting up with friends and sipping on a brew or two in the sunshine. Pair your Saison de Lis – made with chamomile – with charcuterie boards, white bean dip or a burger while you take in the sights and sounds of Lockwood Avenue.
Perennial on Lockwood, 216 W. Lockwood Ave., Webster Groves, Missouri, 314-682-3823, perennial.oohosp.com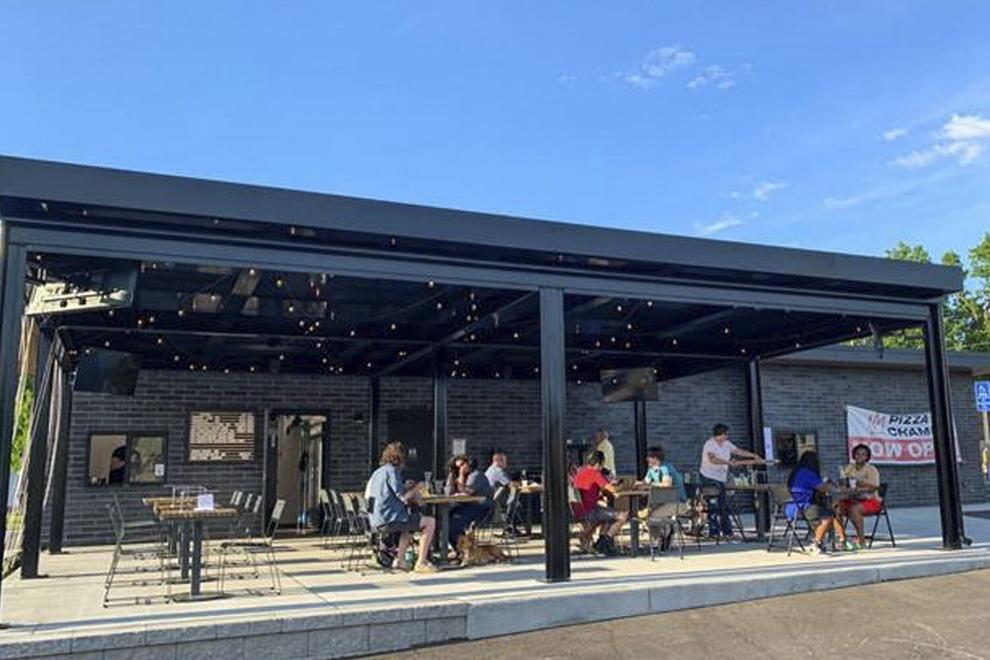 Pizza Champ and Shared Brewing by Side Project
You can dine al fresco year round at this Maplewood mainstay, thanks to the all-season patio near Manchester Avenue. In addition to classic Margherita slices and a no-mozz pie with grilled kale, ricotta, lemon, garlic and chili flake, the spot serves salads, wings and soft serve ice cream. Grab a brew from Shared Brewery by Side Project, which shares a patio with Pizza Champ.
Pizza Champ and Shared Brewing by Side Project, 2657 Lyle Ave., Maplewood, Missouri, pizzachampstl.com
If the vibe, drinks and food at Eat Duckbill – the in-house, late-night eats spot inside Platypus – weren't enough, the patio is the icing on the cake. It's good for early evening hangouts: As the sun goes down, the twinkle lights come on and the Grove neighborhood comes alive. Try one of Platypus' rotating drink specials, which are posted on the wall inside next to the bar.
Platypus, 4501 Manchester Ave., The Grove, St. Louis, Missouri, 314-448-1622, drinkplatypus.com
With nearly 30 wines available by the glass, and even more bottles and an array of wine flights to try, choosing what to order at Robust might be a challenge, but sipping your vino out on the patio is a no-brainer. The space is great for people-watching in Old Webster – a complement to whatever glass or bottle you settle on for the evening. 
Robust Wine Bar, 227 W. Lockwood Ave., Webster Groves, Missouri, 314-963-0033, robustwinebar.com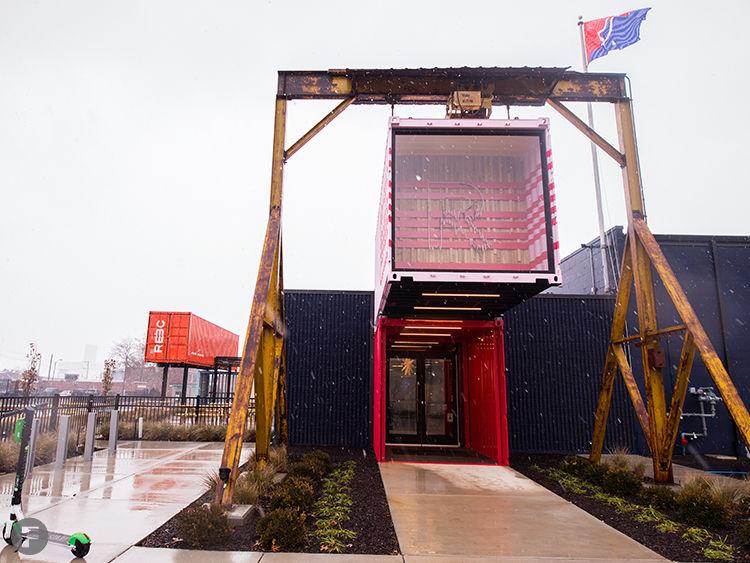 Rockwell Beer Co. and brassWELL by Niche
Because it's so popular, you'll be lucky to find a spot outside near Rockwell Beer Co.'s iconic shipping containers-turned-brewery and tasting room. The space is open every day starting at 11 a. m., making it ideal for soaking up the sun and trying a signature Passing Clouds beer. Grab a bite from Niche Food Group's brassWELL, tucked inside Rockwell, which offers burgers, fries and shareables like pretzels with beer cheese.
Rockwell Beer Co. and brassWELL by Niche, 1320 S. Vandeventer Ave., The Grove, St. Louis, Missouri, 314-256-1657, rockwellbeer.com
Rooftop Terrace Bar at Moonrise Hotel
Whether you want an after-dark drink or to watch the sun set over University City, the Rooftop Terrace Bar at Moonrise Hotel offers the best of views. Kick back and enjoy small plates like the mini diablo lobster tacos or truffle fries, or just opt for a cocktail like the Month-Old Manhattan (rye, Cocchi sweet vermouth, dry curaçao, bitters and patience).
Moonrise Hotel, 6177 Delmar Blvd., Delmar Loop, St. Louis, Missouri, 314-721-1111, moonrisehotel.com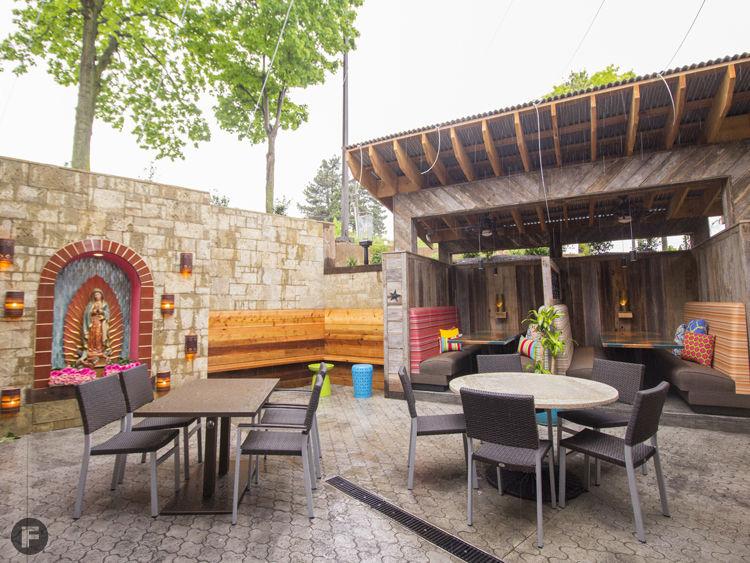 Rosalita's Cantina Des Peres
Does it get any better than a cold Margarita on a hot day? This colorful patio matches the brightness of the restaurant's Margaritas; the specialty menu includes flavors like pomegranate, blueberry and mango plus a sparkling variety. If you're hungry, pair your Marg with the barbacoa empanadas.
Rosalita's Cantina, 12796 Manchester Road, Des Peres, Missouri, 314-441-7060, rosalitascantina.com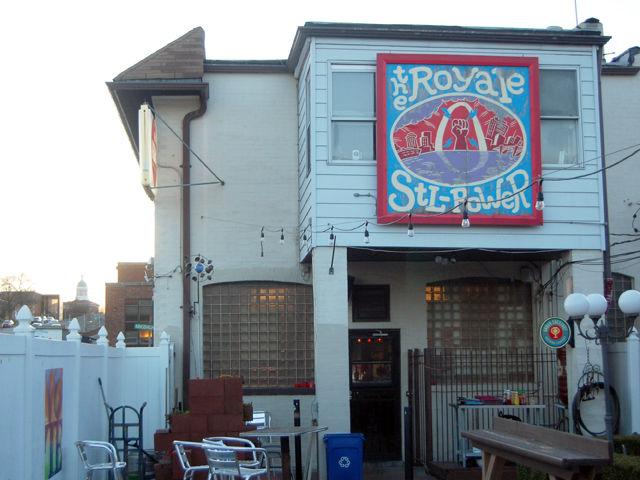 For a somewhat unassuming neighborhood staple, The Royale boasts one of the most pleasant patios in South City. In warm months, sit out near The Royale's own blooming garden, from which it harvests ingredients for food and drink. If it's cool outside, the patio is still open and toasty, thanks to a few fire pits. From the house cocktails, we recommend the pomegranate punch.
The Royale, 3132 S. Kingshighway Blvd., Tower Grove, St. Louis, Missouri, 314-772-3600, theroyale.com
Russell's offers a couple of different patio experiences, including one out front and one hidden behind the neighborhood restaurant, both of which welcome dogs. Savor one of the housemade pastries or the signature breakfast grilled cheese with your dog at your side, ready to clean up any crumbs.
Russell's on Macklind, 5400 Murdoch Ave., Southampton, St. Louis, Missouri, 314-553-9994, macklind.russellscafé.com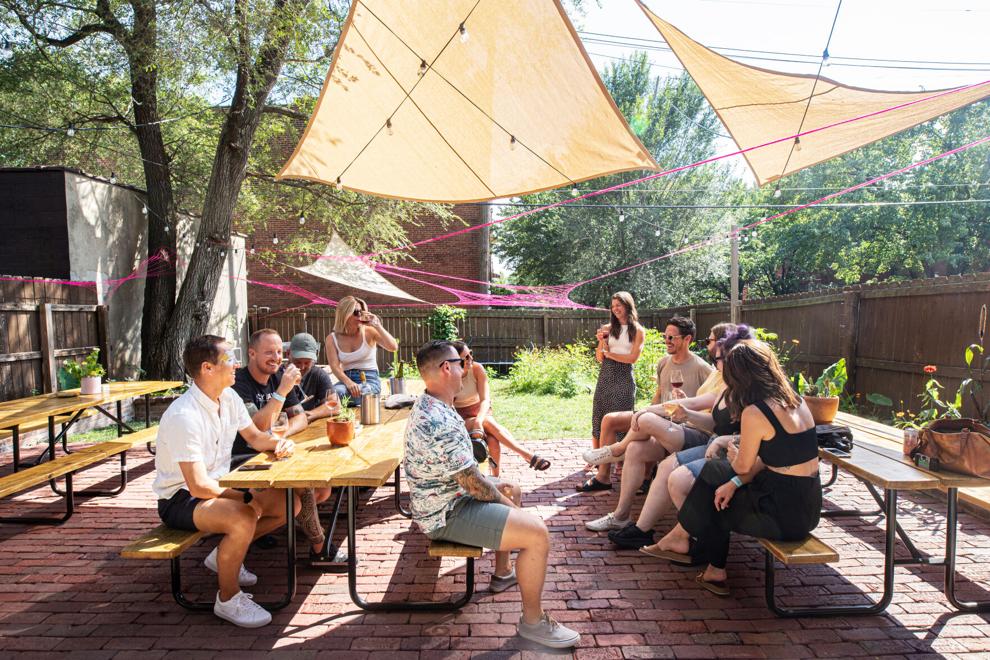 No visit to Cherokee Street would be complete without a visit to 'ssippi, where you'll likely try a wine you've never had before. The inside vibes are pristine, with rainbow sun catchers lighting up all corners of the historic building. In the back, step out onto the equally sun-filled patio, where dogs are allowed and native Missouri wildflowers bloom.
'ssippi, 2926 Cherokee St., St. Louis, Missouri, ssippi.xyz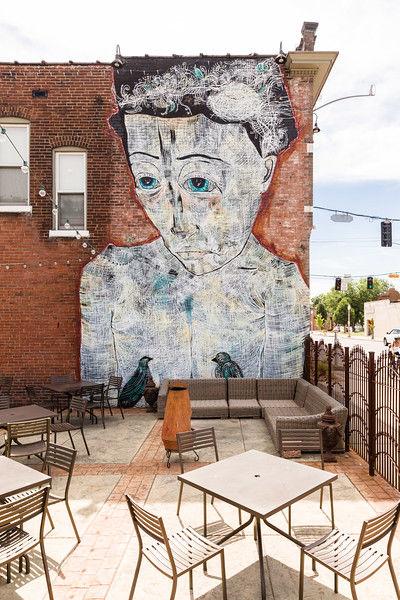 This tapas spot has one of the largest courtyards in The Grove, but it's hard to imagine the full space from the street. Complete with a bubbling fountain, Sanctuaria is a welcome reprieve from the hustle and bustle of Manchester. As for the food, dive into tostones, papas fritas, Cuban chicken sliders and more while dining under the sky.
Sanctuaria, 4198 Manchester Ave., The Grove, St. Louis, Missouri, 314.535.9700, sanctuariastl.com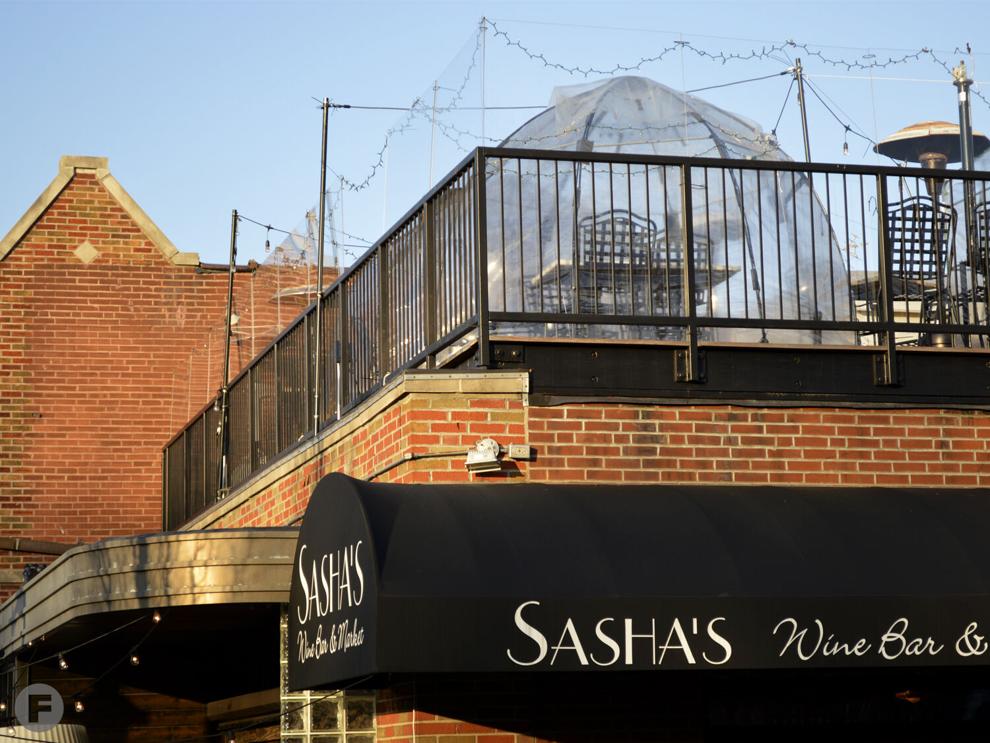 With two stories worth of patio space and an extensive wine list, Sasha's Wine Bar is an ideal place to meet your pals for a drink or two. Whether you're cheers-ing on the rooftop in DeMun or street side on Shaw, you're in for a lovely evening. Even if the temperatures drop, don't worry; Sasha's has heaters on deck.
Sasha's Wine Bar, multiple locations, sashaswinebar.com
Hide from the rain and harsh sun alike beneath Schlafly Bottleworks' massive gazebo in Maplewood. Enjoy all of Schlafly's signature brews on tap, from the White Lager to the seasonal Raspberry Hefeweizen, and pick up a few bottles to bring home at the in-restaurant retail shop. Plus, with a full food menu, this location has something for everyone.
Schlafly Bottleworks, 7260 Southwest Ave., Maplewood, Missouri, 314-241-2337, schlafly.com 
Square One Brewery & Distillery
The patio at Square One is a hidden gem for eating and drinking. Spend a sunny day in this brick-laden courtyard with a brew made right on-site, like the Bavarian Weizen or barrel aged barley wine. Enjoy a cocktail with one of the housemade spirits, like the Dreamsicle, with Urban Bourbon, Grand Marnier, orange juice, simple syrup, egg white and vanilla.
Square One Brewery & Distillery, 1727 Park Ave., Lafayette Square, St. Louis, Missouri, 314-231-2537, squareonebrewery.com
The patio at Tamm Avenue Bar is quite large and lets you choose your outdoor seating experience. Pick from fireside picnic tables, shaded high tops or even a couch if you're lucky to snag it. Guaranteed to be busy on any nice day, the spot is a great place to kick back with a can of local beer while enjoying a bite from the bar's in-house restaurant, Nomad.
Tamm Avenue Bar, 1227 Tamm Ave., Dogtown, St. Louis, Missouri, 314-479-8155, tammave.com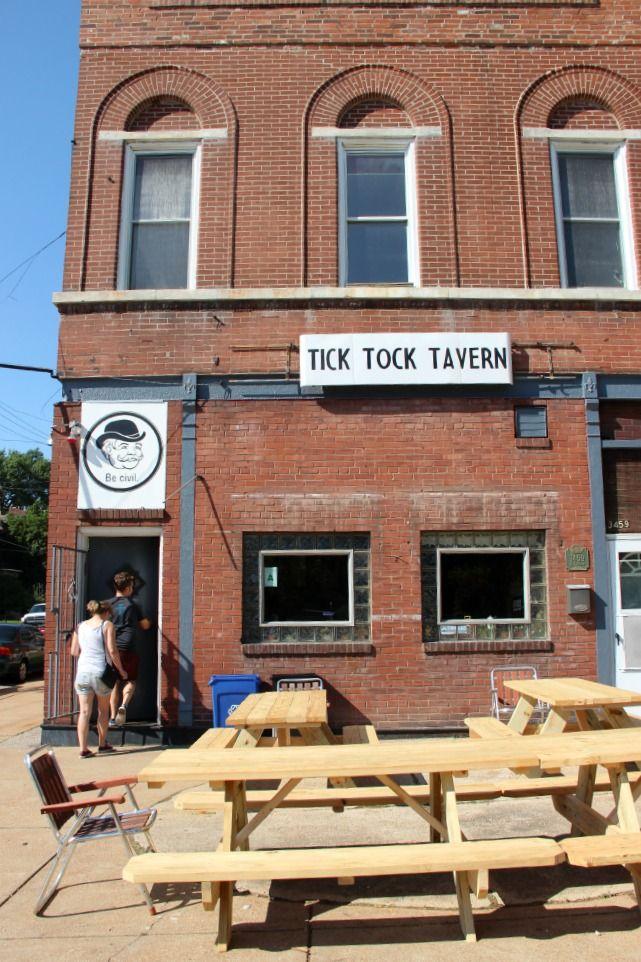 Arguably one of the coolest street side patios in the city, Tick Tock Tavern has big neighborhood block party vibes, especially due to its occasional live music performances. Located on a corner amongst the historic brick buildings of Tower Grove East, the bar shares a patio with Buzz's Hawaiian Grill, so you can order from both and take your food outside to share with friends.
Tick Tock Tavern, 3459 Magnolia Ave., Tower Grove East, St. Louis, Missouri, facebook.com/ticktocktavernstl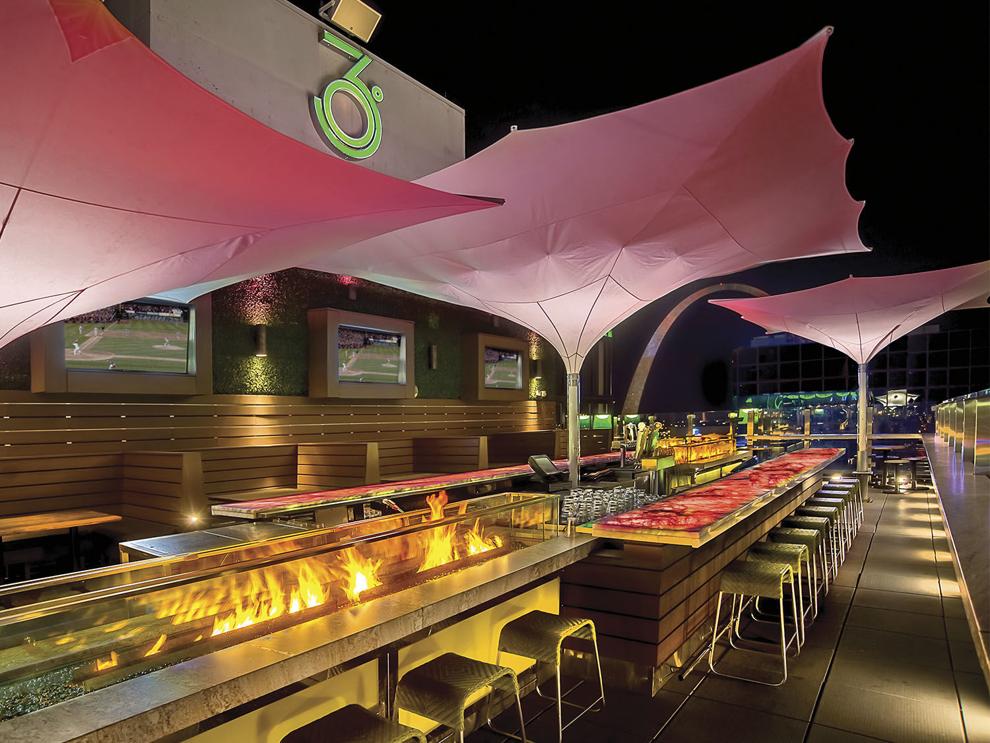 This rooftop bar gets its name from the sweeping 360-degree views of Downtown St. Louis. Whether you prefer to get a bird's-eye view of the Gateway Arch or Busch Stadium, you can do either with a drink in hand. As for snacks on high, try the cauliflower tacos, with harissa, pickled chickpea purée, cilantro and pistachio.
Three Sixty Rooftop Bar, Hilton St. Louis at the Ballpark, 1 S. Broadway, St. Louis, Missouri, 314-241-8439, 360-stl.com
With both tables and lounge furniture on the outdoor patio, the patio at Twisted Tree is a choose-your-own adventure experience. The small plates are shareable – try the oysters or batter dipped lobster bites. For a bigger bite, the steakhouse does a great tenderloin slider, classic cheeseburger or prime rib melt with Gruyere cheese and onions. 
Twisted Tree Steakhouse, 10701 Watson Road, Sunset Hills, Missouri, 314-394-3366, twistedtreesteakhouse.com
Urban Chestnut Brewing Co.
Urban Chestnut's traditional German beer garden location in Midtown is the perfect place to "prost!" with friends and family. And at the brewery's Grove spot, sit above the street with a beer on an elevated covered deck. In either location, enjoy UCB faves like the tropical and juicy Hallertau Haze Pale Ale or the Schnickelfritz Bavarian Weissbier.
Urban Chestnut Brewing Co., multiple locations, urbanchestnut.com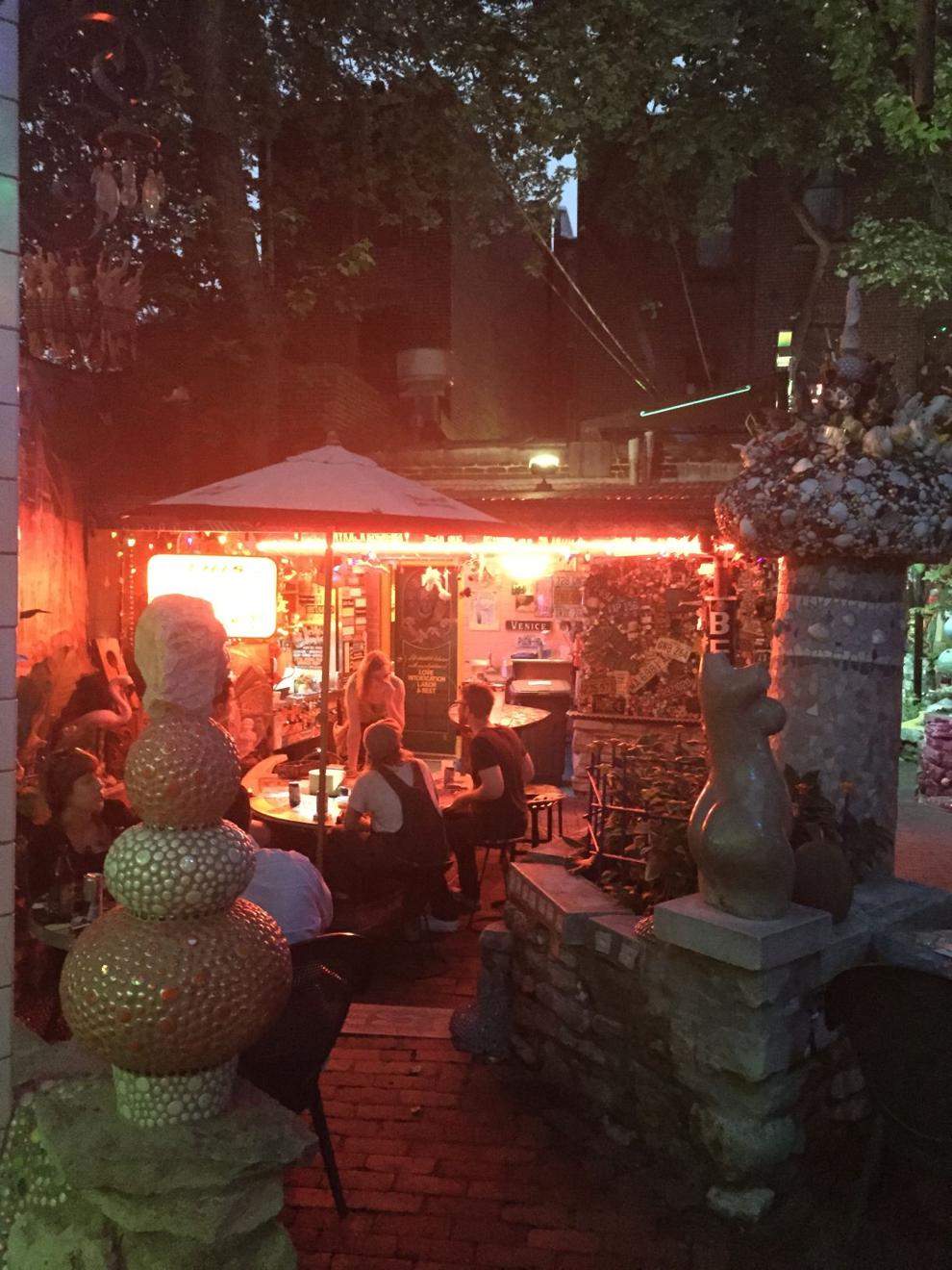 You'd be hard-pressed to find a quirkier patio this side of the Mississippi. Venice Café is half ever-evolving art installation, half bar with live music, and the patio might be the best part. Remember to bring cash for the bar (and to tip the musicians) before you wander too far into the colorful patio maze of mosaics, flickering lanterns and baubles. 
Venice Café, 1903 Pesstalozzi St., Benton Park, St. Louis, Missouri, 314-772-5994, thevenicecafe.com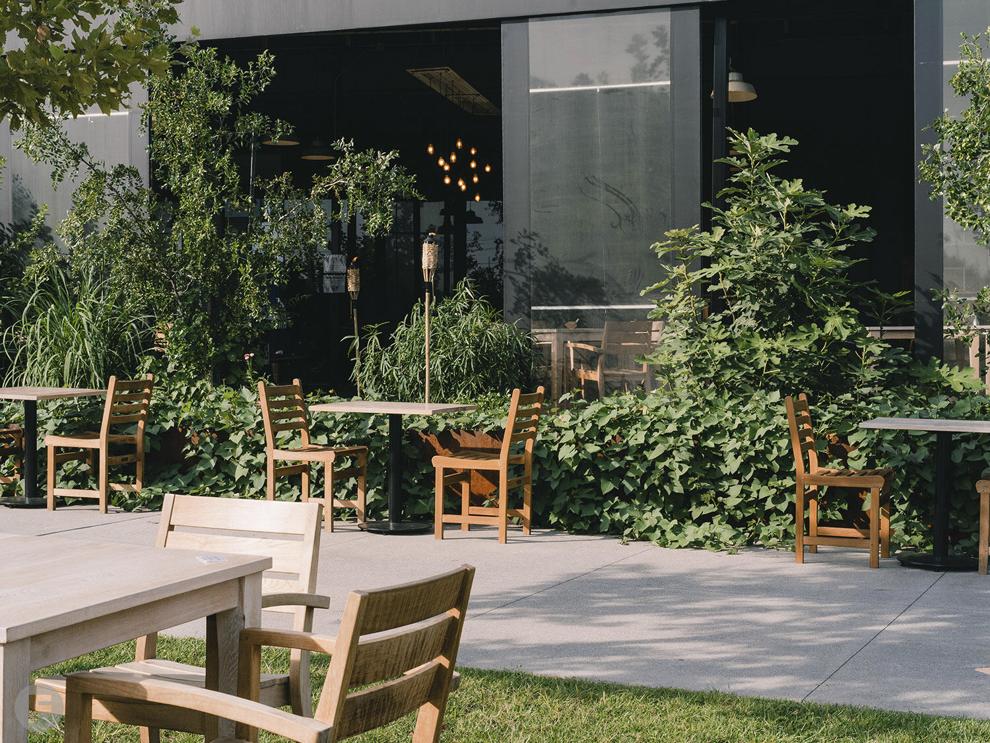 Find yourself in a covered space beneath swaying bulb string lights at this upscale CWE staple. On a warm day, chef Michael Gallina's three-course Farmer's Feast tastes even better paired with fresh air. When making your reservations via Tock, be sure to select a spot in the covered outdoor dining room.
Vicia, 4260 Forest Park Ave., Central West End, St. Louis, Missouri, 314-553-9239, viciarestaurant.com
Although the patio at Westport Social doesn't offer all of the fun and games that you'll find inside, it still makes for a great atmosphere to get social with some of your favorite people. Enjoy a cocktail – such as the Bananarac (Bulleit Rye, Janneau VSOP, Giffard Banane du Brasil, bitters and Absinthe rinse) – under glittering lights in the open air.
Westport Social, 910 Westport Plaza Dr., Maryland Heights, Missouri, 314-548-2876, westportsocial-stl.com