While there's nothing like corned beef and cabbage to celebrate St. Patrick's Day, this delicious deli delicacy shouldn't be limited to just one day in March. Here are five spots in St. Louis where you can enjoy a stellar corned beef sandwich all year round.
If you're looking for a kosher option that is made with locally sourced meats, head to Kohn's. Its popular corned beef sandwich is a menu mainstay. Make it a lunch plate by adding any cold salad, including potato salad, vinegar slaw and tabbouleh.
10405 Old Olive Street Road, Creve Coeur, Missouri, 314-569-0727, kohnskosher.com
This deli's motto is "Home of the Overstuffed Sandwich," so you know you won't leave hungry. Customers can order its corned beef on rye, white, wheat, Kaiser rolls, bagels or a hoagie. Add a side of German potato salad for a true Carl's experience.
6401 Clayton Road, Clayton, Missouri, 314-721-2393, carlsdelistl.com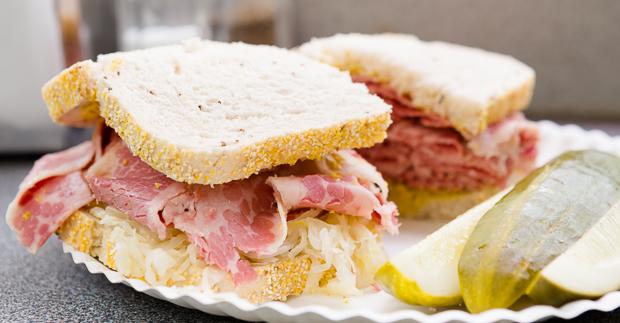 Protzel's is well-known for its corned beef; its recipe is a closely guarded secret. Enjoy it solo on rye bread, or order it Reuben-style with Swiss cheese, sauerkraut and Russian dressing.
7608 Wydown Blvd., Clayton, Missouri, 314-721-4445, protzelsdeli.com
At Lester's, corned beef is a menu staple. Order a 5-ounce sandwich for $12.95 or a 10-ounce for $16.95. You can also order it on the Reuben; each sandwich comes with your choice of coleslaw, potato salad or fries.
9906 Clayton Road, Ladue, Missouri, 314-904-00255, lestersrestaurant.com 
Corned beef makes multiple appearances on this spot's menu. Try it on the Tipperary, with horseradish on white bread or marble rye. Or order Paddy Babe's Original: corned beef, pepper Jack cheese, slaw and horseradish mustard on a brioche bun.
multiple locations, maggieobriens.com