In St. Louis, we love our nostalgia, and we love our restaurants. How about appeasing those tastes with a look at the restaurant news that was making headlines in St. Louis 25 years ago?
Here is what was happening in the pages of the Post-Dispatch in March of 1998.
What was new: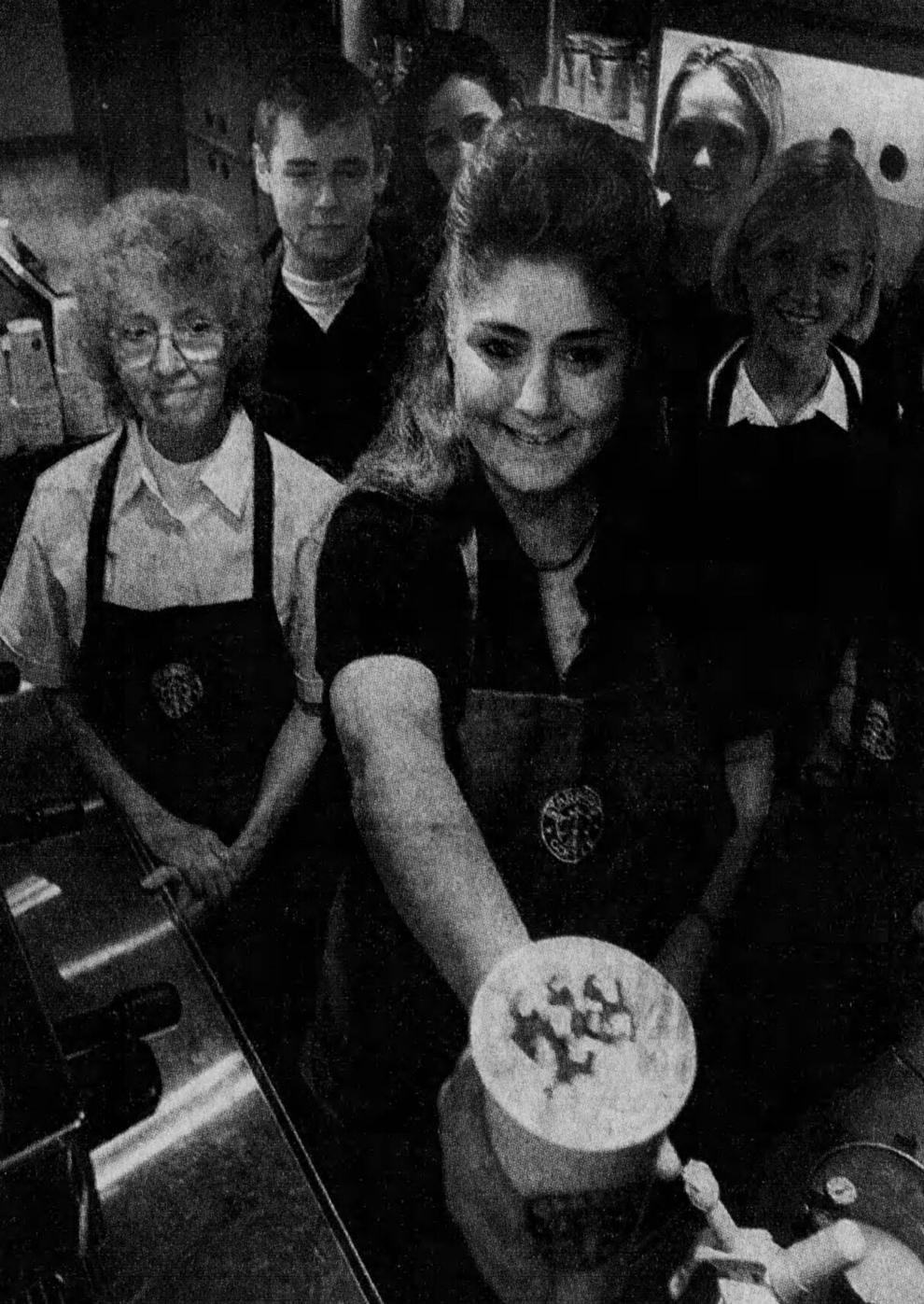 Two unheralded announcements would have a major impact on the St. Louis food-and-drink scene.
On March 27, 1998, Starbucks finally opened its first shops in St. Louis — 27 years and more than 1,500 stores after it began.
The shops were at 343 South Kirkwood Road and 14128 Manchester Road.
Local competitors were hoping that Starbucks' presence would give a boost to the St. Louis gourmet coffee market.
"In St. Louis, people walk by; they think cappuccinos are weird," Bob Loitman, owner of the Coffee Cartel in the Central West End, told reporter Fred Faust. "The impression here is that paying over 50 cents for a cup of coffee is too much."
Then, four days later, on March 31, 1998, the Cool Valley Board of Aldermen approved a tax-incentive plan that would bring a combination McDonald's restaurant and gas station to Florissant Road near Interstate 70.
The combination of a fast-food restaurant with a gas station and food shop would be the first arrangement of that kind in St. Louis County.
Also, Brandt's Cafe on the Loop in U City (site of the current Salt + Smoke) offered a new wine list — two of them, actually — called ABC: Anything But Cabernet and Anything But Chardonnay.
"We're featuring wines that will entice and excite, in an attempt to get diners to push their palate," owner Jay Brandt said.
We dropped in for the lunch specials. The roasted turkey sandwich ($5.95) — "without a doubt the finest I've ever eaten," according to reviewer Patricia Corrigan — was dressed with bacon, smoked gouda and slaw, all tucked between two slices of bread. The accompanying fries ($1.95) were hot and crispy, as they should be. The roasted garlic and shrimp pizza ($9.95) featured tiny bits of shrimp and large cloves of roasted garlic topped with mozzarella, a winning combination.
(Note: King Louie's co-owner Matt McGuire newest spot, Wright's Tavern, is winning rave reviews in Clayton.)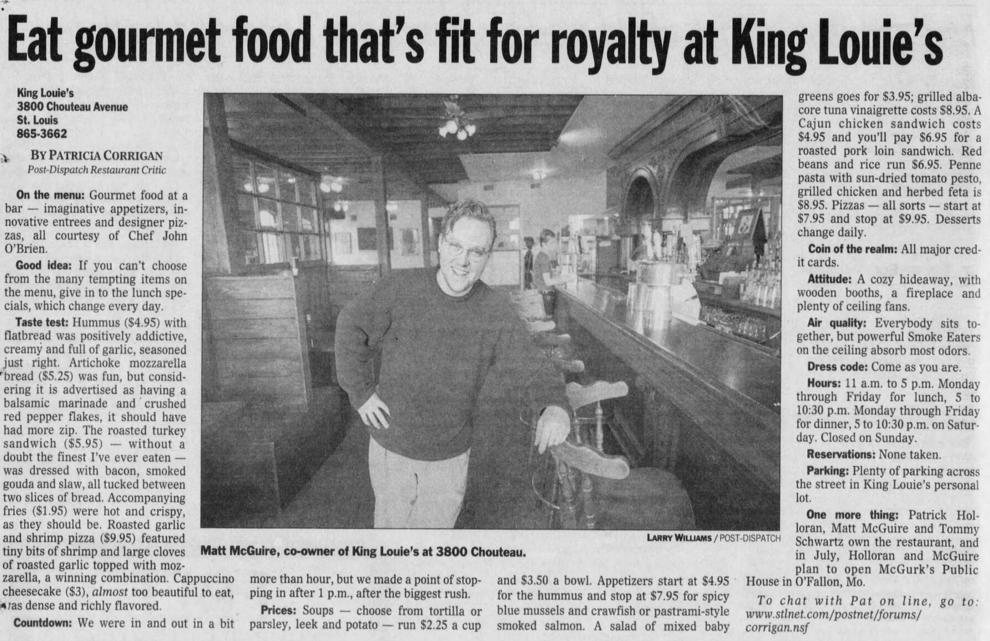 Zoe Robinson's third restaurant incarnation, on McPherson in the Central West End, was touted as stylish and full of energy, with an imaginative menu honoring many Asian cuisines. Robinson spoke highly of the varied tastes in the healthful dishes, and Executive Chef Rhonda Nugent also is a devotee of this style of cooking. "We realize we're two white girls, but we did our research," Robinson said.
Unless you're up for eating the whole bowl, beware of the crispy noodles brought to the table to welcome you. They are delicious and quite tempting. (The restaurant on Manchester Road in Des Peres is being replaced by a Shake Shack this spring.)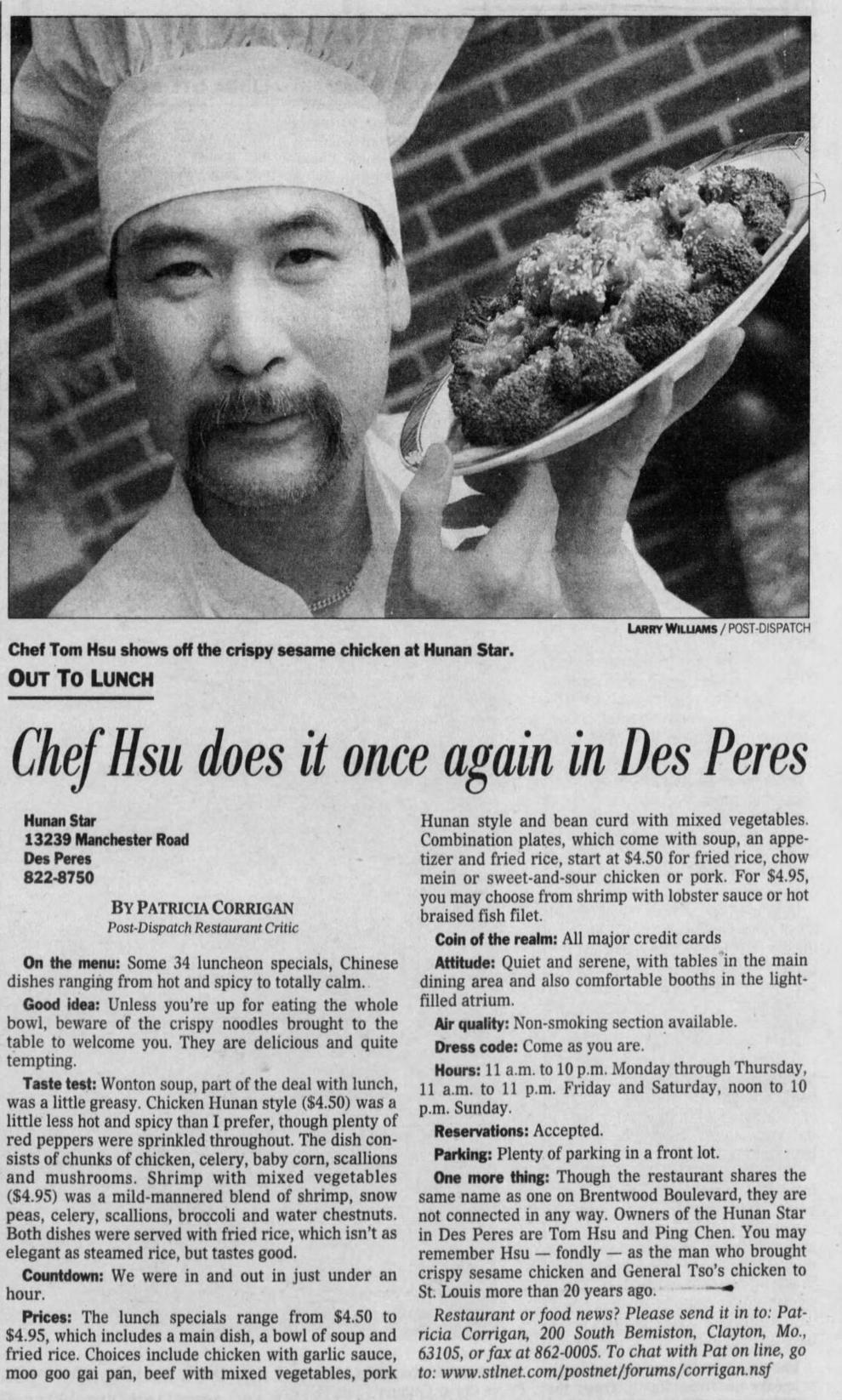 The Clayton restaurant's shrimp and curry soup with coconut ($5 for a bowl) was a wonderful blend of flavors, and pretty, too.
A wild and crazy spot in Fairview Heights, with tiny colored twinkling lights everywhere, a shark cruising along the ceiling with Mardi Gras beads in its mouth and assorted nets, anchors, buoys and other fun marina-related decor.
Closing: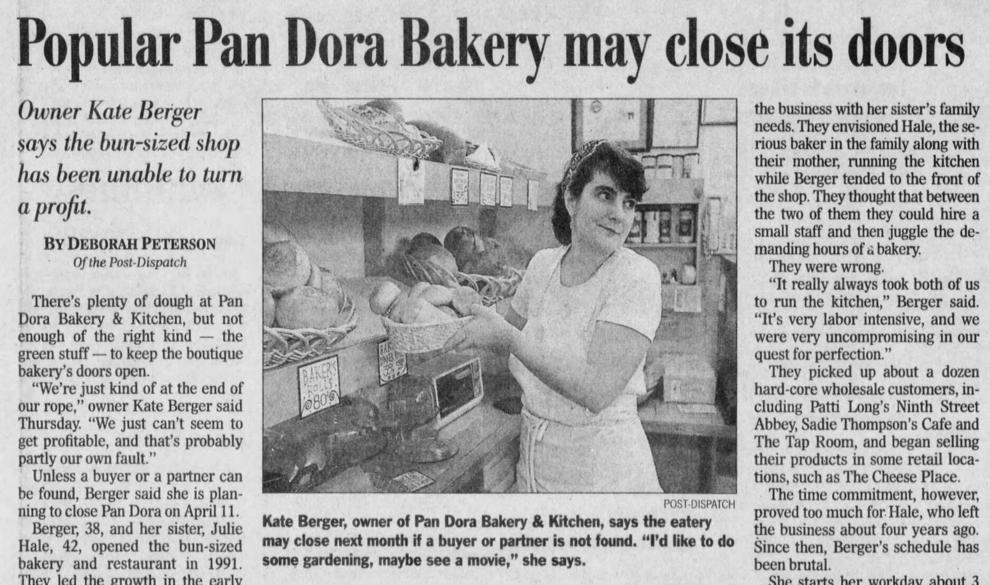 Pan Dora Bakery and Kitchen
Sisters Kater Berger and Julie Hale had opened the bun-sized bakery and restaurant in 1991. They led the growth in the early '90s toward specialty baking in St. Louis. They were also pioneers with their location, a former Piggly Wiggly supermarket at 1858 Russell Boulevard.
Jerry Berger reported that mega-developer Pete Rothschild had leased the Sunshine Inn space in the CWE to Dana Holland, a former staffer with Fio's La Fourchette, and Eric Jacobs, who would open in April their new world cuisinery (Cuban and Caribbean food with Latin music) to be called Babaloo's.
The Sunshine Inn opened in 1974. Initially, the place was run as a cooperative by young people dedicated to the political, nutritional and ethical ideals implicit in a vegetarian lifestyle.
The fixture in the historic village of Elsah since 1975 announced it was moving four miles down the River Road to the Brainerd House Bed and Breakfast in Grafton.
Something old
We celebrated 100 years of Beffa's, the downtown cafeteria where the elite meet.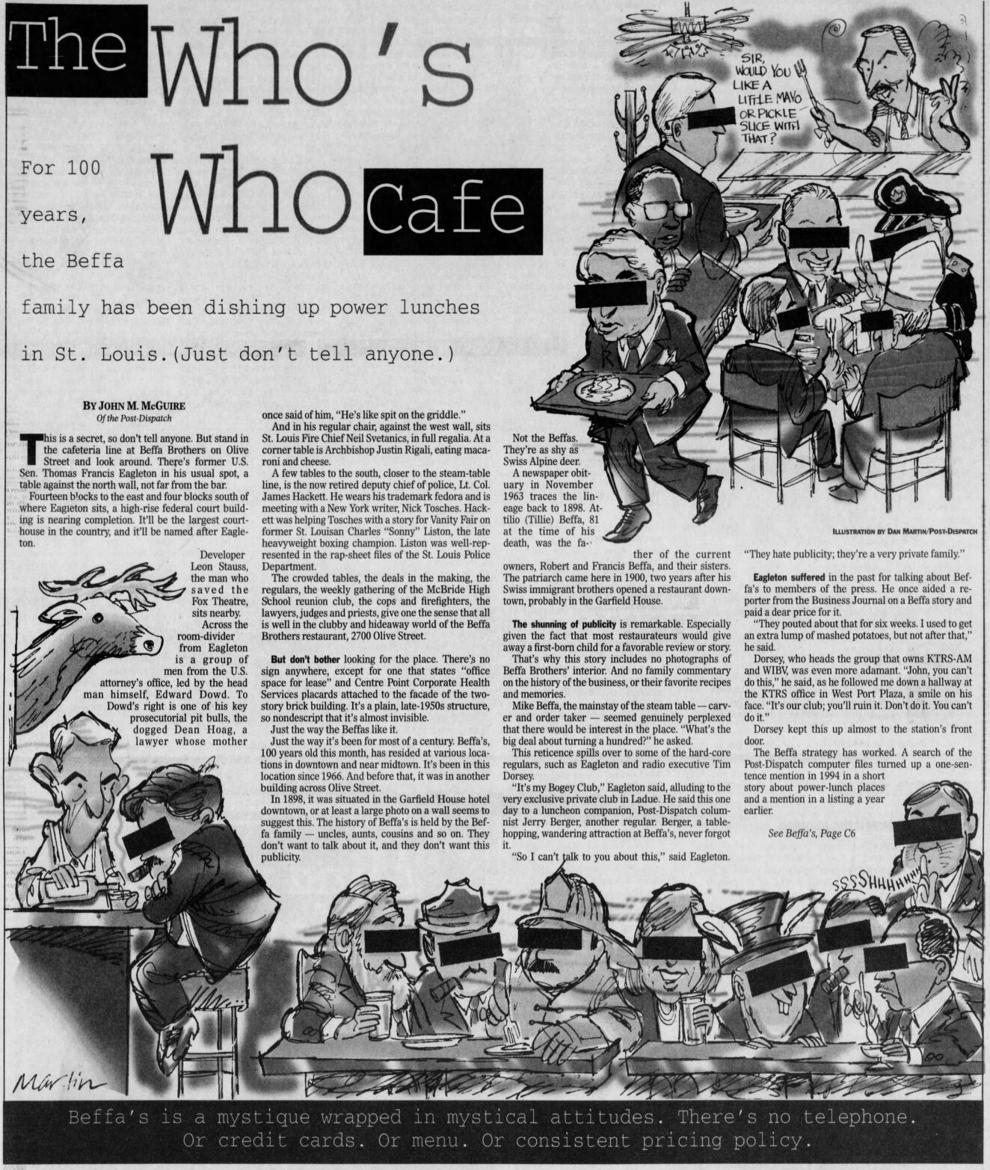 This is how reporter John McGuire opened his ode to one of his favorite lunch spots:
This is a secret, so don't tell anyone. But stand in the cafeteria line at Beffa Brothers on Olive Street and look around. There's former U.S. Sen. Thomas Francis Eagleton in his usual spot, a table against the north wall, not far from the bar. Fourteen blocks to the east and four blocks south of where Eagleton sits, a high-rise federal court building is nearing completion. It'll be the largest courthouse in the country, and it'll be named after Eagleton.

Developer Leon Stauss, the man who saved the Fox Theatre, sits nearby.

Across the room-divider from Eagleton is a group of men from the U.S. attorney's office, led by the head man himself, Edward Dowd. To Dowd's right is one of his key prosecutorial pit bulls, the dogged Dean Hoag, a lawyer whose mother once said of him, "He's like spit on the griddle."

And in his regular chair, against the west wall, sits St. Louis Fire Chief Neil Svetanics, in full regalia. At a corner table is Archbishop Justin Rigali, eating macaroni and cheese.

A few tables to the south, closer to the steam-table line, is the now retired deputy chief of police, Lt. Col. James Hackett. He wears his trademark fedora and is meeting with a New York writer, Nick Tosches. Hackett was helping Tosches with a story for Vanity Fair on former St. Louisan Charles "Sonny" Liston, the late heavyweight boxing champion. Liston was well-represented in the rap-sheet files of the St. Louis Police Department.
Do you have a feature you would like to see from our archives? Drop me a note at brose@post-dispatch.com. 
Also be sure to subscribe to our archives newsletter to get daily updates from St. Louis history.